TRUE BELIEVER: KEEPING THE CAMERAS ROLLING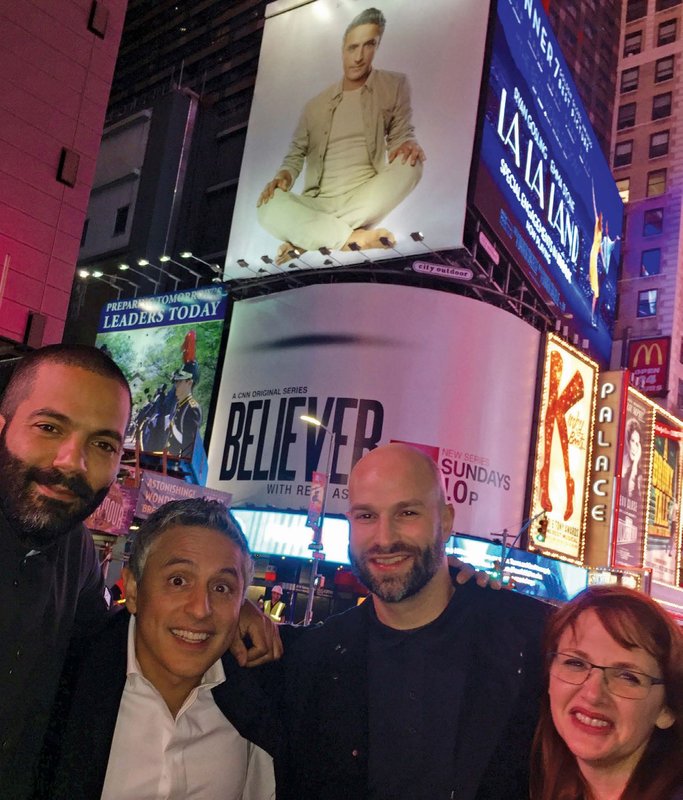 Guiding religious scholar Reza Aslan through his "spiritual adventure series," two alumni practice what they learned as film majors.
A new CNN original series, Believer with Reza Aslan, employs the talents of two alumni who majored in film: executive producer and show runner Liz Bronstein '89 and director Ben Selkow '96. Additionally, Professor of Religion Liza McAlister provided both academic scholarship and on-the-ground connections when the crew filmed the episode in Haiti on Vodou. The show is billed as a "spiritual adventure series," in which Aslan, acclaimed author and religious scholar, "immerses himself in the world's most fascinating faith-based groups to experience life as a true believer."
Both Bronstein and Selkow envisioned the show as an immersive experience. The team formed a tight bond, which became crucial in what Selkow calls "dicey situations."
In one of these, Aslan is seated on the sand next to a cannibalistic tribe member, whose gestures and mood turn threatening. Aslan calls Selkow over from off-camera for assistance.
"The adage in filmmaking is that when you stop rolling, that's when the action gets good—so we kept rolling," Selkow recalls. "And It's amazing to watch the scene unfold, with Reza slowly realizing that he's in a perhaps dangerous situation and figuring out how to handle it."
Despite preparation for each episode, the team found surprises: "With our Wesleyan film background, Liz and I know that you go into each documentary super prepared—and the outline goes out the window the first day your feet hit the ground. We'd watch Reza starting every time with 'All right; this is what I can expect to happen,' and then there would be a great revelation and we'd watch him go through that—and it was extraordinary."
Pictured: In Times Square, Director of Photography James Adolphus, Reza Aslan, Director Ben Selkow '96 and Executive Producer and Show Runner Liz Bronstein '89 gather just before the March premiere of Believer with Reza Aslan. The team had formed a tight bond through travel to different cultures and navigating unscripted scenarios.