From Uncommon Journeys, Universal Truths: An Interview with Vinod Busjeet '73
After growing up on the Indian Ocean island of Mauritius, Vinod Busjeet '73 arrived in the United States in the fall of 1971—to start his first semester at Wesleyan. At the time, he was one of only a few international students, and the only one from Mauritius. That didn't bother him. "I was curious about America and Americans, and I found my way and I managed," he said, crediting his positive experience in part to a friendship that he developed with the late Norman Rudich, professor of letters and of romance languages and literatures, emeritus, for whom he worked as a research assistant.
Busjeet's experiences before and during Wesleyan shaped aspects of his debut novel, Silent Winds, Dry Seas (Doubleday, 2021). The book tells the coming-of-age story of Vishnu, a young Mauritian boy who has the rare opportunity to experience the world beyond his island nation by earning a scholarship to attend university abroad. Set primarily during the 1950s and 1960s, Silent Winds, Dry Seas also charts the tumultuous path to independence of distinctly diverse and multiracial Mauritius, which was a British colony until 1968.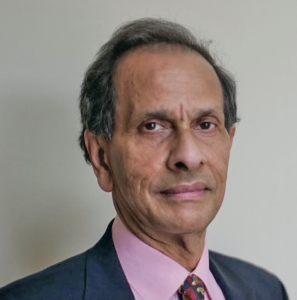 Filled with richly detailed prose chapters as well as evocative poetry, the novel is the first book by Busjeet, whose career spanned roles in economic development, finance, and diplomacy at the World Bank, International Finance Corporation, and Embassy of Mauritius. Although he has lived in Washington, D.C., since 1979, Busjeet said his native country has always held a special place in his heart—indeed, one of his hopes for the book is to help Mauritius become better known internationally. It's a unique place with a complicated and tumultuous history, not just an exotic vacation destination, he said.
Busjeet, who double-majored in economics and government, shared more about the book's inspiration and his aims as a writer.
What inspired this book?
Vinod Busjeet '73: Once I retired, I wondered whether I should write a memoir, or go the fiction route. It's combination of those two. I had the example of V.S. Naipaul, the Trinidadian writer. I liked his work and I said, "Well if he can do it, I should give it a try as well."
The more lofty, ambitious goal I had was to put Mauritius on the American literary map. Mauritius has produced quite a few Francophone writers who have made a mark on the literary scene. But when it comes to English fiction writing, there are only one or two authors from Mauritius who are known outside the island.
Which aspects of Mauritian culture or history does Silent Winds, Dry Seas grapple with?
V.B.: I wanted to portray the various communities on the island of Indian, African, French, and Chinese origin. This tremendous cultural and linguistic diversity raises the question: Is there a Mauritian culture, or do we just have a juxtaposition of all these different cultures side by side? Is it a melting pot or a salad bowl? A synthesis? I don't answer the question, but through the novel I raise the issue.
Religion, to take another issue, plays an important part in defining identity in Mauritius. I wanted to ask, to what extent does religion help or hinder the development of a Mauritian national identity?
I devote a chapter to the riots preceding independence: conflict between Hindus and Creoles, followed some years later by violence between Muslims and Creoles. You could read the novel as a coming-of-age story of the country in parallel with the coming of age of the narrator, Vishnu.
What do you hope readers take away from your book?
V.B.: Different readers will take away different things. Given the current climate, some readers will look at it as a story of identity, colonialism, identity, race, and class. Others will view it as a story about the challenges of growing up and overcoming obstacles. I didn't set out saying to myself, "I am going to deal with the themes of race, identity, and all that." I started by thinking, "I'm going to tell this story, and it will be interesting."
For me it's a novel about family, about politics, and about our common humanity. Whether you are from Mauritius or the United States, you love and hate, you laugh and weep, you enjoy and suffer. You have ambitions, aspirations. And so I wanted to emphasize the common humanity of us all, and hope readers will relate to the characters at an emotional level.
Do you have any other books in the works?
V.B.: There are three projects I'm working on in parallel: a poetry collection, a novel about a slave rebellion in Mauritius, and a kind of memoir about my daughter.
What was your experience like at Wesleyan?
V.B.: I spent two years at Wesleyan, having received credit for my high school British "A" levels and one year at the University of Madagascar. I didn't have much time for fun, because I also worked. I was older than most of the other students, so I wanted to complete my degree quickly and move on.
At Wesleyan, most of the kids, in terms of IQ, were superior—really bright kids. The other thing that impressed me about Wesleyan was the social conscience of the students. I can always spot somebody from Wesleyan: Wesleyan is not just about individual achievement, it's about caring for the community.
You can read additional reviews of Silent Winds, Dry Seas in The New York Times, NPR, and Publishers' Weekly.