World Music's 40th Anniversary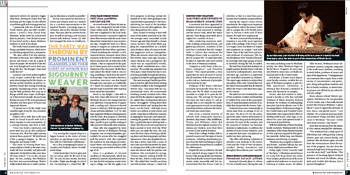 Nonesuch Records plans to release 92 CDs of world music during the next two years (including some by Wesleyan artists), but when Wesleyan began its World Music Program 40 years ago, non-Western music was a virtually untouched field in the United States.
Bob Brown, a former music department faculty member, recalled the origins of Wesleyan's program as part of a 40th anniversary celebration in February that featured a weekend of music and discussion on campus.
Brown, who had studied in India, joined a faculty in 1961 that included Professor of Music Emeritus Richard Winslow '40; Professor of Anthropology Emeritus David McAllester, one of the founding fathers of ethnomusicology in the United States; and President Victor Butterfield, who supported the effort to develop world music. John Cage, in residence for a year, had opened minds to new musical possibilities.
With the leadership of these founding faculty members, Wesleyan held its first celebration of the Indian festival Navaratri in 1962, and soon acquired its first gamelan ensemble. Before long, non-Western traditions were thriving on campus.
"Wesleyan was uniquely in balance," said Brown, "and that balance has never been duplicated anywhere else."
Friday night "Curry Concerts" held at "the farm," a Wesleyan-owned house on Long Hill Road about two miles from campus, produced one of the most sophisticated audiences in America for listening to Indian music, he added.
After 40 years, Wesleyan's music department remains uniquely integrated in the world music tradition, according to Mark Slobin, professor of music and chair of the department. "Undergraduates can customize their majors from a wide variety of concentrations and participate, along with graduate students and the 16 faculty members, in shared artistic projects not offered by any other liberal arts college."
Music alumni echoed Slobin's perception. Neil Benson '88, vice president of ICM Artists, was a classically trained pianist who found at Wesleyan "a place where I came to appreciate all kinds of new music and global music." Carl Sturken '78, a Grammy-winning writer and producer of pop and R&B, said he came to Wesleyan "because I loved every kind of music I ever heard."
More than 200 alumni from the classes of 1956 onward attended the celebration.
"The weekend had a deep spirit of fellowship and colleagueship among alumni, past and current faculty, and students, who all shared a glow, not only from the reminiscences about the history of the program, but also from the extremely high level of the performances at the event itself," said Slobin. "The presence of founding figures Richard Winslow and David McAllester, along with early builder Bob Brown, lent a special atmosphere."