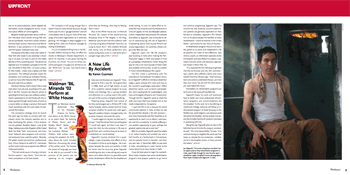 India was not the place Jon Sigworth '10 expected to find a new life. He'd gone there in 2006, fresh out of high school, as part of an academic abroad program to study history and theology. But a cycling accident one afternoon on a narrow road in the northern part of the country changed everything.
Pedaling along, Sigworth lost control of his bike and plunged over a 70-foot cliff. In the nearby hospital, where a doctor told him it was uncertain whether he would ever walk again, Sigworth suddenly faced a changed reality. His purpose, however, remained the same.
"I could wiggle my big toe, but that was it," he says. "I told the doctor that it would be great if I could walk again, but that it was okay if I never did, that my only purpose in life was to glorify God, and I could do that just as easily in a wheelchair as I could walking."
Sigworth's injuries rendered him a quadriplegic, a type of paralysis that affects all four of a patient's limbs to some degree. He is paralyzed beneath the arms and partially in both his hands. But his injury has given Sigworth something else, too: a new calling and a way to reach out to others like him in a part of the world where rehabilitation efforts for the disabled are sorely lacking. In June, his latest effort to improve the lives of spinal cord-injured persons in India will appear on-line. Our Beautiful Letdown, a short, independent documentary film directed and edited by Sigworth, was scheduled to debut on www.escip.org, the site of Sigworth's Empowering Spinal Cord Injured Persons advocacy organization. For a preview, viewers can go to the Web site now.
Sigworth spent the '08–'09 academic year traveling in India while making the film. Production began in Delhi and ended in Pune at a paraplegic rehabilitation center. Along the way, he met a rich cross-sample of India's faith and disabled communities, as well as workers in India's famed Bollywood film capital.
The film, made in partnership with The International Humanitarian Foundation, focuses on Sigworth's efforts to introduce wheelchair rugby, a sport unheard of in India until now, to the country's quadriplegic population. Other wheelchair sports, such as tennis and basketball, aren't appropriate for quadriplegics, who have some degree of hand or arm impairment. Through the film, Sigworth wants to share the skills and vision that have enabled him to live nearly independently. He explains:
"I want the film to be a resource for spinal cord-injured patients in India, so they can see the possibilities despite a life with paralysis—and more importantly see their disability as an opportunity to reach out to others. I want people, and not just patients, to realize suffering is just another opportunity to give, perhaps the greatest opportunity we've ever had."
After his accident, Sigworth spent five weeks in an Indian hospital and another two and a half months at a facility back in Connecticut, near his parents' home in Hamden. Less than one year later, in December 2006, he was back in India, volunteering as a peer mentor at the Indian Spinal Cord Injury Center in Delhi.
It was the best place to begin his outreach. Most Indian hospitals lack active rehabilitation programs that prepare patients to go home and continue progressing, Sigworth says. The country has few disability accommodations, and patients are generally dependent on their families or caretakers.
Sigworth's film follows him as he demonstrates the benefits of active rehabilitation—which he received in the United States—and shares his own story of recovery.
A rehabilitation program that aims to return the patient to as active and independent a life as possible can make all the difference, says Donna Lowich, an information specialist at the Christopher and Dana Reeve Foundation, a paralysis resource center and advocacy organization based in Short Hills, N.J.
"It is important for the individual to get back into the community and into life's activities," says Lowich, who suffered a spinal cord injury herself more than 20 years ago. "Over time you learn and come to understand that you are more than your injury. You are still the same person you were before the injury."
Accredited U.S. rehabilitation programs can be found on the www.carf.org Web site.
Sigworth hopes his work will eventually lead to better and more widespread rehabilitation programs and accommodations for the disabled. To this end, he is transferring to Dartmouth College, where he will follow an individualized program of study focusing on the Middle East, world religions, and advocacy work abroad for the disabled. He has already met several like-minded Dartmouth students interested in partnering with him.
Along the way, Sigworth plans to rely on the faith that has led him this far along an unintended path. "Our only responsibility," he says, "is to continue loving our neighbor the same way God loves us, despite the circumstances—whether you're in the hospital, prison, or have just won the lottery."