CASTONGUAY: HOW TO HELP STUDENTS FIND JOBS? NETWORK!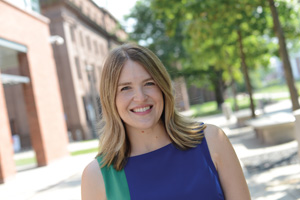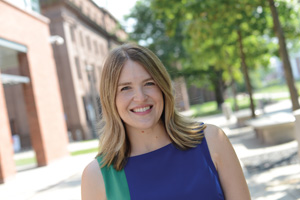 This fall, Sharon Belden Castonguay is enjoying the start of her first full academic year as director of Wesleyan's Career Center, located at 41 Wyllys Avenue. 
She joined the campus community in May, coming from Baruch College, where she was director of the Graduate Career Management Center for the Zicklin School of Business. A graduate of Smith College, she looks forward to helping the next generation of Wesleyan students take their practical idealism into the world.
Castonguay is frank about the appeal Wesleyan offered: "It was that clear to me that a lot of people here thought very seriously about the topic of careers and how it fit into a liberal arts education," she says. The Career Center's central location—and its high number of undergraduate appointments daily—confirmed her impressions that the Wesleyan community was deeply committed to developing cohesive pathways for each student to take his or her classroom education into the larger framework of post-Commencement career, profession, travel, or education.
Castonguay also notes that alumni and parents are an integral part of this supportive community, and to that end, she offers some tips for those who want to get involved in the Career Center:
1. Keep your LinkedIn profile up to date—and join Wesleyan groups. While it may seem simple, it's actually a key component for the work of the Career Center. "We use LinkedIn as a teaching tool for students who are learning to build their professional networks," says Castonguay. "With a Wesleyan connection, I know I'm giving the student a contact who will be open to having those early exploratory conversations." Additionally, Wesconnect, the online alumni community, is a networking career tool through which students can find out about alumni careers.
2. Consider sponsoring a student for an externship. "It's a job-shadowing program, for one to five days in January," Castonguay notes, explaining that she and her team are re-launching this concept, hoping to take advantage of the popularity that greets educational opportunities during this pre-semester lull.
3. Attend a networking event. While the Career Center is planning one for the spring semester, Castonguay cautions that attendees should not necessarily view it as a clear-cut path to employment. Instead: "We see it as a way of teaching students how to begin professional relationships. That's really what this will be about. It teaches our soon-to-be graduates how to stick their hands out and introduce themselves to somebody and say, 'This is who I am and what I am looking for.' It allows them to practice that in a relatively safe space." It's an opportunity, she says, for students to gather the soft skills they need to be able to land a position and to be able to build their professional networks—and it's an opportunity for employers and other professionals to guide the newest entrants to the job market.
For networking events, Castonguay adds a special appeal to graduates of the last decade—the GOLD group—to show up in force: "You are closest to the experience of entering this job market; our undergraduates are eager to learn from and develop relationships within your group," she says.
For those alumni and parents uncertain about how they might best contribute to this effort, Castonguay invites you to contact John Driscoll '62 (860/685-2554; jdriscoll@ wesleyan.edu). A longtime member of University Relations, he is now focusing his attention on the Career Center, serving as a special liaison with alumni. Additionally, Meg Zocco, director of networks and affiliations in University Relations (860/685- 2799; mzocco@wesleyan.edu), also serves as a point of entry for alumni and parent engagement in the life of the University.
Castonguay is looking forward to meeting alumni and parents at Homecoming/ Family Weekend. She invites them, along with students, to come to the Career Center Open House held that weekend.