SCHOLAR ATHLETE KEVIN HUGHES '14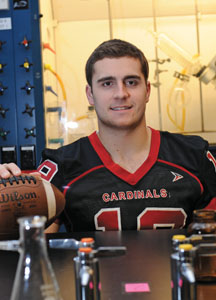 Kevin Hughes '14 has been a consistent presence on the Wesleyan football team—athletically and academically. One of four captains, Hughes scored nine touchdowns in four seasons, his most recent a 42-yard reception that helped the Cardinals defeat Amherst en route to the Little Three title. His performance on the field was matched with academic honors; he is a three-time NESCAC all-academic student athlete and, in 2013, he won District II Academic All-America honors from the sports information directors association.
A self-described "science guy," Hughes majors in biology and spends his free time mentoring fellow students in physics.
Last summer, he was a research assistant for Dr. Michael Rosenblatt '80, former men's swimming and diving captain. At the Lahey Hospital in Burlington, Mass., Hughes observed heart, brain, and orthopedic surgeries performed by Rosenblatt and other doctors. 
"All the doctors and surgeons there were great. They are very academic and ready to teach when somebody is willing to learn," Hughes says. The rest of his internship was dedicated to reviewing eight years of case files involving elderly patients with spine fractures.
Reflecting on his senior year, Hughes admits, "Academically it was a little tougher this semester, being captain and having more responsibility with the football team." However, he managed to balance the success of the 7–1 squad with his future aspirations. Next up: med school applications.