WEAR THE CHANGE YOU WISH TO SEE: ALOK APPADURAI '00
By Todd Stone '05. 
Alok Appadurai '00 recently said that for most everything he has done professionally, he's been able to take out his business card, look anybody in the eye, and say: "This is the work I do and I'm proud of it."
Appadurai can say this with extra confidence these days, because he and his life partner, Jade Beall, founded Fed By Threads, a charitable, environmentally sustainable, Made-in-America, vegan clothing company. 
Say that again?! What is vegan clothing? What is meant by "environmentally sustainable"? How is it charitable? These are among common questions Appadurai gets from customers in his Tucson, Ariz., clothing store. But Appadurai welcomes the questions because he loves to teach. Not long after graduating from Wesleyan, he became a fourth-grade teacher at a Manhattan private school, and now he's teaching consumers about issues such as respecting the environment and keeping manufacturing jobs in America. His approach accords well with the interests he developed at Wesleyan, where he built his own major in American Studies that incorporated colonialism, workers' rights, utopian communities, the environment, and gender/class issues.
"I never expected to be selling clothes," Appadurai said. But because of some chance events, he is now among a relatively small group of people manufacturing vegan clothing. As with vegan food, vegan clothing means that no animal products are used in its production—so there is no animal suffering. Aside from avoiding the obvious leather and fur, making vegan clothing means avoiding the use of silk, and often wool. 
Silk is made of the shimmering cocoons that protect caterpillars and other worms; but in the process, thousands of worms are killed. According to Appadurai, a silk scarf generally requires about 3,000 caterpillars to be killed. As for wool, while sheep are not killed when their hair is sheared, Appadurai said that insects often live in the sheep's skin; to get rid of the insects, shearers may shave off pieces of skin. 
So what materials are left? It turns out there are a whole lot. Aside from cotton (Fed By Threads uses only organic cotton, grown without fertilizers or pesticides), Appadurai and a small group of independent vegan clothing makers are using unusual materials such as bamboo and hemp. At Fed By Threads, you can purchase a man's sweater made of re-purposed wood pulp, which Appadurai calls "vegan silk" because it is so thin and fine. Or you can buy a woman's cardigan/wrap made from recycled plastic bottles. And the clothes don't look like art projects. In fact, they are very casual and wearable—a variety of solid-color tops and dresses for women and simple T-shirts and sweatshirts/sweaters for men.
The front of one of the T-shirts reads: "Wear the Change You Wish to See," which is emblematic of what Fed By Threads stands for. 
"There will only be change if consumers vote with their dollars," Appadurai said. 
"People should support companies that they believe have integrity." 
In addition to not using animal products in Fed By Threads clothing, Appadurai does not use formaldehyde, often used in wrinkle-free shirts, for example, to keep them stiff and smooth-looking. While formaldehyde is used in myriad household items—from drapes to paint—for a small number of people, it can cause rashes or coughing and wheezing. And it also ends up in toxic landfills.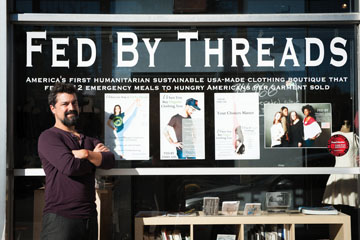 Fed By Threads was born out of a small, one-time fundraiser that Appadurai and Beall created to raise money for a local Arizona food bank. The couple operates a yoga and dance studio (Beall teaches yoga) in Tucson and their clients had been asking them to make a community T-shirt. So they ordered 30 T-shirts cheaply online —printed with the name of the yoga studio, "The Movement Shala"—and they sold the shirts so that the proceeds from each provided 12 meals for hungry families in southern Arizona.
People loved the shirts and as the couple ordered more, friends of Appadurai began to ask questions like: "Are you outsourcing to other countries?" and "Are you using fabrics with materials that harm the earth?" 
"The fact was, at that time, we were doing both," Appadurai said. "So we pressed the pause button and basically started over."
Appadurai and Beall believe that rebuilding the American economy means keeping manufacturing jobs in the U.S.—or bringing them back. So after many months, they eventually found U.S.-based tailors who would work with organic, sustainable fabrics, also made in the United States.  
With Fed By Threads' evolution from a casual fundraiser to a for-profit company, Appadurai has retained the charitable component, which he sees as core to the business. For every Fed By Threads item sold, $1 goes to the Community Food Bank of Southern Arizona, which translates to four emergency meals for hungry Arizonans, and $1 goes to Feeding America, which can provide eight meals through its network of 200-plus food banks across the country.
At Fed By Threads, women's dresses and tops range from $50 to $88, and most T-shirts are $25. For some, these prices are not very high. But they're not a steal either, and Appadurai's customers are price-sensitive. Since all items are made in America and use sustainable fabrics, Appadurai said that Fed By Threads can't compete on price with brands that use conventional cotton and outsource labor to countries with minimal safety standards for workers. Most of his customers understand this well and are proud to wear Fed By Threads clothes because they know what they are supporting. But Appadurai has to explain to some customers that other companies can charge far less because they produce what he believes are "artificially cheap clothes based on high-pressure work environments, heavy pesticide use and other factors that we don't partake in."    
Sales are increasing at Fed By Threads.  Appadurai said that most of the sales come from the Tucson store, but that online sales are growing exponentially. And they have growing sales on Roozt.com, an Amazon-line site for progressive brands. Now the store shares a space with Appadurai and Beall's yoga studio—which also functions as a photography studio for Beall. (Beall is an accomplished photographer whose work celebrates the bodies of everyday women.) But in late March 2014, the store will move into its own independent retail space on a busy corner in downtown Tucson, which is undergoing a massive revitalization. 
"I want to create the retail shopping experience that I have never had," Appadurai said. "A combination of a fun, fabulous ready-to-wear shopping environment with a deeply educational experience." 
So far, Appadurai and Beall have used their own money to create Fed By Threads.  But Appadurai said they have now opened their first round of funding. He said they were approached by investors before, but they didn't feel ready to manufacture on a larger scale. Now they are. As for potential expansion beyond Tucson, Appadurai isn't looking to open stores hastily all over the country. 
"I would rather have 10 incredible stores in key locations than 100 that don't have integrity," he said.
Fed By Threads has now purchased more than 116,000 meals through its clothing sales, and with its move to a proper retail store, it is poised to provide many thousands more. 
"At different points throughout my career I've asked myself, 'Is this the path of good?'" Appadurai said.
With Fed By Threads, it seems like the answer is a resounding "Yes." —TODD STONE '05
Todd Stone '05 has written for Inc. Magazine, Ad Age, and Business Insider and lives in New York. He and his brother, Adam '05, form the comedy duo Stone and Stone, which they created together at Wesleyan.