Letters to the Editor: Dr. Martin Luther King Hon. '64; Quantitative Leaders; Class of '45: 10th Mountain Division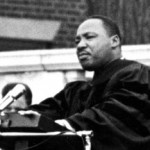 Wesleyan's Dr. Martin Luther King Hon. '64
Dear Sir:
An article in Issue 1, 2019, on African American Studies at Wesleyan was very interesting and informative. I was very surprised that the authors neglected to mention that the 1964 Wesleyan Commencement Speaker was Dr. Martin Luther King. I would be interested in learning why the authors did not mention this important fact in Wesleyan's history.
Sincerely yours,
Robert J. Huntz MALS '64
Queenbury, New York
Ed. Note: We regret that Dr. Martin Luther King Hon. '64, as well as other key speakers and occasions, were not noted in our Brief Representative History. Please see the online magazine for updates and more comprehensive listings.
Quantitative Leaders
Dear Editor:
I just received the most recent issue of the Wesleyan magazine. I turned right away to the article on the College of Quantitative Studies (CQS), on pages 42–43. When I had arrived at Wesleyan as a faculty member in 1963, I had been immediately invited to join the faculty of CQS—an opportunity I accepted.
Bob Singleton was the director of CQS.
Within a few years after joining the College, I became its acting director for one semester, while Singleton took a sabbatical. I was part of the committee appointed by the Educational Policy Committee to prepare a recommendation on the continuation of the College. Our recommendation was that it not be continued. The primary reason for this was the lack of support we found within the faculty of the science departments at Wesleyan for CQS. They were mostly fully invested in developing new PhD programs. As matters stood, CQS was seen as competing with science departments for good students. Student enrollments had declined some, as you note, but the students we had were of excellent quality.
The photograph you published does not contain Burt Hallowell, as you assert. Rather, the faculty members, left to right, are Singleton, Professor of Astronomy Thornton Page, Professor of Mathematics and Dean of the Sciences (1963–65) and Provost (1965–70) Bob Rosenbaum, and Assistant Professor of Chemistry Donald Sebera.
All best wishes,
Karl Scheibe
Professor Emeritus of Psychology
Middletown, Connecticut
Hello:
I think the fourth faculty member in the "Historical Row" photo in the article about the CQS is Donald Sebera, chemistry professor, rather than Robert Singleton. I was a physics major and did not take any courses from Dr. Sebera, but I did sit in on one of his classes as part of Cardinal Key Weekend prior to freshman year. I am sure any chemistry major from the time period would be able to tell you if my guess is correct. As a point of reference, Sebera's picture appears on page 156 in the Class of 1969 50th Reunion book.
Barry Turnrose '69, PhD
Gilbert, Arizona
Men On The Mountain
Dear Editors,
My magazine arrived today, and gladdens my heart with the letter re 10th Mountain lads. Some error is printed: Gene Noble is given Wm. P. Thompson data and Thompson is entirely omitted. I am sorry if I gave faulty copy, or if your printer made an error, but most sorry that Bill's name is missing. He was our first wounded, seriously so, during our attack on Riva Ridge and Mount Belvedere.
Slán go fóill,
Francis Lovett '45
Windsor, Colorado
Ed. Note: We apologize for our error and include the corrected text for the Wesleyan Class of '45 who were in the 10th Mountain Division during World War II below:
Class of 1945
Donald G. Dunn, 86th Mt. Inf. (WIA 4/16/45; Silver Star)
Peter G. Griskivitch, 86th. Mt. Inf. (transferred from Camp Swift, Texas)
Francis W. Lovett, 85th Mt. Inf. Med. Det. (Bronze Star with two oak leaf clusters
and Valor)
Gene E. Noble, 86th Mt. Inf.
William P. Thompson, 86th Mt. Inf. (WIA 2/18/45)
William W. Wannemacher, 86th Mt. Inf.
(ski injury forced transfer from Camp Hale)
Correction from the previous issue: Today, Sam Raby '17 works for JustFix.nyc, a nonprofit that creates technology for tenants and tenant organizers fighting displacement in New York.