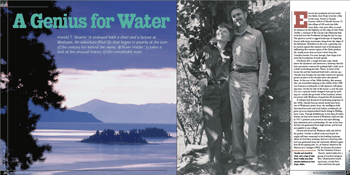 Even by the standards of rural northern Idaho, East Hope is barely a blip on the map. Home to Claudia Stearns, widow of Harold Stearns '21, this village of 200 souls has little more than a tiny post office to mark its existence by the highway on the edge of Lake Pend Oreille, a remnant of the Glacial Lake Missoula that stretched over the Northwest during the last ice age. The glaciers carved a rugged landscape of imposing beauty with steep mountains rising from the edges of the lakeshore. Elsewhere in the area, a growing condo market signals the onward rush of development infiltrating this remote region of the Idaho panhandle, hardly more than an hour's drive from the Canadian border. For now, though, East Hope is beyond the boundaries of rural sprawl.
Old Route 200, a rough two–lane road, winds above the lakeshore and intersects a driveway that follows mountain contours for perhaps half a mile up to a bluff overlooking the lake. There, in front of the house she and her husband built half a century ago, Claudia eyes Douglas fir and other native tree species grown massive in the decades since she planted them. In the year of her 100th birthday, this woman who can remember playing in the rubble of the 1906 San Francisco earthquake is still vigorous, still planting trees. On the far side of the house, a rock the size of a car—a glacial erratic dropped eons ago by melting ice—marks the gravesite of her husband, whose encounter with Wesleyan changed his life decisively.
If colleges had dreamed of marketing programs in the 1920s, Harold Stearns would surely have been one of Wesleyan's poster boys. An intelligent child fascinated by rocks and local Indian arrowheads, he grew up in an impoverished family living in Wallingford, Conn. Though Middletown is less than 20 miles distant, he had never heard of Wesleyan until one day in 1917 a printed card arrived in the mail offering him admission and a scholarship. No one in his family had ever graduated from high school, and he had not applied to any college.
Stearns left home for Wesleyan with only $10 in his pocket. Unable to afford room and board, he might still have remained in the bottling business, where he had been working, had not a local boy who had just graduated from the university offered to give him all his paying jobs. So, as Stearns related in his Memoirs of a Geologist (1983), he became the janitor for the Christian Science Church, waited tables for a group of teachers living in Mrs. Christensen's boarding house, carried firstclass mail from the post office to Wesleyan, slept in the Commons Club as a caretaker, and vacuumed books in the library.
He sought out Professor William North Rice, who taught geology and religion, to ask about studying archaeology. Rice—who had improved geology instruction from his own undergraduate days when he was taught that Noah's flood deposited glacial erratics— told the new freshman he should major in geology to make a living and keep archaeology as a hobby. Before long, Stearns was participating in original field work. His first published paper, "Groundwater in the New Haven area, Conn.," caught the attention of a scientist in the U.S. Geological Survey (USGS), who subsequently offered him his first job. In 1921, Stearns accepted the position of mineral examiner at the U.S. General Land Office in Idaho Falls.
"Harold had a kind of genius for water," recounts Claudia. His ability to understand the interaction of water with subsurface geologic features (hence, to find water) became evident early in his career when the USGS transferred him to Hawaii. He had visited the islands in 1924 just in time to see what may have been the first explosive eruption of Kilauea Volcano ever witnessed by non–native Caucasians. Not until he returned in 1928, however, did he begin his work on Hawaiian groundwater in earnest. "At the time," said Claudia, "Hawaii was a lost Pacific area with a modest industry in pineapple and sugar."
Tourists had not yet discovered Hawaii and, for the most part, neither had geologists. It was a paradise of unmapped islands waiting to be explored by an adventuresome scientist. Stearns was in his element.
"He became increasingly interested in the basic geological science of the Hawaiian Islands," says Jelle Zeilinga de Boer, who holds the endowed chair in geology named for Stearns. "He was a good communicator, someone who was able to integrate a vast amount of diverse data into a total view of Hawaii." Later, he published a seminal work, The Geology of the Hawaiian Islands.
Stearns met Claudia in Hawaii. She had studied art at U.C. Berkeley, and her circle of acquaintances included Gertrude Stein. Accustomed to life in the San Francisco Bay Area and somewhat sensitive to sunlight, she hardly seemed to be a candidate for a vigorous outdoor life in wilderness areas. Hawaii was not her home; she was visiting to assemble an exhibit on Polynesian art at the Honolulu Academy of Arts.
Claudia had never seen Harold until he stood before her in the reception line for the exhibit's opening. To hear her tell it, their first eye contact was extraordinary. "I was dressed to the nines," she said. "When we looked at each other, it was love at first sight. Harold's pal had to punch him to move along."
The next morning at 6 a.m., Claudia heard a knock at her door. "I wrapped myself in a robe and opened the door, expecting the newspaper boy. There was Harold. He hadn't phoned; I hadn't given him my address. ?I came to take you to breakfast,' he announced. Back then a young woman didn't invite a man into her apartment, so I sent him down to the car to wait. At breakfast neither one of us could eat. We just sat there and looked at each other." He took her to lunch, then to dinner and dancing that night.
Claudia was socially graceful, but Harold was not. A hard–working Scotsman, he was so direct and uncompromising that she called him "thistle–tongue." De Boer had a similar perception: "He could be harsh, retreating. Yet he had the ability to get people to work together. It's very difficult to put your finger on Harold Stearns."
"I came from a family of nine," said Claudia, "and wanted no more than two children. I didn't want to be a domestic drudge, and I saw marriage as a trap." She didn't escape marriage and raised two children, but life with Harold was far from domestic. Claudia accompanied him on many of his expeditions to map remote areas. She was the first Caucasian woman seen by some remote tribes.
In the Kipahulu Valley on Maui, the Stearns crammed into a small tent with four Hawaiians, enduring three days of soaking rain and poking roots.
On a trip to the Samoan Islands, she awoke under her mosquito netting to find a pig snuggled up next to her, trying to keep warm. Leaving the island in outrigger canoes paddled by Samoans, they encountered rough seas. Claudia barely missed being struck by a lifeboat as she struggled to grab hold of a rope ladder on the pitching ship they were attempting to board.
They scaled Kohala, the most difficult mountain in Hawaii to climb. As they approached it, they encountered a sphagnum swamp that completely covered the underlying water with moss. They pulled themselves across by holding onto tree branches. At one point, Harold broke through the moss, and it took two men to extricate him. The acid, organic–rich water soaked through their boots and stained their feet black—leaving their toenails darkened for six months.
Claudia herself had a very close call on one expedition. Harold had left her alone at a cabin and returned to find her on the ground choking in agony. She pointed to some chunks of peeled taro in a tin camp pot at her side. As she was cooking the taro, she had eaten a few raw slices just as she would a potato. But raw taro is permeated with oxalic acid crystals, and one lodged in her throat. "I was desperate because I had no idea what to do," Harold wrote. "I managed to force some canned milk down her throat, which stopped her violent choking, but it seemed an eternity before she could breathe normally again."
On Dec. 7, 1941, the two were in their home looking out over Pearl Harbor. "We had the Sunday morning symphony on," said Claudia. "We thought we heard practice bombing. Harold was annoyed and went outside, but he quickly came back and said, "Those are Japanese planes." From that day on, everything was chaos on the islands."
During wartime, Claudia worked at the Honolulu Academy of Arts, mounting exhibits that were popular with soldiers stationed on Oahu. Harold traveled throughout the South Seas to help the advancing Allied troops locate water on islands they captured. Though he was a noncombatant, he worked on the front lines and was exposed constantly to the hardships of war. "Every time he came home, he was thinner and quieter," she related. By VJ Day, this six–foot, two–inch, vigorously healthy man had dropped from 180 to 120 pounds. Worse, according to Claudia, his spark and vitality had drained away.
A weary Harold wanted nothing more than to find a secluded spot in the American West and let the world go by. The couple boarded a ship bound for San Francisco. If Claudia had doubts about this drastic step, she put them aside. She was prepared to do whatever it took to get back the man she had known.
Now, the 300–plus acres of Stearns property is thick with trees planted by Claudia, who oversees an experimental tree farm. In her memory, she can see clearly the site as she and Harold first glimpsed it on July 29, 1946, after months of travel and rejection of many possible properties. They were eyeing some lakeshore land advertised for sale. "I looked up and saw some old houses on a cliff," she said. "It was a homestead that had been abandoned for 37 years. Harold asked how they [the owners] made a living and was told, ?They held up trains.'"
The Stearns tried unsuccessfully to find a road up to the homestead before asking a neighboring farmer how to get there. He pointed out an abandoned and overgrown road, and after chopping brush and gunning the car up a particularly steep stretch, they finally made it.
Poverty Peak, as the locals called it, consisted of 11 log buildings, all hopelessly dilapidated except for one small house that was in bad shape but fixable. All the lumber on the property had been sold to the Anaconda Copper Company, leaving a mess of blown down trees and stumps. Back in Hope, Harold found the current owner eager to sell. He retrieved the deed from a safe and asked $165 for the 65 acres. He happily took Harold's personal check, drawn on the Bank of Hawaii.
The site is 300 feet above Lake Pend Oreille at an elevation of 2,365 feet. Harold was entranced by the geology of the area. Their property lay on a glacier–polished cliff with grooves and striae made by 5,000–footthick sheets of ice that moved over the area from Canada during the Pleistocene era. The ice dammed the mouth of the Clark Fork River, forming the ancient Glacial Lake Missoula that covered thousands of square miles. When the lake finally overtopped the dam, it released the great Spokane flood, carrying more water than all rivers on earth combined. The water rushing toward the Pacific Ocean created the Channelled Scablands of Washington. Poverty Peak looked out on the south abutment of the ancient dam.
While Harold went rock hunting the next morning, Claudia admired the view. "An enormous bank of white clouds drifted from the mountain across the lake at dawn," Claudia said. "They came up the cliff and stopped at our embankment. That's how we got the name for our property: Cloudsledge."
The couple became homesteaders at midlife. They had no easy access to their property, no electricity for more than a year, and a pair of coughing skunks living under the house. Wartime restrictions still in effect made it difficult to obtain building materials; lumber was scarce, and they could not get glass to replace windows. They did, however, have water, which Claudia discovered during their second day. She stumbled across a patch of green grass in an odd place. "I hadn't been married to a hydrologist without learning a few things," she said.
"People in town were convinced that retired school teachers had bought the land," she added. The hard task of restoring Cloudsledge to livability, though, was a tonic for Harold. He and Claudia struck a deal. She would cook for Harold and be a helper, despite her aversion to domesticity, if they would undertake the arduous task of clearing stumps from the property. The harder Harold worked, the more he regained his former physique and disposition.
They had hardly put a new roof on their house when the postmaster made his way to Cloudsledge with the news that an official with the city of Idaho Falls was trying to find Harold. He went into town to the only phone in the area and discovered that the official wanted Harold to help locate a new well for the city. "To my astonishment, he took it on," Claudia recounted. "We stayed a night in Montana at a hotel with an old–fashioned zinc tub on claw feet. It was my first bath in six months, and Harold couldn't get me out of the tub."
Word spread quickly that Harold was available as a consulting geologist. Thanks to his reputation as the leading hydrologist with the USGS, he soon had so much work that he hardly ever had a free day. He supervised foundation work for 11 dams built to supply power to Idaho and adjacent states.
He also began traveling regularly to Hawaii (11.5 hours from Seattle on a Continental Air sleeper), where he worked to convert land considered unusable by pineapple growers into housing developments. His expertise in hydrology had proved invaluable throughout the islands, particularly his invention of a type of well drilled on a slant (as opposed to vertical), which was much more suitable for delivering reliable and large quantities of water.
Not until the 1970s did the Stearns, with Harold in partial retirement, return full time to Idaho from Hawaii to finish work on Cloudsledge, where they spent much of their final years together. In the end, this impoverished Wesleyan scholarship student was able to establish both an endowed lecture and a faculty chair at the university.
Quarries Attract Young Stearns
Harold Stearns had $10 when he came to Wesleyan in 1917, but he managed to turn his hobby of rock collecting into a regular source of income. On weekends, he collected mineral samples from active quarries in the Middletown area and sold them to dealers. He described this project in an article published in 1980 in Lapidary Journal.
"The only way the quarries could be reached from the University at Middletown at that time was by street car across the Connecticut River to Portland and then on foot to the quarries. I did this with a knapsack on my back to carry specimens. On return trips I invariably cut the time necessary to catch the trolley to a minimum and had to run with 25 pounds of minerals on my back."
Stearns came across jewel–quality specimens, one of which he was able to sell to the Boston Society of Natural History for $25. The significance of that sum is suggested by a boat trip he took on the SS Richard Peck down the Connecticut River to New York City at a cost of $1, including a stateroom. That trip led to a regular $25–per week contract to collect specimens in Connecticut for the American Museum of Natural History.
He also tried to extract dinosaur tracks from Triassic sandstone quarries in Portland, but the slabs were too heavy to be moved intact and trimming destroyed their value. Much later, another Wesleyan geologist, the late Professor Joe Webb Peoples, succeeded in guaranteeing the permanence of dinosaur tracks by establishing Dinosaur State Park in Rocky Hill.