Field Hockey Wins ECAC Again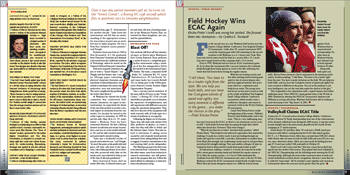 For the second year in a row, Wesleyan field hockey won the Eastern College Athletic Conference, New England Division III tournament. Carlin Aloe '01, named tournament MVP, scored the winning goal with 5:08 remaining in the second overtime to lift Wesleyan to a 2–1 victory over Clark. Wesleyan also tied its team record for wins in a season with a 13–5 mark. Last year's squad closed out the campaign with a 13–4 record. Prior to 1999, Wesleyan had not won an ECAC tournament game (0–2), let alone the tournament title. Last year, however, the Cardinals swept through three home games en route to the title, defeating two teams that had beaten them during the regular season.
With the two leading scorers and five other starting seniors having graduated (a loss of several players who had won regional honors), this year's team relied on a sophomore–andfrosh– heavy roster. The young team had its eye on last year's record as well as the newly established New England Small College Athletic Conference tournament, which would crown a conference champion and award an automatic berth in the NCAA Division III tournament.
Coach Patti Klecha–Porter recalls the beginning of the season: "Athletics Director John Biddiscombe said to the team, 'This is a very challenging year; last year's team won the ECAC, so there's a lot of pressure on you to do as well.' I don't think he knew what was going through their minds when they heard that. Pressure? They were loving it.
"'What do you have for us today?' was their daily question," added Klecha–Porter. "They looked at me with such expectation; they wanted the challenge. It made me a better coach; it sent me looking through my books and tapes for a new drill, a new idea, information on another team. Drew Black (the strength and conditioning coach) came in and gave them procedures for strength training. They saw another colleague of mine investing his time in them and that made them push harder as well."