Alive, On Stage: Cambodia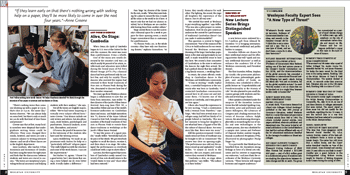 When Dance, the Spirit of Cambodia began its U.S. tour at the Center for the Arts this summer, the event was more than a performance. It was a rebirth.
One of the many arts nearly destroyed by the country's civil war—in which nearly 90 percent of its artists, intellectuals and educators were killed during the brutal years of Pol Pot's Khmer Rouge (1975?79)—classical dance had been performed only by a select few, and only for royalty. Those dancers who survived the regime had returned to their Royal University of Fine Arts in Phnom Penh during the '80s, devastated to discover how few of their number remained.
Ten years ago three Wesleyan alumni began a collaboration to save this art form from extinction. Sam Miller '75, then director of the Jacob's Pillow Dance Festival; Sam-Ang Sam PhD '89, a MacArthur Fellow and one of the world's foremost authorities on Cambodian dance and music; and Ralph Samuelson MA '71, director of the Asian Cultural Council in New York, brought surviving members of the Royal University of Fine Arts in Phnom Penh to restore their dance traditions in workshops at the Jacob's Pillow Dance Festival.
"It was like pieces of a jigsaw puzzle," recalls Miller. "Everybody had a little piece of the whole. We got everybody together to recall the dance, recreate it, and then share it on stage. We videotaped the performances so everybody could leave with a copy to show others."
Last year, the three agreed that members of Cambodia's newly named University of Fine Arts should return to the United States to tour and "share what had been restored."
Pam Tatge '84, director of the Center for the Arts, recalls, "When they were looking for a place to mount the tour, it made all the sense in the world to do it here. It wasn't only that we had our alumni involved, but at Wesleyan we are comfortable hosting those from another culture."
Tatge invited them to use the university's rehearsal space for a week to prepare for their opening event, a much longer commitment than is customary for a performance.
"In Phnom Penh—no, in the whole country—they have only one functioning theater," explains Samuelson. "At home, they mostly rehearse for each other. The lighting, the sound, the stage all heighten the experience of the dance—but it's all very new."
"We needed that week at Wesleyan to put everything together," says Miller. "This was also a pilot project in contextualization. How do you give American audiences the context for a performance of traditional Cambodian dance? Can you make it understandable?"
This question is central to Tatge's commitment. "Part of the mission of the CFA is to build audiences for our events beyond the Wesleyan community. Knowing of the large Cambodian population in the state and particularly on our staff, it made wonderful sense to host this here. We created a host committee of Cambodians in the state to welcome the dancers the night they arrived. We had a potluck dinner that was really like a big family reunion, a wedding feast."
In return, the artists offered a workshop in Cambodian dance to the Wesleyan and Middletown community.
"It was so exciting," recalls Sophat Men, a custodial foreperson at the university who was born in Cambodia. "I contacted Cambodian communities around here to all come out and welcome them. I'd known one of the dancers in Cambodia, and it was great to see him again."
Others also found the experience to be very moving. "I had a conversation with a woman from Travelers," says Tatge, "who had been several years in a refugee camp, had left her family of 10 people behind in Cambodia. This was her moment to bring her daughter to see what had been a big part of her life, the culture of classical dance. For every story like that, there were ten more."
Still the question remained: Could a nearly extinct art form of Southeast Asia be brought to life in Connecticut? The answer was clear on opening night. "The performance was sold out; the audience stood up and applauded," recalls Miller. "It meant so much to the dancers—the care, respect, and consideration they received at Wesleyan.
"Cambodia is alive, on stage, when they perform," says Miller. "The culture is in their bodies."