Distinguished Alumni Honored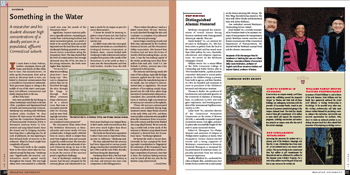 Wesleyan recognized the achievements of several alumni during Reunion weekend with Distinguished Alumni/ae Awards. They are:
David Batdorf "51?an attorney for 46 years in Shillington, Pa., who has been active in politics from the local to the national level and has raised more than $200 million for civic, charitable, educational, and religious organizations. He serves on the Wesleyan Campaign Council.
William Harris "61?a senior fellow at the Tufts University College of Citizenship and Public Service, who in 1981 founded KidsPac, a political action committee dedicated to sound public policies for children living in poverty, from birth to age six, and their families. In 1984, he founded and continues to serve as president of the Children"s Research and Education Institute.
Thomas R. Broker "66?professor of biochemistry and molecular genetics at the University of Alabama at Birmingham, an authority on HIV and viral gene replication, and founding president of the International Papillomavirus Society in 1995.
Leslie Brett "76?executive director of the Connecticut Permanent Commission on the Status of Women (PCSW), a nationally recognized expert on women"s issues, civil rights, and public policy who successfully fought for the state to assist uninsured women.
Robert H. Thompson "76?Phelps Minister and instructor of religion at Phillips Exeter Academy in Exeter, New Hampshire, former alumni-elected trustee and a strong supporter of Wesleyan"s commitment to diversity. Reverend Thompson is renowned for his presentation of American music, especially spirituals from the African American experience.
Bradley Whitford "81?acclaimed for roles in theater, film, and television; best known for his current role as Josh Lyman on the Emmy-winning NBC drama, The West Wing. Recently he has starred in The Muse with Albert Brooks and Bicentennial Man with Robin Williams.
One individual received Wesleyan"s Outstanding Service Award:
Emil Frankel "61?recently nominated by President Bush to be assistant secretary of transportation for transportation policy; Wesleyan trustee emeritus and former commissioner of the Connecticut Department of Transportation. He chaired both the Wesleyan Annual Fund and the Alumni Association.