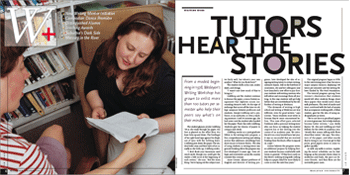 From a modest beginning in 1978, Wesleyan's Writing Workshop has grown to enlist more than 100 tutors per semester who help their peers say what's on their minds.
The student glances at Julie Goldberg '00 as she reads through his paper. His foot is planted on the office floor. His knee bobs up and down. The forefinger of his right hand taps against his thigh, out of sync with the bobbing knee. Goldberg puts down the paper. The student looks away and then back at her casually as she looks up. Goldberg smiles.
"I don't think your transitions need much work, though you could give the reader a little more at the beginning of each section," she says. "But the main thing: You're laying out the subject matter fairly well, but where's your own analysis? What do you think here?"
The student shifts in his seat, smiles shyly, and shrugs.
"I wasn't sure how much of that to bring in."
Goldberg and the student continue to discuss the paper, a music history assignment that explores issues surrounding Mozart's wife. It's the type of exchange that occurs all the time on college campuses between professors and students. Except Goldberg isn't a professor, or an instructor, or even a teaching assistant. Until 30 minutes ago, she had never met the student who handed her the paper. That's fine with Goldberg. Students give her dozens of papers to critique each week.
Goldberg works as a post-graduate fellow in the writing tutor program, a free, comprehensive writing and editing service that addresses everything from short essays to honors theses. The idea of using students as writing tutors was ground-breaking when the program was first developed 23 years ago. Now colleges and universities across the country emulate this concept.
Anne Greene, adjunct professor of English and director of writing programs, later developed the idea of assigning writing tutors to certain writing-intensive classes. Still on the forefront of innovation, she and her colleagues now have launched a new effort to pair first-year students with writing mentors who will advise and encourage them all year long. In this way students will get help before they are overwhelmed by the difficulties of writing at Wesleyan.
"The demands of writing in high school and writing at Wesleyan are very different, even for good writers," says Greene. "Many students must write in formats they've never encountered before. This new effort pairs selected freshmen with a personal writing tutor who can focus on helping the student improve his or her writing over the course of an academic year. We introduced it on a very limited basis last year. It was so successful that we received funding from the dean's office to expand its scope."
Greene believes the program serves an additional purpose by helping first-year students become comfortable with tutors in general. "If they learn early on that there's nothing wrong with seeking help on a paper, they'll be more likely to come in over the next four years."
The original program began in 1978. In the intervening years it has become a major campus resource, deploying 100 tutors per semester and two writing fellows funded by The Ford Foundation.
The tutorial program sprung from Greene's observation that students would tell other students things about their papers they would never share with professors. This level of candor and trust, combined with the lack of anxiety that accompanies working with a fellow student, gave her the idea of using undergraduates as tutors.
"We're not here to proofread papers or correct grammar, but to help students become better writers," says Molly Barton '00. She and Goldberg are Ford Fellows for the 2000–01 academic year. "Mostly that means talking with them about their intent," she says, "the structure of the paper, and what exactly they're trying to say. Once we get to that point, good papers seem to come together quickly."
As with any walk-in service, regulating the tutors' schedules can be challenging: as the semester draws closer to midterms and finals, the pace can become frenetic. And then there are the inevitable panic cases.
"There's nothing worse than someone showing up with a paper at 2 p.m. that's due at 4 p.m. the same day," Barton observes. "We can always help on some level, but there's only so much we can do with that kind of time frame and pressure."
Greene says that at first, many faculty members were skeptical that undergraduate writing tutors could be effective. They soon changed their minds, however, and tutors are now a common adjunct to writing-intensive classes—and not all of these classes are in the English department.
Joyce Jacobsen, who teaches Urban Economics and Economics of Gender, has been using the tutors for eight years and finds that the discussions between students and tutors are crucial to success. "The tutors are exceptional at providing technical assistance and helping students with their analysis," she says.
Not all the tutors are English majors, either: "We've had tutors majoring in virtually every subject offered here," notes Greene. "Our alumni include not only writers and editors, but also physicians, stock brokers, psychologists and psychiatrists, financial analysts, scientists, filmmakers, and artists."
Of course, the proof of its success lies in the testimony of the students who have used the tutoring service.
Laura Middleberg '04 made an appointment with Barton for help on a "particularly difficult" religion paper: "She really helped me with the structure and some of the word choices. I can see the improvement."
Tori Barber '01, agrees. "I know I'm a good writer, but I also know that seeing a tutor helped me do even better work. It really makes a difference."