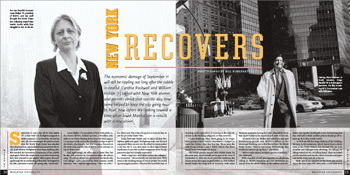 SEPTEMBER 11 WAS A DAY OFF FOR NICK MALTER '87, a New York City firefighter assigned to ladder company 113 in Brooklyn. He and his wife, Jill, were listening to the police scanner after the World Trade Center was attacked when they heard an unprecedented announcement: the recall of all off-duty firefighters. More than anything else, this revealed the horrendous dimensions of the unfolding tragedy. When the couple went out to their front stoop, they were stunned to see stapled office papers descending through the air and landing at their feet. He hopped on his bike and went to work, Jill saying only, "Good luck."
Laura Walker '79, president of New York public radio station WNYC, looked up from a Brooklyn sidewalk to see debris floating down from the first impact. I'm going to walk across the Brooklyn Bridge to get to the studio, she thought, her first impulses focused on the news story and the fate of WNYC's FM antenna on top of Tower One.
Kofi Appenteng's '81 office was in Tower Two, but he was still at home in Connecticut when the phone rang. "Thank goodness you answered! You know why I'm calling?" said a client of his from Ghana. "No," replied Appenteng. "Turn on CNN," his client said. The screen lit up just in time for him to see the jet strike Tower Two.
At his firehouse Malter and 14 other off-duty firefighters gathered spare firefighting tools and first-aid equipment then ran out into the street to commandeer a city bus. By 11 a.m. they were on their way to lower Manhattan to join the on-duty companies from his department that had already responded.
"Both companies were there before the collapse," he recounted. "Miraculously, no one was lost. They were in the building trying to rescue people but ended up rescuing themselves. They had the incredible luck of standing in the right place or running in the right direction as the building collapsed, so they survived.
"I was thinking, Okay, we're going to do triage; we're going to have bodies everywhere. I helped remove two victims alive that first day. Those were the only living victims I saw. I didn't realize that there would be so few people I'd rescue."
The world quickly learned what Malter knew: for the most part, rescue would not be part of the story of September 11. After the shock came the confusion, the frantic worry, the anger; as grief settled in, New Yorkers would begin the long task of recovery, with some Wesleyan graduates having key roles. Meanwhile, there was more rubble to be searched and news to be told.
At about 9:45 a.m. Walker had talked her way past disbelieving guards into WNYC's offices in the Municipal Building, just a few blocks from the World Trade Center. "They're evacuating the building; why would you want to go up there?" she heard.
"We're a radio station; we have a service to perform," she explained.
With a handful of staff, plus reporters on cell phones calling in, WNYC broadcast the first eyewitness accounts from the streets below. As the cellular networks failed, one reporter would grab a rare, functioning land line and hold it while another person would go off reporting; then they would switch.
"At 9:59 we felt this huge shaking of the building. We were in the newsroom, which doesn't have a direct view of the Trade Towers, but we had TVs on. I remember my colleague Amy shouting, 'It's falling! It's falling toward us! No, it's falling down!' Then we looked out the window and saw this swirl of smoke and paper and metal; it was just all in the air.
"Beth, one of our reporters on the street, was recording as the first tower fell. Even now, I can't listen to it. She's broadcasting live, screaming, 'It's falling! It's falling! The building is falling!' I was making the call to stay in our office and keep broadcasting despite the danger to ourselves. I told the staff, 'Leave, leave if you want.' But these are hard-bitten reporters."
By evening WNYC had relocated its broadcast staff to the National Public Radio office in midtown. They were continuing to feed the national news as well as broadcast locally through an AM transmitter in New Jersey (the FM transmitter had been destroyed). Like other news organizations, they had reporters at hospitals throughout the city. The silence of these reporters spoke volumes about the magnitude of fatalities the city would face.
"One of my board members works at Chelsea Piers, which is a big sports complex. He said, 'They've made this into a morgue for bodies, but they couldn't recover anyone.' There were these moments when I realized how bad the whole thing was," said Walker. And it was obviously just awful."
At about 8 p.m. she set out walking across the Brooklyn Bridge through smoke, debris, stench and alongside soot-covered people making their way home. Weighted down by fatigue and the hellish landscape, she pulled out her cell phone halfway across the bridge. "I called my husband and I called my sister; I called my kids, my dad, and then I got home–and gave my kids the biggest hug. Ten minutes later I turned on the radio and heard dead air." Seven World Trade Center had collapsed, taking with it a switching system that included WNYC-AM's T-1 line to New Jersey.
"The staff found an engineer in New Jersey who drove over to the AM transmitter," she explains. "He took a phone, unscrewed it, used alligator clips to connect to the transmitter and dialed to the NPR bureau–a low-tech wonder. Next morning listeners heard WNYC-AM sounding like a regular phone line because that's how the signal was being carried."
The situation improved somewhat when NPR drove a satellite dish up from Washington, D.C. Even that, however, was held down by bricks and sandbags and went off the air occasionally during the next week when the wind blew hard.
Lawyer's hours–starting at 9:30 or 10 a.m. and stretching until late in the evening–helped Thacher Proffitt and Wood in Tower Two, where Appenteng worked. Still, dozens of employees were on floors 38 through 40, as one senior partner realized in horror when he saw the tower collapse from the terminal of Newark Airport.
Appenteng was watching television replays at home in Connecticut. "I thought our tower was hit around the 50th floor, and I decided we had to start seeing who was there. I thought of all the staff who come in early, generally before the lawyers. I started a conference call at noon, and as partners joined the call, we started to get a sense that a lot of people were safe."
Not until Thursday did the last person report in: a German exchange student who had just arrived in the country and started work on Sept. 10 so his address wasn't yet in the firm's computer. This happy news arrived while the partners were meeting in the auditorium at Pace University. One partner came in with a note saying, "He just called in," and a big cheer went up. Their relief was tempered, however, by thoughts of lost friends and colleagues. One of their clients lost 66 of 170 people; their insurance broker lost 200 people.
On site to find bodies and human remains, Malter and fellow firefighters at Ground Zero worked alternating 24-hour shifts for about 10 days. Much of the work seemed anything but heroic. "Everybody wants to recover somebody, but someone has to get the Gatorade, or hook up the generator that powers the lights, or move a trailer of tools from here to there," he points out.
"For the first two weeks, Jill and I wept every day. A lot of things set us off, often the overwhelming good will of people. Our firehouse got a box of cards from kids in Oklahoma City that said, 'We had something bad happen here, too.' That was very touching."
Peter Mark, professor of art, found himself unexpectedly helping to search for bodies at Ground Zero. He had gone to New York with a desire to volunteer for something–anything that would help. On Sept. 17 he met five red-uniformed members of a French not-for-profit rescue team with three trained dogs. Lacking an interpreter and unable to get clearance to assist at the site (despite their experience searching for earthquake victims in Turkey, Greece, and Taiwan), they were discouraged and ready to go home. Mark, fluent in French, joined the group, and by the end of the day the Federal Emergency Management Agency had decided to use them.
Mark's knees nearly buckled when he realized that authorities wanted him to stay with the French team as they went to the site.
"We were loaded into police vans and driven fast to Ground Zero. I had a glimpse, while fumbling with the gas mask, of towering shards of broken building," he writes in a memoir of the event. Provided with boots, gloves, and goggles, they waited several hours before receiving word to proceed to the southern command post. "Above us towered the blasted skeleton of Tower Two. Yellowish clouds of smoke drifted from the underground fires, and the entire scene was illuminated by ghostly emergency lighting. The smell of acrid smoke and underground fires, mixed with the rubber of inhalators and the fainter, but indescribable odor of decomposing bodies, permeated everything."
The dogs found human remains but no sign of life. Mark spent several days and nights amidst the rubble with the team and felt transformed by the event. Back at Wesleyan, struggling to come to terms with powerful images and emotions, he talked to a former medic in Vietnam who encouraged him to write it all down.
For the businesses that occupied the World Trade Center, the task of moving forward is formidable. Appenteng's law firm was able to relocate quickly to makeshift quarters on West 42nd Street, but many other tenants of the World Trade Center face critical difficulties in the months ahead. About 70 percent of the firms that occupied the buildings are small businesses, and the cost of relocating alone could be fatal to many, according to Diego Recalde '87. Every three hours a business goes bankrupt from the effects of the World Trade Center attack, he added. A thousand companies are predicted to go out of business within the next six months.
Recalde is chief executive officer of Concrete Stories, a firm that helps businesses analyze space needs and negotiate leasing terms with landlords. As a teenager in Ecuador he witnessed street demonstrations and nationwide strikes. After Wesleyan, Recalde worked in investment banking, conducting mergers and acquisitions throughout South America. He has maneuvered around riots, once surviving a coup that took place two buildings away from him. So when the Trade Center was attacked eight blocks from his office, he told his staff: "I've learned that you do not go out in the street! You stay inside, on the ground floor. You stay focused finding ways to help, because that gives you control. If you don't, all you do is create more anxiety."
Two days later, the Concrete Stories staff convened on a blanket in Central Park, having been displaced from their lower Manhattan office. They formed an idea that within 24 hours became the New York Coalition for Commercial Tenant Assistance (www.nyccta.org). A team of relocation and building trade firms (real estate brokers, architects, space planners, general contractors, office furniture suppliers and others) was assembled to provide services to affected businesses on a donated or at-cost basis. Concrete Stories is going one step further. The firm is giving a large percentage of the leasing commissions it receives from landlords to the affected clients to aid with the arduous transition.
On September 11, New York lost more office space than exists in any other office building in the world. Many businesses will resize and relocate more than once in the next 18 months. One important effect of terrorism will be the demand for new services, says Recalde.
"I've seen in other nations that terrorism goes beyond being a social issue and starts having a real economic cost. Security agencies come into existence; people act differently. If you go to London or to most second-world countries, you notice a whole infrastructure of security businesses addressing the fact that it's not a very safe world out there.
"Once that method of coping is introduced to the United States, people will feel more secure. It's a cycle that I've seen in other countries. A number of industries will be built to help Americans cope. The American spirit is irrepressible."
Before the day was over on September 11, corporations and foundations around the country were already donating money for disaster relief and longer-term recovery efforts. Sara Engelhardt, a Wesleyan parent and president of The Foundation Center in New York, immediately realized that it would be essential to know where this money was coming from and where it was going. Since her organization tracks charitable giving by U.S. foundations, The Foundation Center was a natural for this task. The sheer volume makes the task difficult enough, but most of the commitments went to intermediary funds, such as the September 11th Fund, which then assess the changing needs and regrant the money to nonprofits with special expertise in meeting those needs. The Center will attempt to document the ultimate purposes served by the funds.
Engelhardt quickly became a point person for members of the press reporting on the philanthropy response and tried to dispel misconceptions that reporters and news commentators have about the role of the charitable sector in this country.
"I went on a television news program toward the end of September to talk about the outpouring of support from all over the country and the incredible work being done by nonprofit organizations to aid those affected by the disaster. All they wanted to talk about was whether any charitable funds would be 'diverted' to pay for administration. I made the point that you can't just throw money out the window and hope that it gets to the right place. You need a structure, you need coordination, you need the highest quality of expertise–and that takes money. Fortunately for the country, nonprofit rescue and relief organizations have this infrastructure in place and were able to respond quickly and effectively."
Engelhardt believes the public has gained a new awareness of the role nonprofits play in an emergency. People think initially of the Red Cross, but other non-profits help in ways large and small. "For example, museums waived their admission fees, saying: 'If you need a place for peace and reflection and to remember what the rest of the world is like, come in.' Concerts that had to be cancelled," she said, "were given in public for free.
"Another example is Laura Walker's WNYC, a non-profit that was a lifeline for many people. It wasn't superficial, and it helped a lot of us recover, even though the station itself was directly affected by the disaster."
The station incurred $4 million in emergency expenses and lost revenue, much of it not covered by insurance. But the public and foundations responded with $3.1 million, setting a record level of giving for all public radio stations.
New York will return to normal, but it will not be the same–nor should it be, says Robert Yaro '71. As president of the Regional Plan Association, an 80-year-old civic group dedicated to advancing long-range planning for the metropolitan area, Yaro believes that the tragedy of September 11 has presented New York with a unique opportunity to reshape lower Manhattan around a new space commemorating those who lost their lives there.
"My sense is that downtown had a series of crises of confidence going back 50 years," he observed. Earlier in the 20th century, lower Manhattan had the largest concentration of Fortune 100 headquarters in the world. Many of these companies moved out in mid-century, and since 1970 financial services have concentrated in that area, creating an overdependence on one industry.
"The Trade Centers were not a much-loved place by the people who worked there or by a lot of New Yorkers," he added. "It was not a warm and fuzzy place. It had great symbolic value, but I don't think we can create another windswept plaza and have that serve as a memorial to the people who died there."
One major challenge is that the area is not easily reached by the regional rail system, unlike midtown, where trains from Long Island, Connecticut, New Jersey, and Westchester converge. The difference can be seen in the revitalization of Times Square, according to Yaro. Times Square is within one of the largest concentrations of mass transit anywhere in the world and is easily reached by people in nearby residential neighborhoods. Beginning in the early '90s, virtually every major media conglomerate in the world has established a presence in the area. "It's an interesting, glitzy entertainment district, and people want to be there," he says.
Housing also reflects a difference in vitality between the two areas. In midtown, there are roughly four jobs for every residence within easy walking or commuting distance. In downtown, that ratio is 12 jobs to one residence. Yaro believes that more creative use of high-speed ferries would make the waterfronts in Brooklyn and Queens more accessible to downtown, thus expanding the residential base.
He's also mindful of what he terms the "amenities package."
"Midtown has every kind of diversion you can imagine; it's an adult playground, which is why people like to live and work there. Lower Manhattan really doesn't have a critical mass of these things. Infrastructure is not just rails and fiber optics; it's theaters and restaurants and specialty retail."
The nonprofit planning group Yaro heads hopes to have considerable influence over the development of a master plan for rebuilding downtown. Ultimately, the plan will be developed by public agencies working in consort with other organizations. The Regional Plan Association has convened a broad coalition of roughly 80 civic and business groups called the Civic Alliance to Rebuild Downtown. "Our job," says Yaro, " is to raise everyone's sights. It's relatively easy to reach consensus at a low level. It's harder to reach consensus on a more visionary strategy, and that's what we're hoping to do.
"The goal in all this is to create the first 21st-century city: to take all that we've learned about the infrastructure of cities, urban designs, environmental systems, and transportation systems, and build all of these concepts into plans for revitalizing downtown. Lower Manhattan is a wonderful place–ironically a high-rise city built on a street layout of a 17th-century Dutch village. It's the most incongruous thing in the world, which gives it a special feel.
"We need to move quickly," he says. "We can't have a disaster scene on our hands, an empty place in the middle of Manhattan, for a decade or longer. Somehow we've got to get it fast, we've got to get it right, and it has to be an exceptional place when we're done."
For now, though, the misshapen funeral pyre that was once the World Trade Center reminds many people that they are lucky to be alive. Kofi Appenteng muses on that fact when he recalls the art work, letters from his parents, and the painting of his wife that vanished with his office. "We're amazingly lucky that we're here," he says. "I realized that lawyers keep papers; we like books and forms, and we look up everything, imagining that it's all so important. But the real value of a successful firm is the intellectual capital that walks in and out the door every day.
"I think we're doing fine now because we have that. It's been helpful in our recovery that our people want to be here."
"How can we possibly produce an arts and culture show just a few days after the terrorist attacks?" wondered Julie Burstein '80, executive producer of Studio 360, which is produced by WNYC and PRI and broadcast nationwide.
Burstein had been at her desk in the municipal building a few blocks from the World Trade Center when the first plane hit. She managed to make it home to her family in New Jersey late that night. Next to the terror and tragedy of the day, an arts and culture program felt frivolous.
On a conference call (the only way they could meet), Burstein and her staff found a solution: They would invite a poet and a composer to join the show's host Kurt Andersen. These artists would share art that had helped them–and would help the listeners–through the emotional turmoil of that week.
The musician they invited was John Corigliano, who had composed a symphony for the many who had died of AIDS. The poet was Marie Ponsot, who is in her late 80s. "She's sharp, she's energetic, she's so grounding," recalls Burstein. "She was exactly what we needed."
Corigliano brought music of rage and grief, Ponsot brought poems of despair and solace, and together "they took us through all the things we were feeling," says Burstein.
The audience response was tremendous. Many wrote expressing gratitude for the sensitivity, for the healing words, for offering "the space where the spirit of the human voice is heard," as one listener wrote.
"Our show has always been wonderful at exploring the intellectual aspects of art," says Burstein, "but this went directly to our hearts. Art can help us mourn. This one show has helped us find the emotional center in each one we produce; it's informing everything we do now.