Trustees Also Approve Film Studies Project, Tuition Will Rise by 5.5 percent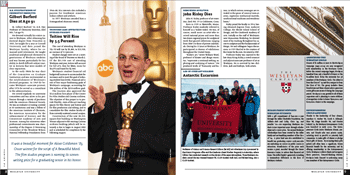 The cost of attending Wesleyan in '02–'03 will rise by $1,880, to $35,930, an increase of 5.5 percent.
Student charges were set at a meeting of the Board of Trustees on March 2. Of the $35,930 cost of attending Wesleyan next year, tuition will account for $27,474, fees for $846, room for $4,670 and board for $2,940.
Wesleyan's student financial aid budget will increase to accommodate fee increases and to meet the goal of reducing student loan levels. Financial aid is one of four major fundraising goals of Wesleyan's campaign, accounting for $96 million of the $250-million goal.
The trustees also approved the $5.6-million first phase of the Center for Film Studies and Cinema Archives. The objective of this project is to provide flexible, state-of-the-art teaching spaces for film theory and history and for film production and editing, and to consolidate the film studies faculty offices currently scattered around campus.
Construction of the new 18,310- square-foot building on Washington Terrace adjacent to the existing Cinema Archives building (which will be retained) is due to begin in August 2002 and is scheduled for completion by the following August.