Wesleyan Parent Is Charter Member, Alumni-Elected Trustees Join Board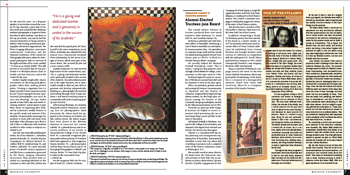 The annual alumni election of trustees produced three new board members: Mike McKenna '73, David Hill '86, and Oyeshola Olatoye '96.
McKenna is president and chief executive officer of Marsteller Advertising, a unit of Burson-Marsteller, an international communications firm. He specializes in corporate image work and has carried out award-winning projects for pro bono clients such as UNCF's "A Mind Is a Terrible Thing to Waste" campaign.
He recently helped the National Football Foundation create "Play It Smart," a program that prepares inner city high school athletes for college. A documentary on this topic aired on CNN.
McKenna began his career as a member of Wesleyan's annual fund staff, and he continues to serve as his class agent.
Hill is vice president, general counsel and secretary for Verizon Communication in Maryland and the District of Columbia. Responsible for legal and regulatory matters, he also helps plan corporate strategy for Verizon in the constantly changing marketplace created by the Telecommunications Act of 1996.
Formerly an associate with Hogan & Hartson, he helped to secure injunctive relief preventing the use of race-based drug courier profiles in the state of Maryland.
Hill played football at Wesleyan, majored in the College of Social Studies, and obtained a law degree from Harvard Law School. He serves as his class agent.
Olatoye is a consultant with the urban planning and management-consulting firm of Hamilton, Rabinowitz & Alschuler in New York City, where she is working on projects such as adaptive reuse of the former convention center in Washington, D.C.
She recently served as issues director for Mark Green, the Democratic mayoral nominee in New York City. An authority on urban school reform, she was director of public engagement for the Campaign for Fiscal Equity, a nonprofit organization that sued New York State, alleging an inadequate school finance system. She created a statewide campaign to build public support for reform of the state's school finance system.
She also has been a member of the Chancellor's Advocacy Task Force for the New York City school system.
Download a PDF of the complete article HERE
In addition, George Ring, a '98 and '02 Wesleyan parent, has been elected to the Board as a charter trustee. In 1977 he founded and became chief executive officer of Cross Country Cable. Later, he established Cross Country Wireless and brought wireless video services to California in competition with the cable giant TCI. Pacific Telesis purchased his company in 1995, and he subsequently founded a new company, Wireless Cable International.
Ring is a member of Wesleyan's campaign council and serves on the New Jersey Network Foundation, which supports public broadcasting in New Jersey. He is a recipient of a distinguished alumnus award from Seton Hall University, where he is a longtime member of the board of trustees.