40th Anniversary, Celebrate World Music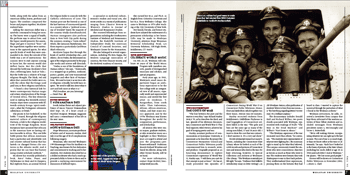 On Feb. 21-23, Wesleyan will celebrate 40 years of the World Music Program with marathon concerts, panels of distinguished musicians and scholars, and special programs.
Forty years ago, in 1961, Wesleyan's small music department began an ambitious experiment to be the first college with an integrated view of all musics, especially world and experimental musics, and invited the first artist in residence, T. Ranganthan, from south India. Then Indonesian, African, African-American, Indian, and East Asian musics appeared, and by the 1970s Wesleyan was known throughout the world for composition, performance, and scholarship.
All alumni who were music majors, graduate students, or who remember music as a highlight in their Wesleyan years are urged to attend and join the programs—perfomers welcomed! Professors Emeriti Richard Winslow and David McAllester, along with other former faculty, will be on hand.
For more information, contact Hope McNeil, hmcneil@ wesleyan.edu.