Dance Celebrates its 36th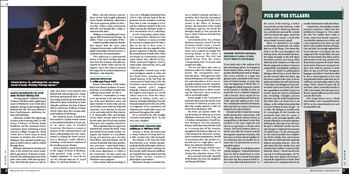 "Dancing Legacies" celebrated 35 years of dance at Wesleyan with a gathering of many of Wesleyan's most noted dance graduates during Homecoming/Family weekend this fall. The event featured a host of performances, exhibitions, lectures and workshops.
Celebrants recalled the beginnings of dance at the university, when in 1967 former Professor of Theater Ralph Pendleton and the renowned dancer and teacher Bessie Schonberg at Sarah Lawrence College arranged for Cheryl Cutler, then a dance major at Sarah Lawrence, to introduce this art form at Wesleyan. They intended to build a program in which culture could be studied through dance.
Wesleyan dedicated its new dance facility in the rebuilt Pine Street studio, which generations of dancers remembered for the awkward placement of two poles in the center of the dancing space. Now, with $700,000 spent on a new facility, users have a more spacious area flooded with natural light and a shockabsorbing sprung-wood floor. At a ribbon-cutting ceremony, the new studio was dedicated to Bessie Schönberg by Pedro Alejandro, professor and chair of dance; both he and former Professor of Dance Cheryl Cutler share the German-influenced tradition of Schönberg.
The weekend events included the first annual Dr. Cynthia Novack Lecture on the Institutional Study of Dance, given by Janice Ross of Stanford University. The lecture is named in memory of the acclaimed dancer and dance anthropologist who was instrumental in shaping the dance curriculum at Wesleyan. Cutler offered a workshop, as did alumni members of the Headlong Dance Theater.
Alumni packed a panel discussion on the Legacy of Dance at Wesleyan, with panelists Andy Gaines '87, Stephan Koplowitz '79, Grace Mi He Lee '90, Clarinda MacLow '87, David White '70, and Peter Woodin '71.
White, executive director and producer of New York's highly influential Dance Theater Workshop, called dance "the most important global art form," one that "allows a deep involvement with self, and through that, a deep involvment with other.
"Wesleyan is remarkably good at turning out fully formed human beings," he added. "Dance is an exemplar of that."
Underscoring that sentiment, Woodin, who danced with the Alvin Ailey Company for seven years, said he believes deeply in the ability of dance to serve as "a universal form of communication."
"This gathering is a phenomenal tribute to the dance heritage that was born from the visionary curriculum pioneered by Cheryl Cutler and her colleagues, and to the cultural moment that supported its institutionalization at Wesleyan," said Alejandro.