Marco Polo: A Photographer's Journey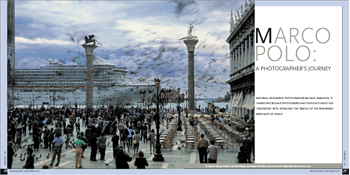 MICHAEL YAMASHITA '71 STARTED TAKING PHOTOGRAPHS WHILE "SEARCHING FOR HIS ROOTS" on a trip to Japan after graduating from Wesleyan. What began as a hobby transformed into an ongoing career that combines his two passions of photography and travel. Since 1979 he has been a regular contributor to National Geographic magazine. His assignments have taken him to six continents, with Asia as his special area of concentration. For his most recent job, Yamashita spent two years recreating Marco Polo's journeys, using the famous traveler's 1299 text as a guidebook. He covered 10 countries, including Italy, Iran, Iraq, Afghanistan, China, Indonesia, and India and visited many of the same places Polo wrote about. Yamashita's travels culminated in an unprecedented three-part series on Marco Polo that ran in National Geographic in 2001, as well as in his new book, Marco Polo: A Photographer's Journey (White Star/Barnes and Noble, 2002). In the following essay, he talks about how his work became an obsession, a malady that China scholar Jonathan Spence calls "Marco Polo Fever."
It all began in 1998 with the question: Did Marco Polo go to China? Frances Wood, head of the Chinese Department at the British Museum, thought not and challenged Polo's credibility in her book by the same name, citing some omissions in his epic 13th-century travelogue, including such notable Chinese customs and accomplishments as foot-binding, tea-drinking, and the Great Wall.
As a professional traveler who specializes in Marco Polo territory, I felt an urge to defend this peripatetic Italian. I learned that, Frances Wood notwithstanding, Marco has a fair share of highly respectable and noted defenders. They are quick to point out that he lived among the Mongols, under the employ of Kublai Khan himself, and therefore would not have had much to do with the Chinese or their customs. And as for the Great Wall, it seems that it wasn't very great in Marco's day. The immense fortifications around Beijing that we know as the Wall were built three hundred years after Marco left China.
I fired off a query for a story—to retrace Marco Polo's route and to document the sights he described—to Bill Allen, the editor at National Geographic magazine. Allen gave the green light. Armed with four cameras, a dozen lenses, a thousand rolls of film and a copy of the travelogue, I set out in search of Marco Polo, often in the company of Geographic staff writer Mike Edwards, who was assigned to write the story.
What started as a typical four-month National Geographic assignment soon became a two-year obsession. Marco turned out to be a most reliable guide, taking me thousands of miles from his purported birthplace in Venice through Iraq and Iran, through the war zone of Afghanistan, over the Pamir Mountains, then on through China itself. We went from the Taklimakan desert to the Buddhist art treasures of Dunhuang and on to Inner Mongolia and Xanadu. We traveled with Marco into Tibet and Myanmar, stayed in Yangzhou and Hangzhou, the greatest cities of the world in his day, and sailed down the Grand Canal and the Yangtze River. We saw him home by way of Sumatra, Sri Lanka, and India. To travel the same route today requires much more than hopping on a horse or camel and heading toward the rising sun. Our itinerary was a logistical nightmare.
To get to Iraq through the no-fly zone imposed by the United Nations, we flew to Jordan, then went overland by Chevy Suburban to Baghdad, where we were met by representatives from the Iraqi Ministry of Foreign Affairs, whose primary job was to monitor what we saw, where we went, and what I photographed. When I asked my "minder," Mohammed, if I could climb to the top of a minaret in the city of Mosul—which Marco mentioned as the source of the much coveted Mosulin (or muslin) cloth—he agreed, but with a "no pictures" proviso. I bounded ahead of him up the dark, narrow stairway, unaware that he suffered from claustrophobia and was having great difficulty keeping up with me. I got to the top and shot pictures quickly in every direction. By the time Mohammed could reach me, I was heading back down, grinning all the way.
For passage into Afghanistan, we first needed visas to Almaty, Kazakhstan, where we picked up a flight to Dushanbe, capital of Tajikistan. There we were met by soldiers from the Northern Alliance, who got us aboard one of [the late] Ahmad Shah Massoud's helicopters and flew us, hovering just above the tree line to avoid Taliban radar, to his headquarters in the Panjshir Valley. We then traveled by battered Toyota pickup truck with a letter from Massoud instructing his northern commanders to provide help, usually in the form of a Kalashnikov-armed escort, bread and kebabs, and a spot on the floor for our sleeping bags.
Donkey cart and horse are the main forms of transportation in that sad country, as in Marco's day, but traveling over bomb-cratered roads in our truck was not much easier or faster. We lost our steering when the rod connected to the wheels snapped. Agha, our driver, first repaired it by lashing the pieces together with yak-hair rope. We soon replaced the yak hair with nylon straps from my camera bags, but without much better results. We eventually limped into the town of Eshkashem, having covered only 50 kilometers in three days, about the pace Marco traveled by donkey caravan.
Once over the border of China, we discovered the Chinese love Marco Polo. He was their first and best publicist, describing a civilization far more advanced than any in the West. He was also an amazingly accurate reporter. In China we saw the huge jade mines of Hotan, the singing sand dunes of Dunhuang, and the huge Reclining Buddha in Zhanye, all of which he described in detail. In Iran, we found the same green hot spring he wrote about. In Afghanistan, we found his "mountains of salt" outside Talogan and the bighorn sheep named for Marco (Ovis poli) in the Wakhan corridor. These sights were exactly as he described, precisely where he told us to look.
By the end of our journey, I felt linked to Marco as a kindred spirit. Once, on a beach in Kerala, India, I witnessed a scene straight out of the 13th century: hundreds of half-naked fishermen rhythmically pulling in their nets, with no sign of the current century as far as my long-lensed eye could see. I imagined Marco watching fishermen like these in awe, as I did, shooting roll after roll trying to capture it all in one frame. If Marco were alive today, he surely would have been one of us, a writer or photographer for National Geographic.