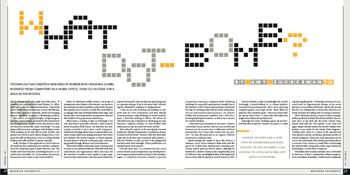 ON AN AVERAGE WEEK you might find Allan Baer '76 noodling out a proposal in his rural Chelsea, Vt., office, pitching his ideas for telecommunications "beyond the grid" to White House bureaucrats, or out in the field anywhere from Uganda to Venezuela, where he's bringing telecom capabilities to people in developing countries.
The offices of Clay Dreslough's computer-game business, Sports Mogul, are located in the basement of his Chicago home, and the servers that drive his sales are housed in Somerville, Mass. Dreslough '93 is juggling a full-time job as a designer with Midway Games while working on the side with his wife, Deirdre, and partner Ian Smith to grow Sports Mogul from a company that sells 50,000 games a year to a behemoth like Midway that sells millions of games annually.
Holly Gruskay '83 has appeared on CNN to discuss the work she does analyzing voice and data configurations for companies eager to lower telecom costs. You would never know that her consulting business is situated in her Scarsdale, N.Y., home where she pursues her second career: Mom to two active children.
These are Wesleyan's hidden techies: a new type of entrepreneur who, thanks to the Internet, can choose to live and work just about anywhere in the world. Because they operate out of a home or small office with little or no signage, they may be literally hidden from sight. And because they commonly eschew incorporation, they are often hidden from government statisticians.
What unites a Gruskay or Baer or Dreslough is not only that they've generally selected a work location based on quality-of-life factors, but that they use technology creatively to drive their small companies. Advanced technology allows them to operate what economist George Gilder and management guru Tom Peters have dubbed "the virtual company" in which individuals work alone or with one or two principals, and manage growth through alliances and subcontractors.
These three hidden techies also share a driving need to create in an unfettered fashion. They will work with corporations and organizations when necessary, but the incentive is usually to raise capital or to gain experience for their next venture. Baer has never worked for anyone but himself. Only Gruskay has spent long years in corporate settings. Now, to her great relief, technology has allowed her a pathway to independence.
"I was on my own, traveling and working on network sites for GTE Corporation and then Telnext Communications, really working in a virtual mode for years. I don't like working in offices. The desire for self-sufficiency was a big factor in developing my own business," explains Gruskay, 41, who bubbles with enthusiasm as she describes her work and life.
She's what the experts in the new digital economy would call a lifestyle entrepreneur. Gruskay has chosen to work out of her home "because I like this work style; it gets the work done and minimizes office politics. I have the freedom to take my kids to the playground and then work until midnight. That's problematic in a standard work environment."
Over the years Baer, 54, a Vietnam vet and a social activist turned social entrepreneur, has developed several companies that provide training for the disadvantaged. A California business created to provide construction training to indigents while rehabbing buildings for non-profit organizations brought him to the attention of the Clinton administration and paved the way for working today with the Bush administration on telecommunication projects. An alliance builder and consummate marketer, Baer—who has a brooding philosophical nature—is driven by a concern for creative freedom.
"I don't want any constraints on my vision. I want to control that vision, and the only way you can flow and function is to be on your own. I collaborate and form partnerships, but I want total control over my projects," he says during lunch at an organic Chinese restaurant in Amherst, Mass.
Rural settings also matter to Baer, who lived in a Madison, Conn., house without a flush toilet until the age of 10. In those days Madison was a farming community, and he grew up close to nature. Although he worked for a number of years in the congested Bay Area of California, Baer was delighted when technology freed him to move with his family to rural Vermont in 1990.
Creative freedom is high on Dreslough's list, as well. Dreslough, a boyish-looking 32, is a classic product-manufacturing entrepreneur who's been spinning computer games since high school. That's when he made his first computer game, "Emission Impossible: the Sperm Video Game," a name that still makes him laugh at his adolescent predilections.
Although he's been "building games all my life," and will tell you that his "number one goal is to make a good living doing this," Dreslough isn't averse to occasional stints in organizational settings, as his recent decision to join Midway illustrates. But he also knows that he's an entrepreneur at heart who loves the creativity but hates the selling side of running a business.
These Wesleyan alumni are part of what Carnegie-Mellon professor Richard Florida has dubbed "the creative class" in his book The Rise of the Creative Class; Daniel Pink calls the "free agents" in his book Free Agent Nation; and this author has termed "hidden tech" workers in an article for the Boston Globe Magazine. "Hidden tech" refers to a subset of the national and even global economy, involving a growing number of virtual companies. These are small operations run by one or two individuals who develop and sell products or services from a home or small office and leverage the Internet/Web, along with a wide array of advanced technologies, to drive their companies.
The hidden tech economy includes, but is not limited to, hard-core "techies"—people like software programmers or hardware developers. Professionals as disparate as lawyers, patent agents, jewelry retailers, management trainers, content providers, graphic artists, Web designers, and marketing specialists all operate virtual companies. Ranging in age from 20s to post-retirement, they are developing operations that may be small in terms of financials, but are potent in terms of the alliances and contacts they maintain worldwide.
Joel Kotkin, an expert on the new digital economy, calls the locales attracting hidden-tech entrepreneurs, many of which are college communities, "Valhallas." In his book The New Geography he cites a "critical shift" in the population of the countryside from the poor and elderly to the new knowledge worker. Nationwide, he notes that "the most powerful magnets" for this new, lifestyle entrepreneur, "are those areas with the greatest physical attraction, such as rural New England."
The hidden tech culture is characterized more by anecdote than by statistics. Joyce Jacobsen, a Wesleyan professor of economics, points out that this trend has not been studied systematically. She views the hidden tech phenomenon as "a new form of clustering that's driven by like-mindedness and lifestyle." As for how widespread this trend is and what impact it will eventually have on the work place, Jacobsen says no one knows.
Some data is available from a recent pilot study of 75 hidden tech companies in the Pioneer Valley of Massachusetts, just up I-91 from Wesleyan in the northern tier of what this region now calls "New England's Knowledge Corridor." Published by Western Massachusetts Electric Company and conducted by this author, the study describes the influx to this region of highly-educated baby boomers from major urban areas over the course of the last 30 years.
The report finds that quality of life is the driving force from the move out of organizations and urban centers to development of mainly (85 percent) home-based companies in a college community. Following a spouse is also a common reason for making the change, along with moving to an area where there are friends and family and other like-minded knowledge workers.
One of the more intriguing findings involves the mindset of the individuals at the vanguard of the hidden tech movement. The majority consider themselves to be running "global" companies, even if they have a potpourri of global, national, regional, or local clients. They work in 20 foreign countries on four continents and in at least half of the states in this country. A highly innovative and creative lot who all have at least bachelor degrees, many with advanced degrees, 30 percent of the Valley's hidden tech population are hard-core techies. Half of the sample is engaged in some form of research and development.
What's clear to anyone who knows Wesleyan intimately, including Jacobsen and many other Wesleyan faculty members, support staff, and administrators interviewed for this article, is that Wesleyan provides a fertile environment for the sort of entrepreneur who is joining the hidden tech movement—a person who has found a creative way of employing technology to drive business goals, whether those be maintaining a lifestyle, promoting a social concern or the arts, manufacturing tech products, or consulting from a home setting.
By fostering interdisciplinary programs, independent thinking, and creatively weaving technology into course offerings, Wesleyan is doing exactly what Florida says institutions of higher education must do to prepare students for "the creative age." He believes that colleges and universities have to "get away as much as possible from the classroom," which he has dubbed "an outmoded concept handed down from the Greeks.
"In the world of technology people learn by doing things. We have to get away from the idea that creativity takes place divorced from the world. Why else do entrepreneurs drop out of college? Why did Bill Gates leave Harvard? Michael Dell was running his company from his dorm room at the University of Texas. Both of them should have been able to do this work as part of their education," he insists.
Wesleyan has earned some renown in college technology circles for creative interplay of IT and the curriculum. Ironically, the old "Wes Tech" nickname may hold more truth than anyone imagined.
Both Dan Dougherty, a Wesleyan professor of computer science, and Barbara-Jan Wilson, who knows many alumni in her capacity as vice president for university relations, believe the process of nurturing the creative entrepreneur spirit starts with the kinds of students who attend the university. "Wesleyan selects people more likely to do this—people who can think with both halves of their brains and make creative connections," says Dougherty, who is currently on leave at Worcester Polytechnic Institute in Worcester, Mass.
Wilson agrees, adding, "Our admission office looks for independent, creative self-starters. We try to look beyond SATs and grades as the only criteria, grading applicants based on intellectual curiosity. These are the people who are going to want to create things in their basement and not necessarily be slotted into a corporate environment."
When students are admitted, they enter a liberal arts environment that's permeated with technology on a level that university IT experts consider noteworthy for a school of Wesleyan's size. Although Wesleyan is not MIT or Carnegie-Mellon, on the forefront of developing technology, it is fast gaining a national reputation for its cutting-edge use of technology as part of everyday campus life and in teaching. In this way, Wesleyan is providing students the technology background they need to thrive professionally today—tools that are crucial to success for lawyers, doctors, artists, Web retailers, or software developers. Whether purposely or not, the school is providing the technology groundwork necessary to operate a hidden tech company.
Tom Warger, who consults for universities nationwide on information technology, lauds Wesleyan for its "well-developed and mature IT infrastructure supporting centers of computer-related expertise for media and data analysis, as well as labs specialized for individual academic disciplines." Citing the school's new 10-year, $26-million program to build server, network, and database systems, which he calls "a bold, strategic move," he praises Wesleyan for providing "competitive advantages relative to larger institutions of higher education, with whom Wesleyan competes for students and faculty."
"If you visit Wesleyan, you'd be amazed at the types of things that faculty routinely use in their classrooms," says John Meerts, vice president for information technology at Wesleyan. "There are, of course, projectors and computers, but also DVD players, video systems, sound systems, touch panels that control the lights and close the blinds—all fairly sophisticated. We've also added course management systems such as Blackboard and WebCT that help faculty put content on the Web or interact with students." Meerts made these comments to University Business, where he was featured on the cover of the December 2002 edition, the same edition that credited Wesleyan with developing some of the most innovative uses of technology in any American college setting.
Meerts is finding a new breed of student, "the Nintendo generation," who have "high expectations about using technology in all aspects of their experience on campus." He's meeting younger faculty, also part of this generation, who are eager to use technology as a teaching tool "both inside and outside the classroom." Students need no encouragement to be cross-disciplinary, according to Dougherty, and are experimenting with combining fields such as the arts and music with technology —some "really cool stuff. There's a rich subculture of music and computer science."
One faculty member actively driving thought and discussion on entrepreneurship is Peter Kilby. A long-time professor of economics, Kilby has taught a course titled Entrepreneurship and Economic Development for about 30 years. He estimates a little more than 400 students have taken the course. While his focus is on the role and sources of recruitment of entrepreneurs in various socio-historical contexts, the course always attracts some students whose primary interest is vocational. He hasn't tracked graduates to determine how many have become entrepreneurs themselves, but Kilby knows of several who have gone on to develop well-known companies or to earn major reputations in their fields.
Michael Sciola, director of the Career Resource Center, doesn't need convincing that Wesleyan could be a breeding ground for hidden tech entrepreneurs. He encounters students at his center all the time "with five great ideas of 'how I want to change the world' and 'I want to know how to do all of them.' We've even coined a term for them—multipreneurs—that is, people who knit all of these different ideas and interests and values together to create multiple opportunities.
"The faculty are so creative at using technology and at responding to what's happening in the world that our students are prepared to take advantage of the chaotic and dynamic workplace. Our students don't want a job in a cubicle; they want to create a new reality," he says.
And Sciola isn't surprised that Wesleyan alumni would be developing telecom for the global market in Vermont or pushing computer games from a bedroom in Chicago. "Not everyone in the workplace could wrap their heads around working out of an attic. That's a relatively new phenomenon for many. People who come through Wesleyan have always had a flexible world view and want to take advantage and be actively engaged in advancing new thought and practices."
Gruskay, Baer, and Dreslough concur that Wesleyan played pivotal roles in developing their personal sense of themselves as entrepreneurs. Their interests ranged from music and Spanish for Gruskay to philosophy for Baer, and sports and public policy for Dreslough. They knit their psyches together through intellectual, creative, and emotional pursuits.
Only Dreslough could be described as a classic techie who toyed with computers his whole life, and he majored in government, not computer science. But like many baby boomers with a liberal arts bent, these three have gravitated to the dynamic technology industry, and they enjoy the opportunities that technology provides them.
Technology allows Baer far greater reach for his career pursuits. "I was doing entrepreneurship without advanced technology. Certainly, I would have only been able to manage projects on a local basis. Now I can expand my geographical universe globally to wherever the grid goes and also expand wireless telecom to make people independent of the grid."
That's the exhilarating side of the hidden tech phenomenon. Since the dot-com debacle and economic downturn of recent years, Dreslough, particularly, has been working hard to keep his company afloat. Baer jokes about his ability to "manage debt."
"Some days," Dreslough says, "I feel like chucking it. I'm increasingly frustrated at making the business run."
That was on a bad day. With some additional funding in his pocket, a new job in Chicago to inspire him, and a new home, Dreslough seems far more buoyed in 2003 than he was in the fall of 2002. Stay tuned for the next chapter …
Which is how it goes in the entrepreneurial world in general, and particularly for the small entrepreneur operating virtually. Jonathan Harber '86 should know. A self-avowed "serial entrepreneur," who has evolved four companies "out of my second bedroom," he now operates SchoolNet, which has its headquarters in Manhattan and a small office in Washington, D.C. SchoolNet provides management software for public school districts.
Harber's career underscores that some hidden tech entrepreneurs eventually move from virtual operations to larger-scale, office-based businesses. He believes that Wesleyan "happens to spawn a number of entrepreneurs—independent thinkers who take initiative and create companies." To leverage their talent and resources, he and several other Wesleyan alumni have created The Wesleyan Entrepreneurs Circle (see box).
How many entrepreneurs have emerged from Wesleyan? A scan of the Wesleyan alumni database produces pages of alumni who are self-employed—everyone from filmmakers to providers of financial services. To date, no actual numbers are available on Wesleyan grads operating virtual companies.
Asked what Wesleyan can do to foster the hidden tech sort of entrepreneurship, Jacobsen suggests that promoting "alumni networking would be very important to provide students a notion of a pathway. This could be a big phenomenon for Wesleyan, if not the world. We do attract kids who want to work on the fringes of the system—not selling in or out, people who have multiple careers. I have no data to back this up, but I believe that Wesleyan is at the forefront."
THE WESLEYAN ENTREPRENEURS CIRCLE
About two years ago, Jonathan Harber and Diego Recalde, both class of '86, decided to tap Wesleyan's entrepreneur pool. They founded The Wesleyan Entrepreneurs Circle with the help and support of Strauss Zelnick '79, a Wesleyan trustee and successful media entrepreneur.
The idea was to leverage alumni talent and hopefully urge alumni with technology companies—particularly those that go public—to provide gifts to the school in the form of stocks or cash donations. Harber, for example, has personally pledged 50,000 shares of SchoolNet stock to Wesleyan and knows "probably half a dozen others who have contributed."
He is eager to locate other Wesleyan alumni who are entrepreneurs, whether they operate in a hidden tech fashion or choose to develop large companies. For more information on the Entrepreneurs Circle, contact one of three individuals:
Greg Waldron '88
Director of Development
860/685-2525
Paul DiSanto '81
Director of Major Gifts
860/685-2526
David Hilyard
Director of Planned Giving
860/ 865-2553.