Three Alumni-Elected, Seven Join Board of Trustees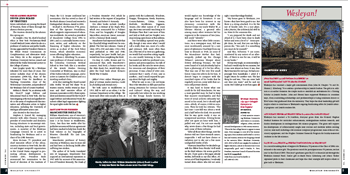 Seven individuals are joining the Board of Trustees, three of them through the alumni election process.
The trustees elected by the alumni this spring are:
Dr. Joseph J. Fins '82, chief of medical ethics at New York Presbyterian-Weill Cornell Medical Center, where he also is a professor of medicine and public health. He was appointed by President Clinton to the White House Commission on Complementary and Alternative Medicine Policy. He is the recipient of a Wesleyan University Service Award and delivered the Hallie Memorial Lecture in the College of Letters.
Kate Quigley Lynch '82, a Wesleyan volunteer for more than 20 years. Her service includes chair of the Alumni Association (2000?'02), chair of the Binswanger Prize for Excellence in Teaching Committee, chair of the WESeminar Committee, and president of the Wesleyan Club of Greater Hartford.
Melissa S. Woods '94, an attorney with the NAACP Legal Defense and Educational Fund in New York. She has been litigating at the trial and appellate levels in the areas of employment discrimination and affirmative action in higher education, including the University of Michigan affirmative action case.
Also elected to the Board are:
Stephen S. Daniel '82, managing director with Allco Finance Corp., a provider of cross-border and domestic leasing structures to tax-exempt entities, including state and local governments. A member of the Wesleyan Campaign Council, he is active in fundraising for Wesleyan and is cochair of his 20th Reunion.
Mora McLean '77, president and chief executive officer of the Africa- America Institute in New York, the oldest and largest nonprofit organization in the United States engaged in promoting African development. In October 2001, President Bush announced her nomination to the board of directors of the Institute of Peace; the U.S. Senate confirmed her nomination. She has served as chair of the Black Alumni Council and received a Distinguished Alumna Award in 2002.
Michael S. McPherson P'98, president of The Spencer Foundation, which supports improvement of education worldwide. He served as president of Macalester College from 1996 to 2003, and is a nationally known economist, writer, and authority on the financing of higher education. He serves as co-chair of the Ford Policy Forum, which identifies economic issues affecting higher education.
Dr. Shonni J. Silverberg '76, an associate professor of clinical medicine at the Columbia University Medical School in New York. She is a member of the Jewish Studies Steering Committee at Wesleyan, was co-chair of the Dalton School's campaign, and is active in Lawyers for Children and in a traveling medical clinic.
At its May meeting the Board named John Hobbs '58 and Ted Shaw '76 as trustees emeriti. Hobbs retired as chairman and chief executive officer of Jennison Associates in 2003. Shaw is president and director-counsel for the NAACP Legal Defense and Educational Fund, the nation's oldest legal organization fighting for equal rights under the law.