New Chair Honors Henry Wriston '11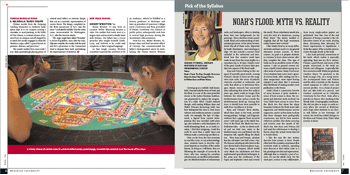 Henry Wriston '11 was born in Laramie before Wyoming became a state. His mother had come west in a wagon train and survived a deadly clash with Indians. His father was a circuit preacher who taught himself Greek, Latin, and Hebrew so he could read scriptures in their original language.
In that rough country, Wriston somehow acquired the ambition to be an academic, which he fulfilled as a history professor at Wesleyan and later as president of Lawrence College (now University) and then president of Brown University. His interest in public policy subsequently took him to several high positions during the Eisenhower administration.
Now his son, Walter Wriston '41, former chair and chief executive officer of Citicorp, has commemorated his father's distinguished career by establishing the Henry Merritt Wriston Professorship, which will be devoted to public policy. His gift has helped Wesleyan exceed its $250-million campaign goal.
"Dad's influence on us was large," Wriston said. "We used to argue about so many things around the dinner table with books spread all around us."
Henry Wriston was a prolific author who wrote more than 20 books. Among them was The Nature of a Liberal College, and to this day every graduating senior at Lawrence receives a copy.
While at Lawrence College, Wriston displayed a knack for hiring people of enormous talent, including Victor Butterfield, later Wesleyan's president, and Nathan Pusey, who subsequently taught at Wesleyan before becoming president of Harvard.
Under Wriston's leadership extending over two decades, Brown University was transformed from a small Baptist school to one of America's noted universities.
"Dad was always a teacher," Wriston said. At Lawrence he taught a course in public policy in which the only text was the New York Times, which arrived two days late in Wisconsin.
During the Great Depression, when 18 million Americans were out of work from 1933?39, the elder Wriston wrote Challenge to Freedom as an argument against socialism. During World War II, he wrote Prepare for Peace, in which he laid out a prescient program for the post-war era.
Eisenhower tapped him to handle a major reorganization of the State Department. At Eisenhower's request, Wriston became president of the American Assembly, devoted to furtherance of public policy. He also headed the Council on Foreign Relations.
Walter Wriston, who this past summer received the U.S. Presidential Medal of Freedom for his own distinguished career, said he hoped the new faculty chair would help promote the study of how public policy is made in the era of Internet communication.