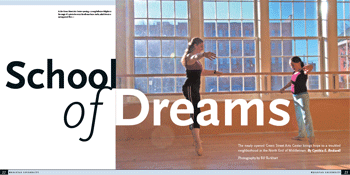 WESLEYAN'S CENTER FOR THE ARTS DIRECTOR PAMELA TATGE '84 and I are sitting in the Tibetan restaurant on Main Street near O'Rourke's, sharing a late lunch—bowls of steaming noodles—and a conversation about the new Green Street Arts Center. I've told her that she reminds me of the Kevin Costner character in Field of Dreams.
"If you build it, they will come," she quotes, nodding. "It's really true."
Some would say Tatge's mission has been just as unlikely a flight of fancy as a ballpark in a cornfield: a community arts center in Middletown's seedy North End. Hurry along Main Street's sidewalk on any given day and you're apt to see a group of disheveled unkempt men in dirty jeans clustered on a street corner, calling loudly to a friend who disappears into a liquor store. A neon sign in the window of the Spanish grocer's storefront warns would-be shoplifters, "We forgive, but we don't forget."
Tatge, however, sees no disconnect between the arts and these discouraging surroundings; indeed for her the arts should have a central role in reclaiming a troubled community: "There is nothing better for the soul, and there is nothing like the arts to bring us together," she maintains. Tatge is determined that the Center for the Arts, and the Green Street Arts Center in particular, should be assets to the entire Middletown community.
Tatge had never planned to return to Middletown in 1999. Former CFA Director Jean Shaw had announced her retirement and the search committee approached Tatge, then a key administrator at New Haven's Long Wharf Theatre. She resisted the committee's solicitations, sure she was entirely satisfied with her Long Wharf job. Eight months later, however, she realized she craved a new challenge. Surprisingly, the directorship was still open, almost as if it had been waiting for her. She knew that one of her priorities at the CFA had to be community outreach and spoke frankly to President Doug Bennet. He was supportive; she accepted the directorship with delight.
Almost simultaneously, Middletown was working on a new initiative in an effort to bring about change to the city's North End, change that would coincide with Tatge's vision. The city invited the Yale Urban Design Workshop to conduct a charrette—an urban design study—with the goal of suggesting ways to invigorate the decaying North End. Before long, a group of residents organized themselves as the North End Action Team, or NEAT, and stood ready to give this long-neglected neighborhood a strong voice.
In January 2000, four months after Tatge's arrival, NEAT spelled out the community's needs in a meeting with Mayor Domenique Thornton, city planners, and Wesleyan Vice President Peter Patton.
Patton understood from the meeting that NEAT wanted a community center: a gathering place, a source of pride, and a central hub for a new housing initiative. Someone had suggested it might take shape as an arts center. With this germ of an idea, Wesleyan commissioned John '79 and Frances '81 Padilla, principals of New Paradigms Consulting, to perform a feasibility study to gauge North End interest: Did the community really want an arts center?
The answer was yes—with a caveat. The center had to be built with the same eye to quality and pride that Wesleyan would lavish on a central-campus building. A little storefront wouldn't be a beacon for the community. If you want the arts to change the culture of this neighborhood, do it right, they said, and do it on an even grander scale than you might have first dreamed possible.
Okay, said Tatge and Patton, picking up the gauntlet: can you find us a place large enough for this vision?
And as if straight from the pitch for a heartwarming film, there was such a place. In the North End's central block, on Green Street, stood a hulking old brick building. Although run down, it had once been the parochial school for St. Sebastian's church. With its generous rooms and tall windows, it was easy to imagine sunlight streaming in on classrooms filled once again with laughing children.
"When we walked into that building, I thought—This is too good to be true! We just have to make it happen," Tatge recalls.
The elements were adding up perfectly in her mind—community interest and location—but the equation had another side that was still an unknown. Did Wesleyan students, faculty, and administrators really want to embark on such a project? What was to be their role? Lydia Brewster, president of NEAT, hosted a building tour for President Bennet and Vice President for Academic Affairs and Provost Judith Brown.
"We walked the whole neighborhood—we walked the houses, all the transients' buildings, all the fallen down Section Eight housing," said Tatge. "Lydia framed the importance of an arts center here. Doug was so excited by the school building. He saw what the arts center could mean for the neighborhood."
With Bennet's support, the team developed a business plan and brought their case before Middletown's Mayor Thornton. No strangers to each other, Tatge and Thornton had already collaborated in 2001, when they worked together to help produce Professor of Theater Ron Jenkins' play, Over There, about the building of Middletown's St. Sebastian's church.
"Pam came along just at the time we were searching for a way to use that building effectively, and I was just enamored of the arts center idea," recalls Thornton. She granted them a lease to the building for a mere dollar a year.
"That's when we knew it was in the stars," says Tatge. "We never could have afforded to rent a 12,000-square-foot facility."
With much hard work, the funding began to fall into place through city, state, and federal money, as well as individual gifts, including a $500,000 gift from an anonymous alumnus who directed his gift to Green Street at the urging of President Bennet. Tatge was thrilled by Wesleyan's support but also moved by neighborhood commitment. When Senator Chris Dodd paid a visit, he found eager escorts at every turn. "The moms in the neighborhood were taking him around, the kids were saying, 'come look here, come look here'," says Tatge.
"That's the magic of this project; everybody owns it."
During the years that Middletown worked to change its blighted North End, another key player was creating the perfect résumé for the Green Street Arts Center (or GSAC, for short) directorship.
Ask him why he became an arts administrator and Ricardo Morris will fix you with his gentle gaze. "The arts saved my life," he says simply.
The eldest of five children who grew up in a Chattanooga neighborhood much like his new one in Middletown ("except it was a lot warmer," he observes), Morris would have been on the streets if it hadn't been for band practice—here the pitch for the movie comes back to mind. The fact that one instrument, a tuba, remained unchosen in his junior-high bandroom, and that the teacher thought young Morris might be strong enough to carry this generous hunk of musical brass in the marching band was kismet. Mastering this unwieldy instrument kept Morris busy after school and all through high school. It even earned him a college scholarship. Two of his siblings shared his involvement in the arts and are similarly successful. Two did not and their paths have been troubled.
Today, mid-December 2004, he comes rushing in through the double doors of the Green Street Arts Center. His coat is flapping in the wind and his vest is a festive red. He's tall—well over six feet—and slim, and moves with an air of confident responsibility. We sit, not in his office (the furniture has not yet arrived), but at a table in one of the classrooms. Periodically, workers interrupt. A state inspector is concerned: the requested sign, while already framed, is not yet hung—when will this happen? I note a Morris trademark: he listens fully; he answers patiently.
A former English teacher, he had spent after-school hours teaching dance and directing school plays, and summer vacations pursuing arts enrichment. A Middlebury Bread Loaf instructor suggested he apply to Yale's graduate program in arts administration. He did, and began a theater program for children in New Haven.
"Yale is surrounded, literally, by a stone wall that stands between the university and the neighborhood," says Morris. "We broke that down. The kids wrote plays that the Yale students performed. Their parents, their aunts and uncles and grandparents and siblings crossed the wall and came to watch the plays."
After completing his three-year master's degree, where he was named a presidential fellow for his work in the community, he headed south, becoming director of education and executive director of the Alabama Jazz Hall of Fame.
He'd been there not quite two years when, on a trip north, Morris made a brief stopover in New Haven, where he told his friend and mentor, Victoria Nolan, the managing director of the Yale Repertory Theatre, how he missed working with children; he knew firsthand the importance of the arts in the life of a child.
"Ricardo Morris," said Nolan to her friend Tatge, who at this point had been searching for a GSAC director for seven months. "He'd be perfect, but I doubt you'd be able to get him; he seemed happy enough in his job. Still, here's his number."
Tatge called and Morris came for an interview. "I knew right away we'd found our director," she says.
Morris promptly set about making his presence known in the North End. He began attending NEAT meetings, walking the neighborhood, and caring for a plot in the community garden. He wanted to be part of the everyday life of the neighborhood.
He recalls an early incident when he knew he'd met with one measure of success: "I was in my car, leaving the parking lot, when I was propositioned by a prostitute. She was waving her arms, flagging me down, but when I rolled down my window, she took one look at my face, and she said, 'Oh! You're the Green Street Arts guy! Never mind,' and walked off." He laughs heartily but also notes that, less than one year later, the neighborhood has already begun to change. The lights blazing from the GSAC windows, the bright streetlamps over the parking area, the increased activity, along with an additional police presence have created an environment incongruous with illicit activity.
Just a week before our conversation, in early December, the Green Street Arts Center had its "Sneak Peek" weekend—in preparation for the January 5 opening—and the old school was filled-to-bursting with visitors milling around, artists giving demonstration classes, children jumping and leaping and laughing and throwing themselves into art and dance. Tatge, Morris, and Manny Rivera, the newly hired assistant director, met everyone with huge smiles. "It was an amazing day," recalls Morris. "After a while, I looked at my watch. It felt like only an hour had passed, but it was four o'clock! I'd been meeting people for six hours."
They also welcomed the return of former Johnson and St. Sebastian School students, the youngest of whom are middle-aged. I take a self-guided tour, falling in behind two older couples wandering the halls. "Remember these old windows?" one muses. "Old! I remember anything here that's old!" the other one responds.
Meanwhile, the members of NEAT posed for photographs, replenished cheese trays, shepherded children, and answered questions in their new space. One gentleman, his hair pulled back into a long ponytail, wears a three-piece suit and talks to a reporter. Once a roadie for rock bands the '60s, he looks forward to upcoming art classes, and his son plans to take guitar lessons.
In the large entry room by the reception desk, Peter Patton stands to the side, glad to have Morris and NEAT members take center stage, but he can't stop grinning. He pulls me aside to share his delight: Connecticut's Governor M. Jodi Rell had just praised Wesleyan in her speech at the Council of Independent Colleges. "She began by stating the importance of colleges and universities entering into partnerships with their communities, and then said, 'Let me tell you what Wesleyan is doing in Middletown, with the Green Street Arts Center'."
The whole community is thrilled with this project—classes will cater to learners of all ages, of all abilities, and of all artistic interests, from music, to dance, to painting and writing and theater. This hasn't been an overnight project: three years of pilot programming (held at the nearby Church of the Holy Trinity on Main Street) have helped define the needs and enthusiasms of the Middletown community.
The key beneficiaries of the GSAC, however, will be 90 children, with half of these coming from the North End neighborhood. Five days a week, these children will get off school buses and troop through the door for art, dance, and music classes, supplemented with all the homework help that Wesleyan students can offer. In return, Wesleyan students will have the opportunity to learn not only the satisfaction of mentoring, but also the joys that come from teaching another the craft and discipline in pursuit of an art.
The cost to North End students will be whatever they can afford to pay. Other students will pay on a sliding scale—but Morris and Tatge have pledged: no one will be turned away for lack of funds.
Still, despite all their hopes, all their plans, in the weeks before the grand opening in January, Tatge felt at times that she should temper her optimism: "I tell Ricardo, it's a huge leap of faith; we have to have realistic expectations. When Paul Newman created the Hole in the Wall Gang Camp, he thought it was such a good idea, but that first summer, not a lot of people signed up for it. They didn't know about it, or they were afraid to entrust their children to it, or whatever reason. This makes me think—if people didn't flock to Paul Newman's camp, what's it going to be like for us? We have to remind ourselves not to get discouraged, that anything we do from this point is a step forward for the neighborhood."
At the ribbon-cutting ceremony, held on Wednesday, January 5, two days after the official opening, Morris allows the same anxiety gripped him two days earlier, as he waited in that still-empty lobby around 3 p.m. Monday afternoon, the first day of the after-school program. Would the school children really come?
"I'd made a few calls, reminding parents," he admits to the crowded auditorium. Those 70 or so who squeezed into the room for the speeches are only a fraction of the attendees. Others celebrate over a buffet dinner in the room across the hall, their conversations spilling out into the hallway, playing at the edges of this room—but nobody minds.
"Still, we wondered," he continues, "Would anybody come? And then, when that first child threw open the door and ran in, we knew it would be fine." His face relaxes into an even wider grin. He finishes and introduces the next speaker in a series.
Collaboration is the word of the day; it's at the forefront of each small speech. The Green Street Art Center is a collaboration: it's the city, it's the university, and it's NEAT.
"The arts are mother's milk for our children—we can't give them anything more nourishing," NEAT president Peggy Busari tells us.
"You did the impossible," says Jennifer Aniskovich, executive director of the Connecticut Commission on Arts, Tourism, Culture, History, and Film, and she recites, tongue-in-cheek, all the excuses a naysayer might offer: "'The city has no money; Wesleyan doesn't care about the town; the NEAT volunteers won't show up more than once or twice; no one can get federal money.' Yet you have proved to the cynics that the power of your vision was stronger than any roadblock. You impressed upon them how important the arts are in our children's lives."
Each speech seems to end with the speaker looking around the room, daunted for a moment by the number of key players. How to thank each person? Where can the gratitude possibly begin or end?
At the end, Morris hands Tatge a bouquet of red roses. She calls Patton to the front of the room, and soon there's a chain of collaborators, arms around each others' shoulders.
I catch up with the architect, Mark Simon from Centerbrook Architects and Planners, as we all leave the room and I ask him about the project. "It's really a case of 'stone soup'," he says. "Nobody had the resources to create this—but everybody gave a little bit and look what we have. It's beautiful."
Back in early December, after the success of the "Sneak Peek" weekend, Tatge could only visualize her dream coming true: "I can't wait until we see the kids pour in," she said. "This building will resound with music and dance. I want to walk in at, say, 4 o'clock on any afternoon and feel the children's energy and the community spirit.
"It's true—if you build it they will come. That's what is going through my head."