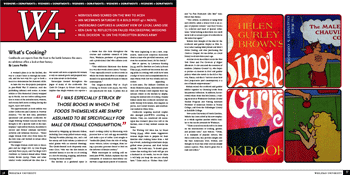 A woman's place is in the kitchen, the way to a man's heart is through his stomach, and the best way for a gal to hook a man is to demonstrate her domestic skills. At least this was the popular perception in post-World War II America. And the publishing industry took notice.
A recent exhibit at Olin Memorial Library wrapped up in March, but not before calling attention to some of the attitudes men, women, and society held about cooking during the 1940s, 1950s and 1960s.
The approximately 30-book exhibit was called Cookbooks and Gender in Postwar America.
"For the first time, publishers speculated and produced cookbooks for single working women because they were thought to fill a specific need in the marketplace," says Jeffrey Makala, the exhibit's curator and former assistant university archivist and reference librarian. "Many single women lived away from home for the first time and worked in urban office environments."
The single woman could turn to Saucepans and the Single Girl, by Jinx Kragen and Judy Perry (1965), and The Single Girl's Cookbook, by Cosmo's famed editor Helen Gurley Brown (1969). These and other similar books reinforced the idea that it was easier and more acceptable for women to rely on canned goods and prepared mixes as time savers in the kitchen.
Stereotypes loomed throughout the pages of many of the cookbooks. She Cooks To Conquer, by Robert Loeb (1952), implies that single women can capture a husband by whipping up fantastic dishes, including Zeus soup (jellied tomato soup), Shrimp Poseidon (shrimp, rice, and a red hot sauce) and Salad Athena (a mixture of salad greens with unusual dressing). The Greek-themed book frequently mentions Circe, "who was the first female in recorded history to use the art of cooking as a lure for enticing, trapping, and domesticating the male animal."
The kitchen as a gendered space is a theme that also runs throughout the courses and academic research of John Finn, Wesleyan professor of government and a professional chef who collects cookbooks.
"This exhibition illustrates that theme in a way that words alone cannot," he says. "I was especially struck by those books in which the foods themselves are simply assumed to be specifically for male or female consumption."
The tongue-in-cheek Wolf in Chef's Clothing, by Robert Loeb (1950), was written specifically for men. It pokes fun at a man's cooking ability by illustrating with pictures how to boil an egg successfully and make a pot of coffee. Loeb sought to "unshackle [men] from the role of refrigerator vulture, icebox scavenger, from being a parasitic gourmet forced to feed on the leftovers of female cookery."
While stereotypes in cooking still existed post-WWII, Makala explains that the conception of American masculinity underwent a significant period of transition. "We were beginning to see a new, cooperative, team-based corporate masculine ideal?a man who provided resources, and even the occasional meal, for his family."
Men in Aprons, by Lawrence Keating (1954), and The Best Men are Cooks, by Frank Shay (1941), reinforced the notion that taking pride in cooking well could have been a badge of status and accomplishment for a man whose work life was orderly and controlled.
Appealing to both sexes, The Seducer's Cookbook, by Mimi Sheraton (1962), demonstrated how men and women could impress their significant others in the kitchen by emphasizing the sensual side of cooking. Steamy dishes inside this cookbook included butterfly shrimp with lemon, filet mignon au poivre, iced boiled lobsters, and strawberries soaked in white wine.
Cookbooks targeting married couples also emerged post-WWII, according to Makala. They, too, reinforced old stereotypes that women's place was still in the kitchen, even if they worked outside the home.
The Working Girl Must Eat, by Hazel Young (1944), offers menu suggestions women might want to prepare for their families after rushing home from a full day of work, including broiled lamb chops, grilled sweet potatoes, and fried Italian squash. The book says, "It doesn't guarantee that reading this book will get you a husband in six weeks, but we do claim it will help you keep the one you already have." Titles such as "Dishes Men Like" and "12 Pies Husbands Like Best" reinforced that theme.
"This exhibit, in addition to being lively and colorful, takes a critical look at an aspect of popular culture," says Suzy Taraba '77, archivist and head of special collections. "After looking at this show, you could never look at certain types of cookbooks in the same way again."
Makala first thought of the idea for the cookbook and gender display at Olin Library after reading Manly Meals and Mom's Home Cooking, and after purchasing She Cooks to Conquer, for one dollar, at a local library book sale three years ago.
Articles about the exhibit ran in the New York Times and The Chronicle of Higher Education. It also attracted the attention of students. Johanna Goetzel '07, who hopes to pursue an interest in food and gender politics when she travels in the fall to Nairobi, Kenya, said she is "curious about how food preparation (and consumption) is a site of female empowerment."
Makala mixed the cookbook and gender exhibit together by choosing books from his personal collection. In addition, he borrowed others from Mel McCombie, a visiting lecturer in Wesleyan's Graduate Liberal Studies Program and Visiting Assistant Professor of American Studies at Trinity College, and from the Schlesinger Library at Radcliffe College.
Now at the University of South Carolina, Makala has been asked by his new employer to whisk together another exhibit similar to the one he invented for Wesleyan.
"There is much research still to be done on the intersections of cooking, gender, and printed texts," says Makala. "Often, it is examples of popular culture, like these cookbooks, that provide insight into the ways Americans lived, worked, and thought in ways that other sources simply cannot capture. Plus, they're great fun to read and collect."