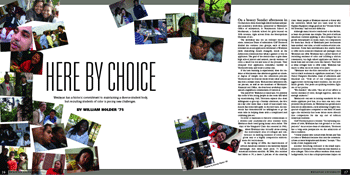 ON A BREEZY SUNDAY AFTERNOON IN OCTOBER about three dozen high school students and parents attended a workshop, sponsored by Wesleyan's Office of Admission, at Marymount School in Manhattan, a Catholic school for girls located on Fifth Avenue, right across from the Metropolitan Museum of Art.
The workshop was not an ordinary recruiting event. Associate Dean of Admission Cliff Thornton divided the students into groups, each of which reviewed an actual application submitted to Wesleyan (with identifying details changed), much as the Admission committee does when it gathers to vote on applicants. The goal of the exercise was to give these high school juniors and seniors, mostly students of color, a small but visceral taste of the process. They critiqued four applicants, somewhat harshly in Thornton's view, and voted to admit one.
If the best learning is experiential, then the students at Marymount that afternoon gained an unusual degree of insight into the admission process. Thornton says he does not know of any other colleges that host a similar event. With another admission officer present, as well as two members of Wesleyan's Financial Aid Office, the four-hour workshop represented a significant commitment of resources.
The payoff for Wesleyan is uncertain. It's possible that none of the young people in the room will wind up matriculating. Still, Thornton expects that their willingness to give up a Sunday afternoon, the first nice day after more than a week of near-steady rain, means that some will apply. At the very least, the university has demonstrated its willingness to go the extra mile in helping them with a complicated and confusing process.
In order to maintain its historic commitment to a diverse and academically elite student body, Wesleyan finds itself going many extra miles. The days of the Vanguard Class that entered in 1965, when Wesleyan was virtually alone among the traditionally elite of colleges and universities in seeking students of color, have given way to a highly competitive environment for recruitment.
In the spring of 2004, the matriculation of African American students to the university dipped alarmingly. Just three years prior, 71 African American students enrolled. By 2004, that number had fallen to 39, a mere 5 percent of the entering class. Many people at Wesleyan wanted to know why the university, which had just been cited by the Kaplan-Newsweek college guide as the "Hottest School for Diversity," had run into difficulty.
Although many factors contributed to the decline, at heart the problem was simple. The pool of African American students applying to elite colleges has not grown substantially in recent years, but competition for them has. Many of Wesleyan's peer institutions have worked, over time, to build student-of-color communities. Some have endowments that enable them to offer more attractive financial aid packages than Wesleyan can offer. Wesleyan has a proud history of recruiting students of color and building a vibrant community, but high school applicants are likely to know little and care less about this history. They look at what colleges have to offer today. Wesleyan has much to offer, but so do some of its peers.
"Wesleyan was the first institution of its type to recruit black students in significant numbers," says Nancy Hargrave Meislahn, dean of admission and financial aid. "Now all of our competitors are aggressively recruiting black students, but the pool hasn't grown. Our peers are picking students right out of our pocket.
"We decided," she adds, "that all of our efforts to recruit students of color, though vigorous, were not enough anymore."
Wesleyan's success in raising standards for the entire applicant pool has, in at least one way, compounded the problem. As Wesleyan has grown more selective in admissiona€"now admitting roughly one-quarter of applicants compared to one-third 10 years agoa€"the university has been thrust more directly into competition for the top tier of African American students.
Cliff Thornton puts it bluntly: "In recruiting students of color, Wesleyan has lost ground to its competitors." As associate dean of admission, Thornton has a long-term perspective on the admission of these students.
"I know alumni who turned down Brown and Yale to come to Wesleyan because they saw the community here as more hospitable and diverse," he says. "That rarely, if ever, happens now."
Another disturbing indicator is the small representation of students from lower-income families at elite colleges. This issue affects students from many backgrounds, but it has a disproportionate impact on African American students from inner cities. A study conducted by the Advisory Committee on Student Financial Assistance concluded that students from low-income families are finding it increasingly difficult to afford college, particularly since Pell Grants have not kept pace with college costs. The topic surfaced in the media not long ago when Harvard President Lawrence Summers decried that only 10 percent of students in elite higher education come from families in the lower half of the U.S. income distribution. Harvard announced that it would eliminate tuition for students from families earning less than $40,000.
A study of African Americans at Harvard has brought to light a more subtle and contentious issue. While 8 percent of Harvard's undergraduates are African American, as many as two-thirds of those are immigrants or their children, or the children of biracial couples. National data is lacking, but it's clear that the traditional link between affirmative action and the descendants of slaves in the United States has been muddled.
Writing in the Boston Globe, Harvard Law School Professor Lani Guinier said that immigrants of color "test well because they retain a national identity free of America's racial caste system and enjoy material and cultural advantages, including professional or well-educated parents." Current admission practices, in her view, disadvantage American blacks concentrated in inner-city schools, poor Latinos, and whites in rural pockets of poverty. She argues that admission officials should change their emphasis from favoring the best-prepared students to those who will graduate and become leaders in their communities even if they need more time to transition from high school.
Competition to attract the most qualified African American students, regardless of their origin, is every bit as intense as the effort to recruit top athletes. Data from the College Board shows that 1,877 African American students nationwide scored higher than 1300 out of 1600 on the SAT in 2003. Figures on the percentage of African American students accepted at the nation's 25 highest-ranking liberal arts colleges underscore how eagerly these top students are sought. According to the Journal of Blacks in Higher Education, a third of African American applicants are accepted, and more than half are accepted at 11 of these schoolsa€"far higher than the general acceptance rate. Middlebury College leads the pack with a 68 percent acceptance rate of African Americans, followed by Carleton, Oberlin, Bowdoin, Williams, and Amherst colleges. Wesleyan is 21st on the list, admitting on average 40 percent over the past decade.
In a highly competitive environment, Thornton points out, it is essential that Wesleyan take chances on students whose academic records may fall short, but who show promise in other ways.
Wesleyan's disappointing results in 2004 galvanized university officials into action. The Admission Office, which already had been recruiting students of color with highly personalized attention, stepped up its efforts considerably with the help of additional resources. It doubled the number of students flown in for visits and extended trips by admission officers to a dozen areas of the country where Wesleyan is less well-known. The university joined Venture Scholars, a national program that identifies first generation students, particularly students of color interested in science and math, and collects extensive information about them in a 13,000-person database. While the office has continued to work with well-established programs such as "A Better Chance" and "Prep for Prep," it has reached out to new programs such as one in Detroit working with a population that is 90 percent African American and Hispanic. Last year Wesleyan hosted 100 inner-city fifth graders from Hartford, all wearing tee-shirts that said, "I'm going to college in 2021."
Meislahn believes that Wesleyan's efforts to establish its recruitment program in new geographic areasa€"a program not limited to attracting students of colora€"is vitally important to the future of the university "whether or not you believe, as I do," she says, "that diversity is perhaps our most important educational asset."
Demographic trends are the basis of her belief. Nationally, the number of high school graduates is projected to peak in 2008a€"09, with a modest decline until about 2016. Yet the Northeast, traditionally one of Wesleyan's strongest recruitment areas, will experience a much steeper decline in high school graduates than the nation at large. In New York, for example, the population of high school graduates is expected to peak in 2008a€"09 at nearly 160,000 (still below the level in 1987a€"88), and then plummet to 136,000 in 2016a€"17.
The strongest growth areas for all students and for students of color are the West and South. More and more, students from Georgia, Arkansas, and Hawaiia€"states that once were nearly off the university's radara€"are now coming to campus, thanks to new recruitment efforts.
Wesleyan's 40-year commitment to recruiting students of color confers at least one compelling advantage: far more alumni of color than any of its peers. Meislahn and Barbara-Jan Wilson, vice president for university relations, wrote to alumni of color in October of 2004, asking for their assistance in recruitment. They asked alumni to help identify promising students known through educational, religious, athletic, or community activities. They requested suggestions for high schools where Wesleyan should recruit.
The effort has yielded modest results so far, but Meislahn believes it has served an important purpose by alerting the alumni of color community to Wesleyan's needs in this area.
In a highly competitive environment, recruitment is courtship. A letter won't do. Nothing less than sustained personal attention would have brought Silverio Vasquez '07 to accept an offer of admission from Wesleyan. He attended DeWitt Clinton High School in the Bronx. Few of his classmates went on to college. Although a college adviser suggested Wesleyan and he read Wesleyan's literature, he says, "I didn't buy Wesleyan right away."
He did, however, attend every reception that Wesleyan hosted in New York City during his senior year. Thornton got to know his mother and answered all of Silverio's e-mails. Wesleyan was still not his top choice as decision time neared, but the tide turned when he came to the WesFest Weekend, Wesleyan's annual event for admitted students. He stayed with undergraduates who welcomed him warmly and made him feel at home.
His high school had no white students, so he was apprehensive about interacting with them. By meeting Wesleyan students of color during WesFest and during first-year orientation, he learned enough about campus culture to enable him "to hit the ground running."
A flight to Wesleyan made all the difference for Terry Wei '07, who attended a high school in Los Angeles County with more than 5,000 students, the majority of whom are Asian American. She picked Wesleyan off the U.S. News & World Report college ranking list, but her interest in Wesleyan was lukewarm until the university sent her an airline ticket to attend WesFest. She wanted a college that had a more diverse environment than her high school, where she would be able to move easily among different groups, including international students. Wesleyan seemed just right.
Senior Associate Dean of Admission Greg Pyke says that students who come to the expanded fly-in program are struck by its national reach. He also observed that cultivating a student of color who comes to Wesleyan takes just as much time as one who does not. Admission officers have to begin earlier with this group and accept that a 25 percent success rate is a victory.
"Some schools have insisted that students demonstrate genuine interest to be considered," he says. "Wesleyan has resisted that trend, believing that it's our job to convince students that Wesleyan is the right place. We lose lots of them. But we'd rather make the case than give up prematurely."
Wesleyan's push to reverse declining enrollments among African American students succeeded in its first year. Applications jumped 16 percent from the previous year, to more than 500, for the first time in Wesleyan history. The quality of the pool was high as well: 230 African American students were admitted, a 45 percent increase. Most significant, 60 of these highly-recruited students enrolled, including 30 African American males, up from 17 in the previous year. African American students make up 9 percent of this year's first-year classa€"up from 5 percent last year.
No admission program, no matter how finely tuned, can succeed unless students on campus affirm that Wesleyan will provide a good home for students of color. Wesleyan offers a strong community that many students find to be a good fit, but that message sometimes gets lost when controversies flare over specific issues.
"In the last five to six years the campus climate hasn't always worked in our favor," Thornton says. There was a time when students of color, while critical of the institution, remained committed to the growth of their communities. I don't think that many current students hold the same view. Too few actively encourage applicants."
Recent years have seen controversies. A decision on the part of the administration to use Malcolm X House for upperclass housing only, for instance, evoked complaints of institutional indifference. Yet controversies are a staple at Wesleyan. They have an upside, too, by demonstrating the vitality of student life. On the day that Wei arrived for her campus visit, the administration had just imposed a ban on the practice of chalking messages on campus sidewalks, evoking student protest. She was intrigued. "I wanted to be part of a community where students cared," she says, "where they fought for what they wanted."
In the past few years, students have argued for the creation of a new position, a dean for diversity and academic advancement, and Wesleyan's new dean of the college has thrown her support behind this proposal. Maria Cruz-Saco, formerly professor of economics and interim dean of the college at Connecticut College, joined the Wesleyan administration this summer with a clear mandate to address issues pertinent to diversity and multiculturalism. Her work will build on a tradition of engagement in this area.
"Organizations on campus representing domestic students of color are very active," she says. "They have helped the institution move in particular directions. Their work, for instance, led to the residence hall at 200 Church Street that provides first-year students with a theme house centered on issues of diversity."
More recently, students of color have formed the Students of Color Council to provide for a stronger, more unified voice. This initiative dovetails with the proposal for the new dean, whose broad responsibilities in academic and community life areas would include improving the quality of dialog across different campus constituencies.
Cruz-Saco is pursuing other initiatives designed to raise the level of discourse on campus, such as a Dean's Colloquium that would invite students to meet over lunch with guest speakers for discussion of issues related to access, equity, gender, and governance. She also plans to support student-led events that promote dialog about these issues.
"Some students of color perceive that they lack an advocate," she says. "It's important that we, as an institution, respond to that need in a vigorous way. Although this would not be the responsibility solely of the dean for diversity and academic advancement (I'd strongly emphasize that it's everybody's responsibility), a dean would provide leadership and direction, and will help move the agenda more effectively."
The proposal for this position is receiving feedback from students, faculty, and staff, including suggestions for the future dean's title.
Her efforts are designed to ensure that students find the support and enrichment they need for academic success and to ensure that the environment is welcoming of diverse identitiesa€"students like Tameir Holder '08. At Marymount School, she was one of five current students and alumni of color who came to talk about Wesleyan. In order to attend the prestigious Dalton School in Manhattan, she rose at 4:45 a.m. each morning for a 90-minute train ride from her home on Long Island. That kind of dedication has served her well at Wesleyan, where she leads an immoderately full life as a pre-med student, a track athlete, a dancer, a leader and organizer in the student of color community, and a paid intern in Wesleyan's Admission Office.
Her willingness to give up a Sunday afternoon to make the case for Wesleyan is just what Wesleyan needs, says Meislahn, who adds: "We in the Admission Office are asking for help. We need the support of everyone who cares about the immense value of diversity to Wesleyan."