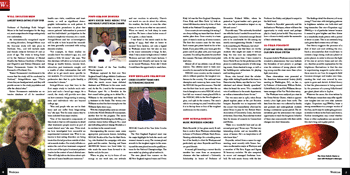 NESCAC Coach of the Year John Crooke reports:
The New England Regional meet was the major highlight for both men's and women's teams in 2005. The women placed 7th in the toughest region in the country and the men placed 2nd to qualify as a team to the National Championships. The men ended up placing 14th at nationals.
The men placed four runners on the All New England regional team and Owen Kiely was the New England Champion. Owen Kiely and Ellen Davis both attained All-America status by virtue of their finish at the National Championships.
Cross country is a simple sport. It's not running, it is racing. I am always telling my team that time doesn't matter, place does. Cross country is a team sport. Most people think of it as an individual sport. A team is made up of seven runners. The first five runners score for the team. Each runner gets points based on his or her finish. If you place 5th, your team gets five points and if you place 27th, your team gets 27 points. You add up the points for your first five runners. The team with the lowest point total wins.
Almost all of my athletes run all three seasons. The athletes need to train year round to be successful at the national level.
NESCAC Cross Country on the women's side it is without question the toughest conference in the country. The national team champion and runner up have come from the NESCAC the past five seasons. This fall was the first time in six years that the national champion was not a NESCAC school. Last fall our women's team placed 5th in the NESCAC, 5th in the New England region and 14th in the country. The men's side is very strong too but it is not the strongest in the country. I would say it is in the top three or four of the toughest conferences in the country.