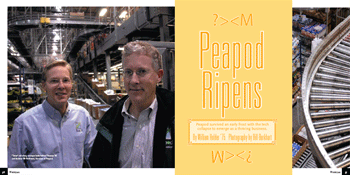 BANANAS ARE THE NUMBER-ONE SELLING ITEM AT PEAPOD, the Internet's leading grocery service.
You might imagine that consumers would want to choose their own bananas to avoid bruised fruit.
That they trust Peapod to avoid delivering them black and mashed may say something about why the company has survived, while some other high-profile ventures in Internet grocery delivery have perished—remember Webvan, the $1 billion flameout?
Peapod founders Andrew '80 and Thomas '82 Parkinson have learned many more lessons than just how to handle bananas—some the hard way. The brothers created the company on a shoestring in 1989, taking orders from Chicago area customers and picking out groceries themselves. Thomas was the first driver, delivering groceries in a car with a Peapod sign on top. Their data center was a Crate and Barrel rack with 2400-baud modems.
Ten years later, revenue was $73 million, the most in the online grocery industry. With operations in San Francisco and Boston, Peapod seemed poised for a larger national expansion. The Parkinsons had taken the company public in 1997, an experience that still makes them shudder, and in retrospect was the beginning of a difficult period that nearly sunk the company.
The market was looking for rapid expansion, but the Parkinsons found that fast growth did not go hand in hand with profitability. Their growth rate of 100 percent a year might have seemed spectacular, but they came to believe that anything more than 30 percent a year made infrastructure and employee issues difficult to manage. Unlike Amazon.com, which went public at about the same time, Peapod had to develop a physical presence in every market it served. Nonetheless, they had little choice except to press ahead or face shareholder revolt.
"In 2000, we were really going to expand the company quickly," says Andrew. "We raised $120 million to do that. On the day we were supposed to get our financing, the deal fell apart."
Absent financing, and with the dot-com bust in full swing, Peapod needed a partner with deep pockets. The Parkinsons sold a 51 percent ownership share to Royal Ahold, the company that owns Stop and Shop and Giant Foods. The brothers stayed on, Andrew as president, and Thomas as chief technology officer and senior vice president.
Bruised but wiser, they stepped back from their expansion efforts and focused on profitability. The key to that lay in efficient distribution. The grocery business is tough, with slim margins. Peapod charges a premium for its service, but only $6.95 for delivery of orders more than $100. The company developed computer algorithms for ensuring that any Peapod truck leaving a distribution facility would have the most efficient delivery route possible.
"We became a logistics company," says Thomas. "Peapod is a company built to last, which is probably why we survived."
Today Peapod is located in Chicago, Boston, Rhode Island, Westchester County, Connecticut, and New Jersey. It is growing at 25 percent per year, adding four or five new warehouses annually. Its competition comes not from large Internet companies, but from internal online services at other grocery stores such as Safeway or from small Internet ventures such as FreshDirect in New York City, which, like Peapod, is expanding cautiously into this developing market. Peapod has about 250,000 customers and sales of roughly $240 million. It makes money on every order.
Once thought to be moribund, the online grocery industry is rebounding. Jupiter Research reported that sales in 2004 were running at about $2.4 billion and estimated that they would reach $6.5 billion by 2008. Part of that growth may reflect a growing acceptance of all kinds of online shopping by consumers.
The Parkinsons believe that Peapod's service offers consumers some desirable features that are helping it to catch on. For example, it's easy online to compare products for the best price, to provide for special dietary needs, or to see what items are most popular. With good online tools at their disposal, customers tend to shop more carefully and avoid impulse buying. The brothers argue that shopping through Peapod is therefore not more expensive than going to the store, particularly when the cost of gas is figured in.
The Parkinsons like to joke that when they first thought about developing an Internet business, their mother urged them to avoid selling books because there would be no money in it. Jeff Bezos at Amazon.com proved otherwise, but the brothers show no sign of regretting their choice. Thanks in no small part to their tenacity, online grocery shopping has emerged from the dot-com bust as a viable and growing industry.
A Late Night Tour
Northwest of Chicago in the town of Lake Zurich, where farmland is sprouting housing developments, Peapod has a distribution facility that is a marvel of sorting technology.
Wesleyan photographer Bill Burkhart and I visited the facility in the fall of 2006 with Andrew and Thomas Parkinson, who can lay some claim to having created the business of online grocery shopping. Peapod has come a long way from the pre-Web days when the brothers filled orders by pushing grocery carts up and down aisles themselves.
Now, when a customer places an order on Peapod's Web site, the final click of a mouse initiates a complex sequence of events that sends boxes—or "totes," in Peapod parlance—along two miles of conveyor belts through as many as eight climate zones.
The warehouse, occupying 95,410 square feet, begins to hum with activity at 10 p.m., since filling orders is a nighttime job for delivery during the day. Soon, the din from moving conveyor belts makes conversation with the Parkinsons difficult on the main floor. The brothers greet employees moving among racks and bins of items, which, unlike a supermarket, are arranged to make the selection process as efficient as possible with no regard for presentation or marketing.
To our eyes, the warehouse resembles a child's wonder world of machinery, a Willy Wonka experience of things moving everywhere for mysterious purposes. In reality, the totes are following carefully programmed pathways.
Employees, called personal shoppers, examine computer screens to find out what items go into a particular tote. Items on each customer's electronic list are arranged in the order that personal shoppers will encounter them. All personal shoppers wear handheld scanners strapped on their wrists. Operating in a particular area that they've come to know well, they scan the bar code on each item and then scan the tote to ensure that orders are not misplaced.
Canned corn, Cheerios, and potato chips fill one tote, while items from the coldest temperature zone at minus ten degrees Farenheit, such as ice cream, are packed with dry ice into insulated containers.
We move fairly quickly through one of the cold rooms since we're not dressed for the chill, unlike the personal shoppers. Andrew pauses to pick out a steak and points out that the vacuum wrapping keeps the meat fresher than is possible in a regular supermarket.
Fresh produce is a key selling point for Peapod. Customer expectations for quality are high, and the Parkinsons are well aware that failure to meet those expectations will drive a customer back to a competitive supermarket. Peapod keeps its produce in cool rooms and grants personal shoppers the authority to discard any item that is damaged. As a result, the company sells more produce in each order than is typical for grocery stores.
Our tour ends on a platform overlooking the main floor of the warehouse, from where we can see the choreography of totes winding their way from different zones up to a final barcode reader that will send each to the correct delivery truck. The totes shoot past the reader at 200 feet per minute before sliding down one of 17 conveyor belts to delivery racks that roll onto trucks.
Before the night is over, personal shoppers will fill as many as 10,000 totes and send them on their way to an average of 1,400 or more customers served daily from this facility.