RETIRING FACULTY/HONORARY DEGREES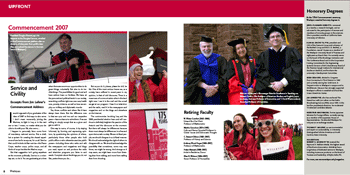 W. Wistar Comfort (1967–2006)
Edward Burr Van Vleck
Professor of Mathematics
Martha Crenshaw (1974–2007)
Colin and Nancy Campbell Professor in Global Issues and Democratic Thought
C. Stewart Gillmor (1967–2007)
Professor of History and Science
Anthony Wood Hager (1968–2007)
Professor of Mathematics
Helen Mensah (1998–2007)
Artist-in-Residence, Dance
Ellen B. Widmer (1984–2007)
Kenan Professor of Humanities
At the 175th Commencement ceremony, Wesleyan awarded honorary degrees to
JEWEL PLUMMER COBB P'79, renowned as a teacher, a research biologist, and an advocate for the participation of women and members of minority groups in the sciences. She is president emerita at California State University at Fullerton.
ALAN M. DACHS '70, P'98, president and CEO of the Fremont Group and a director of the Bechtel Group and the S. D. Bechtel, Jr. Foundation, served 14 years as a member of the Wesleyan University Board of Trustees and eight years as Board chair. He currently serves on the board of the Brookings Institution and The Conference Board and on the Corporation Visiting Committee for the Engineering Systems Division of MIT, the Advisory Board of the Freeman Spogli Institute for International Studies at Stanford, and he chairs the university's Development Committee.
ROSA DELAURO, elected to Congress from Connecticut's Third District in 1990 and currently serving her ninth term. A frequent visitor to Wesleyan's campus and to Middletown, DeLauro has strongly supported Wesleyan's efforts to establish and fund the Green Street Arts Center.
JIM LEHRER P'85, who has anchored The NewsHour with Jim Lehrer on the Public Broadcasting Service (PBS) since 1995. In the last five presidential elections, he moderated 10 televised candidate debates.
NOBUTAKA MACHIMURA, former Japanese Minister for Foreign Affairs, currently serving as a member of the Japanese House of Representatives. He attended Wesleyan for one year as an exchange student.
THOMAS F. MALONE, an environmentalist and expert on sustainability, is University Distinguished Scholar Emeritus at North Carolina State University.
IN ADDITION:
ROBERT G. MCKELVEY '59 received the Raymond E. Baldwin Medal, the highest award of the Alumni Association. McKelvey has a long history of dedicated service to Wesleyan, including numerous positions on the Board of Trustees and leadership of Alpha Delta Phi.