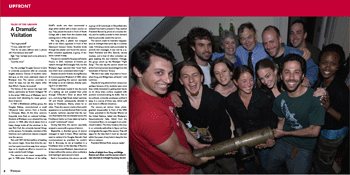 "You're grounded!"
"C'mon, what did I do?"
"Out for six years without even a phone call. How dare you even ask!"
Sigh. "Can I at least send some pictures to my friends?"
"Just this once."
Yes, the prodigal Douglas Cannon is back in university possession after an unusually lengthy absence. Classes of students never laid eyes on this most celebrated object of Wesleyan lore. The cannon promises to mend its ways, but can this object, wilier than Wile E. Coyote, be trusted?
The history of the cannon has been told before, particularly by Kirsten Delegard '90 in the winter 1990 issue of Wesleyan, but it warrants brief refreshing for newer generations of alumni.
In 1867 a Middletown artillery group, the Douglas Battery, commissioned a small 140-pound brass cannon from a foundry in Chicopee, Mass. At the time, cannons frequently were fired on national holidays. Students at Wesleyan soon adopted the new cannon. In 1869, after shock waves from a heavy charge broke all the windows in the new Rich Hall, the university banned firings on the campus. For decades, members of the freshmen and sophomore classes scrapped over the cannon.
Not until 1957 did the tradition of stealing the cannon begin. Since that time the cannon has spent more time away from campus than on it, despite an effort to mount it securely outside South College.
The cannon's most recent escapade began in 1998 when Professor of Art Jeffrey Schiff's studio arts class constructed a large white obelisk with a brass cannon on top. They placed the work in front of North College with a letter from the student body seeking return of the real cannon.
Not long after, a plaster box wrapped with a red ribbon appeared in front of the Davenport Campus Center. Students broke through the plaster and found the cannon. After onlookers applauded, a group of students rushed it away.
The cannon resided for five years at Eclectic House. In 2001, members of Eclectic paraded it through McConaughy Hall, but the Wesleyan Argus reported that "most freshmen didn't even understand what it was."
Disaster struck for Eclectic during Reunion & Commencement Weekend of 2003, when a student guarding the cannon reportedly fell asleep on an air mattress, thereby opening it to an easy heist.
Three individuals loaded it into the trunk of a waiting car and paraded their prize through O'Rourke's Diner at about 4:30 a.m., and along High Street. Adam Lachman '03 and friends subsequently whisked it away to Vinalhaven, Maine, where he resides. There the cannon made a final public appearance on a pirate-themed float in a July 4 parade. Lachman reported that the cannon fired blanks that reverberated across the Vinalhaven harbor as it was taken by boat to a small "undisclosed" island.
During that time, the cannon reportedly enjoyed a sauna with a group of alumni.
Meanwhile, a dissident group of alumni managed to track it down. When Lachman went to retrieve it for Douglas Bennet's final commencement as president, he couldn't find it. Morosely, he sat at breakfast in a Vinalhaven diner on the Saturday of Reunion & Commencement Weekend, determined not to leave without the cannon, when suddenly a boat bearing it came around a bend.
Back in Connecticut, the cannon sat with a group of 20 individuals in Bloomfield who debated how best to present it. They reached President Bennet by phone at a trustee dinner, and he readily acceded to their demand that he personally receive the cannon.
The cannon made its dramatic reappearance at midnight that same day in a lobster crate. Following a tense wait punctuated by periodic text messages, it was met by a jubilant President and Mrs. Bennet, several trustees, and a host of other onlookers eagerly awaiting the rare visitation. Fittingly, the group struck up the Wesleyan "Fight Song." The next day the cannon stared out at the Commencement assemblage from the balustrade of Denison Terrace.
"We felt it was really important to honor what Doug and Midge have achieved," said Lachman.
Despite its long absence from campus (or perhaps because of it), students were more than mildly interested in getting their hands on its shiny brass surface, engraved with symbols commemorating its thefts. Not to be outfoxed, university employees spirited it away in a convoy of three cars, which split and drove in different directions.
The cannon—at various times photographed (supposedly) in front of the Eiffel Tower, presented to the Russian Mission at the United Nations, baked into Wesleyan's Sesquicentennial Cake, fished from the Connecticut River—is once again in an undisclosed location. This time, however, the onus is on university authorities to figure out how to invigorate the saga of the cannon. They will argue for the idea that it must be returned within four years of any heist to keep the lore alive on campus.
President Michael Roth, are you ready?