Something Old, Something New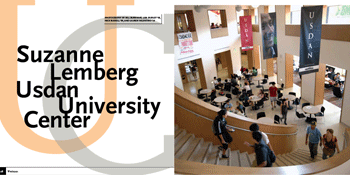 A focus of the campus master plan adopted in 2003 came to fruition this fall with the opening of the Suzanne Lemberg Usdan University Center and the renovated Fayerweather building. Now, with more than 150,000 dining transactions as of mid-November and more than 1,000 hours of student meetings and events, this mix of historical renovation and new architecture seems well on its way to achieving the goal of revitalizing the center of campus.
The Usdan Center opened with a new campus dining service, Bon Appetit, which emphasizes fresh foods prepared from scratch. Although the start of the semester saw some startup pains with long lines, modest adjustments have improved student access to choices such as vegan and vegetarian, international dishes, deli sandwiches, organic salads, Asian cuisine, and made-to-order pizza. Upstairs, faculty invite students to join them for lunch in the Daniel Family Commons with a beautiful view of the campus.
The Usdan Center is much more than a dining facility. It has given the Wesleyan Student Assembly a new and centrally located home, provided students with much better mailboxes, and consolidated services such as the university store, the Cardinal Technology Center, and the university box office. Meeting rooms are available for students, faculty, and external groups. Football players gather in Usdan during halftime; the Steel Drum Ensemble has a new place to practice. Beckham Hall in Fayerweather, with its exposed wood-beam ceiling, has quickly become popular as a venue for larger events.
Although generous donors and campus planners have created new spaces, the community brings vitality to them. The Usdan Center is still in its early days, but already it is changing the rhythms of campus life.