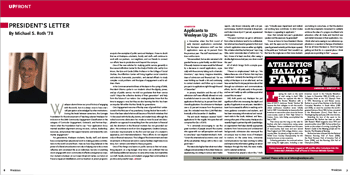 In November, when the first round of early decision applications concluded, the Wesleyan admission staff saw that applications were up 34 percent from the previous year. The staff maintained cautious enthusiasm.
"We were elated, but we also remained a bit guarded because, quite frankly, we didn't know if the early decision increase would be followed by a decrease in overall applications, especially with the economy taking such a dramatic downturn," says Nancy Hargrave Meislahn, dean of admission and financial aid. "So we were holding our breath a bit and continuing to contact students and follow up to convert prospects to applications right through the end of December."
In January, Meislahn and the rest of the admission staff were officially allowed not only to exhale but even to crow a bit. Early decision applications finished up 34 percent from 2007. Overall applications for admission to Wesleyan saw a 22 percent increase from the previous year; this included more than 2,200 filed electronically at the December 31 deadline.
The end result: Wesleyan received 10,057 applications for the roughly 740 spots that will comprise the Class of 2013.
"It is extremely encouraging to see the great numbers of people around the country who agree with our self–perception and want to come here," says President Michael S. Roth. "Given the international economic crisis and all the uncertainties that go with it, this is very good news."
The rate is also higher than what most other colleges and universities in the United States are experiencing. According to various news media reports, only Brown University, with a 22 percent increase, Stanford University at 20 percent, and Duke University at 17 percent, experienced similar gains.
"The exact numbers we get in admission from other institutions tend to be confidential, but what we have heard in general is that most schools' application rates are either up slightly, flat, or below what they had last year," says Greg Pyke, senior associate dean of admission. "In fact, I know of at least one that, after seeing a double–digit increase last year, was down overall this year."
All of which brings forth a simple question: Why?
"There is no simple answer," Roth says. "We believe there are a lot of factors that may have contributed. Certainly the teaching and scholarship at Wesleyan is at an elite level, and we have worked hard to let people know about that through our admission and communications efforts, but it's still pretty early in the process and we can't really say with confidence yet what caused this increase."
Still, Roth points out, Wesleyan has put significant effort into increasing the depth and quality of applicants in recent years. Meislahn's team has increased its efforts in reaching out to more guidance counselors and students, and has been increasing informational and recruitment visits to the South, Midwest, and Texas, among other parts of the country. Wesleyan also recently forged a partnership with QuestBridge, an organization that helps identify appropriate students from low–income and underserved backgrounds. Admission also revamped the on–campus tour to show more of Wesleyan to visitors. At the same time, University Communications has been working to refine and improve the information getting out about Wesleyan through the Web, the news media, and to selected audiences.
"Everyone has played a role in this," Roth says. "Virtually every department and individual working here contributes to what makes Wesleyan so appealing to applicants."
Does that include last year's graduation speaker and the exposure he generated?
"It was an honor to have President Obama here, and the exposure his Commencement speech garnered certainly put Wesleyan squarely in the public eye," Roth said. "But I wouldn't say that he is the single reason that more students are looking to come here, or that the election results have inspired a movement to suddenly embrace the idea of a progressive liberal arts education. After all, Duke and Stanford saw substantial increases in their applications, too. I think what we're seeing in our admission applications is a reaction to the type of institution that we all know Wesleyan is. Word has been getting out that this is a special place. I think people are responding to that."