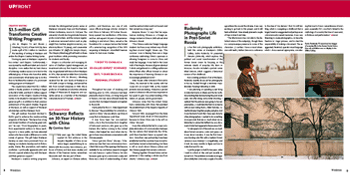 In her first solo photography exhibition, held this winter at Wesleyan's Zilkha Gallery, Sasha Rudensky '01 presented Remains (2004–08), which explores the political and social transformation of the former Soviet Union by focusing on the intimate details of everyday life. Born in Moscow, she also included a portrait series titled Demons, which suggests a fantastical version of her childhood.
Now a visiting professor of art at Wesleyan, Rudensky recently discussed her photography in Russia, funded through a Mortimer Hays– Brandeis Traveling Fellowship in 2004.
"I was planning on spending a year living in industrial towns in Siberia and the far north, documenting their demise during the post–Soviet years. But after doing some initial shooting, I realized that the pictures were going to be very prescriptive—I could describe them to someone without even taking them—fallen factories, ruined landscape, forgotten people, past glory. And it was the kind of work that I have seen done by other photographers. I wanted to do something more personal, that was as much about my relationship to a place that defined me, as a document of what has happened in Russia since 1991.
"In retrospect a lot of the work was as much about formal concerns—color and space—as it was about narrative. It was the first time I was shooting color film with a medium format camera (I use a Mamiya 7, a rangefinder), and it took me many months to figure out how to make that work for me.
"I put the project on hold for two years, while I went to school at Yale, and just recently returned to it. This exhibition includes six images (from 2008) that I shot only a couple of months ago while in Russia and the Ukraine. It was very exciting to go back to this project, and it still feels unfinished. I have already planned a couple of trips in March and May.
"The title Demons does not refer to the diabolical nature of the subject(s), though there is a vampire–esque presence to some of the characters. (I confess I have a visual obsession with teeth.) Rather Demons is a reference to the idea of 'my demons' that I'm still battling, which is navigating a childhood that is largely based on exaggerated and perhaps even subconsciously created memories. It was very liberating to create photographs—to have the freedom to 'stage' pictures, and to shed the responsibility of making a document. The exaggerated, theatrical, operatic visual language which I chose seemed appropriate, considering that much of one's remembrance of one's past, especially if it's one that's linked to the mythology of a country that doesn't even exist, is fictitious and performative."