Fred R. Shapiro, Editor, The Yale Book of Quotations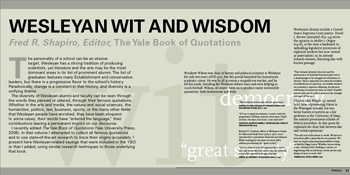 The personality of a school can be an elusive target. Wesleyan has a strong tradition of producing scientists, yet literature and the arts may be the most dominant areas in its list of prominent alumni. The list of graduates features many Establishment and conservative leaders, but there is a progressive flavor to the school's history. Paradoxically, change is a constant in that history, and diversity is a unifying theme.
The diversity of Wesleyan alumni and faculty can be seen through the words they penned or uttered, through their famous quotations. Whether in the arts and media, the natural and social sciences, the humanities, politics, law, business, sports, or the many other fields that Wesleyan people have enriched, they have been eloquent. In some cases, their words have "entered the language," their contributions leaving a permanent imprint on our discourse.
I recently edited The Yale Book of Quotations (Yale University Press, 2006). In that volume I attempted to collect all famous quotations and to use state–of–the–art research to trace their origins accurately. I present here Wesleyan–related sayings that were included in the YBQ or that I added, using similar research techniques to those underlying that book.
Woodrow Wilson was chair of history and political economy at Wesleyan for only two years (1888–90), but this period launched his mainstream academic career. He was by all accounts a magnificent teacher, and he left his mark, founding the Wesleyan debate team and even helping to coach football. Wilson, of course, went on to produce many memorable quotations, both momentous and witty:
"The world must be made safe for democracy."
ADDRESS TO JOINT SESSION OF CONGRESS ASKING FOR DECLARATION OF WAR, APR. 2, 1917
"If I am to speak ten minutes, I need a week for preparation; if fifteen minutes, three days; if half an hour, two days; if an hour, I am ready now."
QUOTED IN JOSEPHUS DANIELS, THE WILSON ERA: YEARS OF WAR AND AFTER(1946)
Richard N. Goodwin, fellow at Wesleyan's Center for Advanced Study from 1965 to 1967, was a speechwriter to presidents Kennedy and Johnson. While working for the latter, he wrote LBJ's address proclaiming the "great society": "In your time we have the opportunity to move not only toward the rich society and the powerful society, but upward to the great society." 
SPEECH AT UNIVERSITY OF MICHIGAN, MAY 22, 1964
Wesleyan's alumni include a United States Supreme Court justice. David J. Brewer [attended 1851–54] wrote the opinion in Muller v. Oregon (1908), at the time a landmark in upholding legislative protection of exploited workers but now viewed as paternalistic in its attitude towards women, featuring this well–known passage: 
"That woman's physical structure and the performance of maternal functions place her at a disadvantage in the struggle for subsistence is obvious. This is especially true when the burdens of motherhood are upon her…As healthy mothers are essential to vigorous offspring, the physical well–being of woman becomes an object of public interest and care in order to preserve the strength and vigor of the race."
Charles Alan Wright '47 earned brief fame representing Nixon in the Watergate scandal, but was better known to lawyers as a law professor at the University of Texas, the nation's preeminent scholar of federal procedure. In this quote he explained the close link between law and verbal expression:
"The only tool of the lawyer is words. We have no marvelous pills to prescribe for our patients. We have no Superconducting Supercollider to help us find the Higgs boson. Whether we are trying a case, writing a brief, drafting a contract, or negotiating with an adversary, words are the only things we have to work with."
TOWNES HALL NOTES, SPRING 1988
The writings of literary alumni and faculty are replete with well–known quotations:
"What does not change is the will to change." 
CHARLES OLSON '32, "THE KINGFISHERS" (1949)
"Mind in its purest play is like some bat That beats about in caverns all alone, contriving by a kind of senseless wit not to conclude against a wall of stone." 
RICHARD WILBUR [FACULTY, 1957–77], "MIND" (1956)
"I have nothing to say and I am saying it and that is poetry." 
JOHN CAGE [FELLOW, CENTER FOR ADVANCED STUDY, 1960–61, 1970], "LECTURE ON NOTHING" (1961)
"I read about an Eskimo hunter who asked the local missionary priest, 'If I did not know about God and sin, would I go to hell?' 'No,' said the priest, 'not if you did not know.' 'Then why,' asked the Eskimo earnestly, 'did you tell me?'" 
ANNIE DILLARD [FORMER FACULTY MEMBER], PILGRIM AT TINKER CREEK (1974)
"The Perfect Storm." 
SEBASTIAN JUNGER '84. THIS TITLE OF HIS 1997 BOOK IS NOW PART OF EVERYDAY LANGUAGE.
Some individuals bridge the gaps among art, thought, and activism. At these social and political intersections Wesleyan people are quite at home:
[Response to McCarthyism while President of Harvard:] 
"Americanism does not mean enforced and circumscribed belief; it cannot mean this. Our job is to educate free, independent, and vigorous minds capable of analyzing events, of exercising judgment, of distinguishing facts from propaganda, and truth from half–truths and lies."
NATHAN M. PUSEY [FACULTY, 1940–44], SPEECH AT NEW ENGLAND ASSOCIATION OF COLLEGES AND SECONDARY SCHOOLS CONVENTION, BOSTON, MASS., DEC. 4, 1953
"It was as though in those last minutes he [Adolf Eichmann] was summing up the lessons that this long course in human wickedness had taught us—the lesson of the fearsome, word–and–thought–defying banality of evil."
HANNAH ARENDT [FELLOW, CENTER FOR ADVANCED STUDIES, 1962–63], EICHMANN IN JERUSALEM: A REPORT ON THE BANALITY OF EVIL (1963)
"Gender is an identity tenuously constituted in time, instituted in an exterior space through a stylized repetition of acts." 
JUDITH BUTLER [FACULTY, 1984–86], GENDER TROUBLE: FEMINISM AND THE SUBVERSION OF IDENTITY (1990)
"Governments of the Industrial World, you weary giants of flesh and steel, I come from Cyberspace, the new home of Mind. On behalf of the future, I ask you of the past to leave us alone. You are not welcome among us. You have no sovereignty where we gather."
JOHN PERRY BARLOW '69, "A DECLARATION OF THE INDEPENDENCE OF CYBERSPACE" (1996). Emblematic of Wesleyan breadth, Barlow was a lyricist for the Grateful Dead before becoming a leader of cyber–libertarianism as cofounder of the Electronic Frontier Foundation.
"We all have a sphere of influence. Each of us needs to find our own sources of courage so that we will begin to speak. There are many problems to address, and we cannot avoid them indefinitely. We cannot continue to be silent. We must begin to speak, knowing that words alone are insufficient. But I have seen that meaningful dialogue can lead to effective action. Change is possible. I remain hopeful." 
BEVERLY DANIEL TATUM '75, PRESIDENT OF SPELMAN COLLEGE, "WHY ARE ALL THE BLACK KIDS SITTING TOGETHER IN THE CAFETERIA?" AND OTHER CONVERSATIONS ABOUT RACE (1997)
The scientific alumni and faculty also have produced memorable words in discussing their quantitative and philosophical work:
"Whatever exists at all exists in some amount. To know it thoroughly involves knowing its quantity as well as its quality."
EDWARD L. THORNDIKE 1895, "THE NATURE, PURPOSES, AND GENERAL METHODS OF MEASUREMENTS OF EDUCATIONAL PRODUCTS," 17TH YEARBOOK OF THE NATIONAL SOCIETY FOR THE STUDY OF EDUCATION (1918)
"The separation between the two cultures has been getting deeper under our eyes; there is now precious little communication between them….The traditional culture is, of course, mainly literary…the scientific culture is expansive, not restrictive."
C. P. SNOW [FELLOW, CENTER FOR ADVANCED STUDIES, 1961–62], NEW STATESMAN, OCT. 6, 1956
"In the sciences, we are now uniquely privileged to sit side–by–side with the giants on whose shoulders we stand." 
GERALD HOLTON '41, AMERICAN JOURNAL OF PHYSICS, DEC. 1961
"The juvenile sea squirt wanders through the sea searching for a suitable rock or hunk of coral to cling to and make its home for life. For this task, it has a rudimentary nervous system. When it finds its spot and takes root, it doesn't need its brain anymore so it eats it! (It's rather like getting tenure.)"
DANIEL DENNETT [ATTENDED 1959–60], CONSCIOUSNESS EXPLAINED (1991)
In closing, here are some miscellaneous lines by Wesleyan affiliates in realms as varied as songwriting, spirituality, war, television, and football:
Zip A Dee Doo Dah,
Zip A Dee Ay,
My, Oh My, What A Wonderful Day.
ALLIE WRUBEL '26, "ZIP A DEE DOO DAH" (SONG) (1946)
Don't Think About The Future.
Just Be Here Now.
Don't Think About The Past.
Just Be Here Now. 
RICHARD ALPERT (BABA RAM DASS) M.A. '54, BE HERE NOW (1971)
Men … Do Not Fight For Flag Or Country, For The Marine Corps Or Glory Or Any Other Abstraction. They Fight For One Another.
WILLIAM MANCHESTER [FACULTY, 1955–2004], GOOD–BYE, DARKNESS: A MEMOIR OF THE PACIFIC WAR (1980)
In Every Generation There Is A Chosen One. She Alone Will Stand Against The Vampires, The Demons, And The Forces Of Darkness. She Is The Slayer.
JOSS WHEDON '87, BUFFY, THE VAMPIRE SLAYER (TELEVISION SHOW) (1997)