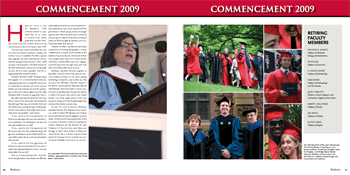 Heavy rain let up in time for Wesleyan's 177th Commencement to proceed May 24 as usual on Andrus Field, where graduates and their families heard from the Pulitzer Prize-winning columnist and novelist Anna Quindlen P'07.
The ceremony, which concluded Reunion and Commencement weekend, evoked the normal rituals of academic life after a period that tragically had been anything but normal, with the slaying of Johanna Justin-Jinich '10 off campus in the bookstore. Her death and its aftermath stunned the community and brought campus life to a virtual standstill until the alleged perpetrator turned himself in.
President Michael S. Roth '78 spoke about the tragedy in his Commencement remarks, urging graduates not to accept the status quo on issues that concerned Justin-Jinich, such as health care and prenatal services for women, gun control, and violence against women. [See President Roth's column on page 6 for more.]
Quindlen, who recently wrote her final "Last Word" column for Newsweek, told graduates that although they may not inherit the SUV and the McMansion as tangible signs of doing better than their parents, they might want to consider what "doing better" really means:
"If you become the first generation of Americans who genuinely see race and ethnicity as attributes, not stereotypes, will you not have done better than we did?
"If you become the first generation of Americans with the clear understanding that gay men and lesbians are entitled to be full citizens of this nation, will you not have done better than we did?
"If you become the first generation of Americans who accord women full equality instead of grudging acceptance, will you not have done better than we did?
"And on a more personal level, if you become the generation that ditches the 80-hour work week and returns to a sane investment in your professional lives, if you become the first generation in which young women no longer agonize over how to balance work and family and young men stop thinking they will balance work and family by getting married, won't you have done better than we did?
"Believe me when I say that we have made a grave error in thinking doing better is merely mathematical, a matter of the number at the bottom of your tax returns. At the end of their lives, people assess them not in terms of their income but in terms of their spirit, and I beg you to do the same from the beginning, even if we who came before often failed to do so."
Wesleyan awarded honorary degrees to Quindlen; to Azim Premji P'99, who as chairman of Wipro Limited, one of India's leading technology companies, was named by Time as one of the 100 Most Influential People in the World; and to Jennifer Alexander '88 and Mark Masselli, who have made numerous contributions to Middletown through the KidCity Children's Museum, the Community Health Center, and other organizations that have helped to bring aid to the disadvantaged and vitality to the central business area.
For the first time in memory, Wesleyan awarded honorary B.A. degrees to two individuals, both of whom left Wesleyan for medical school without finishing their degrees. Laurence Kedes '59 became the founding director of the University of Southern California Institute for Genetic Medicine and the William M. Keck Professor of Biochemistry and Molecular Biology at USC's Keck School of Medicine. David Sencer '46 is a former director of the Center for Disease Control and former commissioner of health in New York City.