In Texas, Some Bands Know Foss Hill On Sight
By Jake Nussbaum '10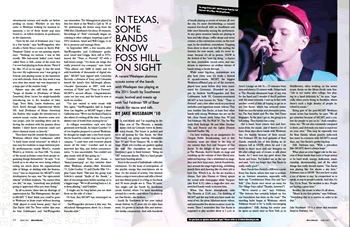 It's mid-March and I'm standing in the front row of The Phoenix, a swanky dance club on Colorado Street in downtown Austin. The house is packed and we're all waiting for Das Racist, the New York-based rap group starring Himanshu Suri '07 and Victor Vazquez '06, to take the stage. Plush red couches are pushed against the wall. The chandeliers are dimmed. Everyone's gaze is fixed forward. "Bring on DR!" someone shouts. This is a band people have been buzzing about.
Buzz is the sound of individuals' collective excitement. It's the hum of anticipation, of the psychic energy that entertainers stir in fans. It's the sound of activity. One listener hears a song or sees a show and tells a friend, and that friend posts it to a blog or Facebook and 50 more people see it. Then 50 more. You might call the South By Southwest music festival, where I've been wandering around for a week—and where I'm about to see Das Racist—the beehive.
South By Southwest is not your typical music festival. At 25 years old, it's older than most. It's grown to include film and interactive media components. And with hundreds of bands playing at scores of venues all over the city, it's more freewheeling—a curated musical free-for-all with no headliners and little overt hierarchy among the performers. At any given moment bands are playing in bars and bike shops, coffee shops and street corners, at the convention center, on the rooftops, by the riverfront, everywhere. Hopping from show to show can feel like surfing the Internet for new music, only it's more intense, because it's all in person. SXSW is the festival of the "next big thing," a chance for fans, journalists, record execs, and musicians to experience an endless stream of bands trying to break through.
While some big-time, mainstream acts play here every year, it's really a festival of up-and-comers. MGMT, the biggest Wesleyan-affiliated pop act of the moment, played here years before they were nominated for Grammys. (Founded on campus by Andrew VanWyngarden and Ben Goldwasser, both '05, Grammy-nominated MGMT is best known for "Kids," "Time to Pretend" and a few other stuck-in-your-head melodies and ingenious music videos.) This year, besides Das Racist, at least four other bands with strong Wesleyan ties are on the bill—Bear Hands (with Dylan Rau '07 and Ted Feldman '09), Pat Wolf '07, The Yes Way (with Nick Burleigh '06 and Mike Drucker '05), and Francis and the Lights (Francis Farewell Starlite '06).
I'm here working on an assignment for Oregon Public Broadcasting, and at this moment, none are closer to the lens of my camera than Suri and Vazquez of Das Racist. To the delight of this hyper crowd at The Phoenix, they're finally on stage and cranking up the volume of their liberal arts-inflected hip-hop. Like a whirlwind on stage, they and their hype-man, Ashok Kondobolu, race around the stage high-fiving, ad-libbing punch lines and dancing like it's their job to have fun. Which it is. As the set reaches a climax, Suri (aka Heems or Hima) sprays the crowd with champagne while Vazquez (aka Kool A.D.) takes a stage-dive into outstretched hands ready to receive him.
When Das Racist triumphantly exits The Phoenix at 12:45 a.m., I'm thinking of MGMT and the way both acts have made the most of wit, the press, hilarious music videos, and memorable live shows to attract more listeners. Then I remember that Das Racist is supposed to play another show at 1 a.m. at Emo's Lounge on 6th St.—15 minutes from now and about a 15-minute walk. Delays back at The Phoenix eliminated hope of any rest for the band and I wonder if they'll perform with the same intensity. I end up in line with another crowd of kids all hoping to get in to see Das Racist, which has attracted notice from not just the music and alternative press, butThe New Yorker and The New York Times Magazine. By the time I get in, the group is in full swing. They haven't lost a step.
For a band, buzz comes first and foremost from the music, and if there's a lot of buzz these days about bands with Wesleyan ties, it's mainly because of their sound. Ted Feldman '09, the lead guitarist of Bear Hands, reminds me of this during an afternoon lull at SXSW, when he and I sit down to share tacos and our thoughts on life after college and, of course, to talk about bands. As I went into my spiel about Das Racist and buzz, Ted looked me in the eye and said, "Let's not forget that Das Racist is really, really good."
Bear Hands has charted a different course from Das Racist, which first rose to acclaim as an Internet sensation, especially with their rap "Combination Pizza Hut and Taco Bell." (Das Racist once wrote an essay for The Village Voice called "Thanks, Internet!")
"We've toured a ton," says Feldman. "The Internet has certainly helped us, but our foundation has been on the road." The traveling habit began at Wesleyan, which Feldman found to be "a really encouraging atmosphere." Still, during his senior year he spent as much time in New York as in Middletown, often working on his senior music thesis on the Metro-North train line. "Life is not easier after college, but playing in a band definitely is," he says, "especially when you're living in Brooklyn, where there's such a high density of people involved in music."
Being part of the post-MGMT Wesleyan music scene has benefits, he says: "We all get attention because of MGMT, and a context for people to put us in." And complications, too: "We are also constantly compared to them, and obviously you want to stand out on your own." This may be especially true for Bear Hands, whose punchy indie-rock has more in common with MGMT's sound than, say, Das Racist's quirky hip-hop.
Still, Feldman says, "With a precedent [like MGMT] there's always hope."
What plays an even bigger role in the success of these bands than buzz or hope seems to be hard work, energy, dedication, musicianship, showmanship, and all the other things that really should matter. "Das Racist was playing like five shows a day here," Feldman says at SXSW. "But you have to play a ton of shows to stay 'in competition' so to speak, to stay in people's minds. And also, it's fun. It's in Texas. The weather is nice. People are having a great time."
Besides, the music is what it's all about.
"Music is my first priority," says Feldman. "Everything else is to survive in order to do that."
Jake Nussbaum '10 is a writer and musician based in Portland, Ore.