"WHATEVER NEEDS TO BE DONE" IN TANZANIA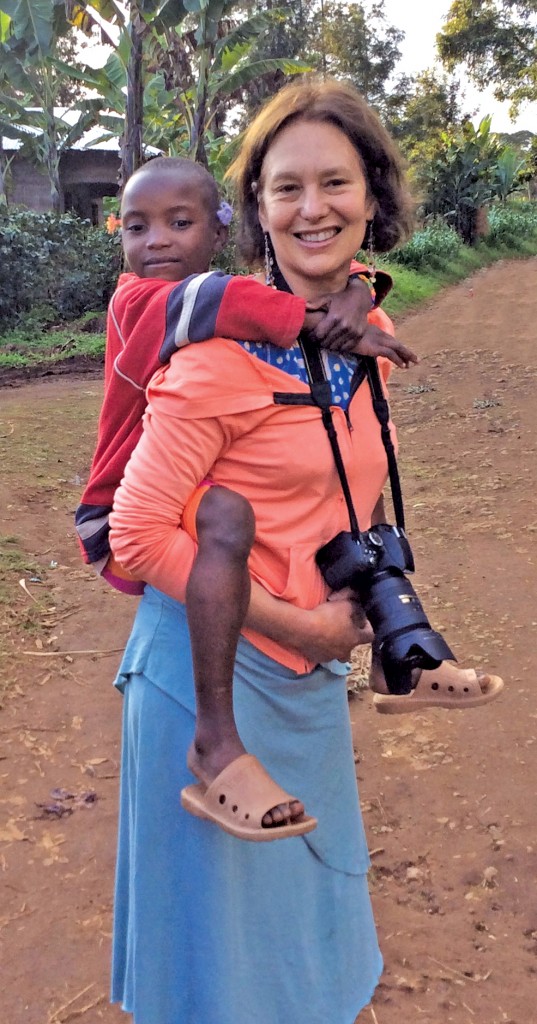 One of my favorite departments in Wesleyan is "Letter Home," the first-person essay from a graduate abroad, telling about daily life and sharing insights that arise from living in another culture. In 2005, Lucy Mize '78 wrote one of our first, an account of caring for the survivors of the 2004 Indian Ocean tsunami. As she'd explained the trip to her son: "Sweetie, Indonesia has given me so much; now I can give back… ." I've come to realize that this urge to give, in the context of expanded horizons, has characterized many "Letter Home" writers.
This same urge served as impetus for my trip to Tanzania in August with Artists for World Peace (AFWP), a 501(c)(3) founded by Wendy Black-Nasta P'07. We traveled to a village in the Kilimanjaro region, both to visit an orphanage that AFWP supports, and to open an eye clinic in a new local health-care building. For three weeks, my self-described task was "doing whatever needs to be done."
Practically speaking, this came to mean: cuddling kids, giving piggy-back rides, teaching embroidery, fixing the chain on a toilet that wouldn't flush, hugging team members through melt-downs (theirs and mine), escorting villagers through the clinic, photo-graphing clients in new glasses, playing impromptu games without words (only laughter), applauding village dancers (amazing energy), buying fabric from a young woman's roadside stand, learning a bit of Swahili (the word "brother" for Joseph, who drove us most days), photographing cataract surgery (no kidding!), sorting eyeglasses by prescription (a new skill), writing blog entries (while hoping the Internet wouldn't go down), singing and clapping through church services (held on Sundays in the schoolhouse), learning some history of coffee-growers and the politics, and, at times, weeping in gratitude for all the beauty and kindness I'd found.
I also fell in love—and with that, my family and I have committed to providing educational funding for one small girl, Esta. She had arrived at the orphanage in the spring. Her adult front teeth are just coming in, and she's very good at climbing up for a piggyback if I'm standing, or settling into my lap if I'm sitting, or positioning herself between my face and the viewfinder of my camera if I'm photographing. "Picture," she'll say softly, click the shutter, and then press another button to see the image. She has a strong sense of fairness—turning quickly on others who would grab what isn't theirs—and she will give away half the food in her hand to any child near her who has none.
Am I changed? Utterly. With knowing and loving people who live on another continent, speak another language, and reveal another culture, my world has become so much broader, my mind more curious, and my heart much deeper. My greatest hope is that one day this little girl will be applying to Wesleyan and be able to bring all she is, all she has lived, all she has to offer to this Middletown campus.
Many of you have had the experience of living and loving in another culture—either as a Wesleyan student studying abroad or perhaps later in life. You may be having that experience right now and would like to write a "Letter Home." Please let us know.
—Cynthia Rockwell, associate editor,
crockwell@wesleyan.edu