CAROLYN WERNER HANEY '01: WEVIVA MEANS COMMUNITY WELLNESS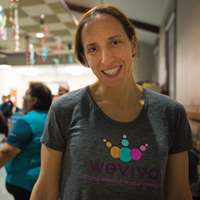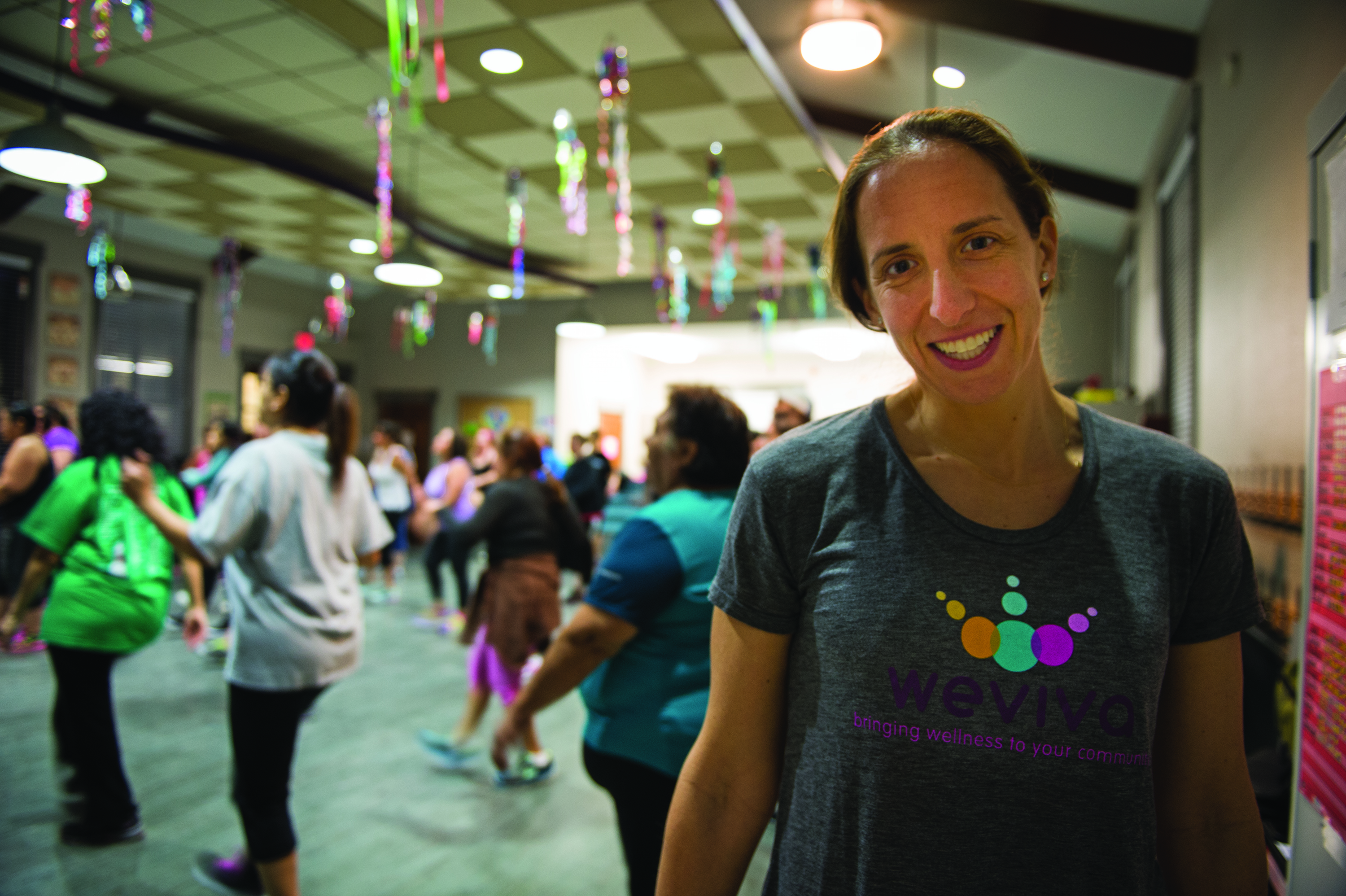 The idea came to Carolyn Werner Haney '01 a few months after her daughter was born, when, as a new mom, she began looking for a fitness class. She'd always enjoyed group workout classes, but when she tried out a new center near her, she was frankly intimidated. The high level of intensity and expectations of the participants all seemed to contribute to her discomfort—although she used to enjoy group workouts at fitness clubs.
Her sudden sense of being an outsider piqued both her curiosity and empathy: "Well, if I'm uncomfortable going into that sort of location, how must it feel for someone who doesn't like to work out, who has never worked out, who goes into a studio where no one looks like her, and where she doesn't speak the language?"
A psychology major at Wesleyan, Haney had worked with Professor Ruth Weissman on issues of body image and eating disorders and had completed an MSW at the University of Texas at Austin, where she'd moved 10 years ago. Since then, she'd worked at two nonprofits concerned with obesity prevention for children. Now a new idea was forming, which she began framing in her social-worker perspective.
"Why not start a fitness organization that's a little different?" she asked herself. "Instead of targeting the kids as so many schools are doing, why not work with the parents—at times and places that are convenient for them?"
While Haney knew that efforts at public schools had put healthier food on lunch menus and encouraged children to engage in physical activities, she also realized that the children were coming home to parents who were not receiving the same message—nor had they access to fitness classes or nutritional information themselves. The parents, however, were the ones who bought groceries, made meals, and planned activities.
"Basically, we're teaching kids health information at school, but when they get home, if the parents aren't reinforcing that, a 5-year-old can't really overrule what mom or dad says."
She began to pay attention to the fact that countless fitness centers were located in suburbs, targeted to middle-income clients for whom English was the primary language. Few offered childcare—and all cost money. The location, lack of babysitting services, and cost made the centers inaccessible to the very people who needed them the most.
"In Texas, it feels like there's a big discrepancy between the haves and have-nots," she says. "The definition of 'social work' does not usually include fitness and nutrition classes—but health and wellness are important social issues. I'm a really big believer that good health shouldn't only be for people who can pay for it. It's similar to insurance; people who have insurance are usually healthier than those who don't have it —and that's just not fair. I feel the same way about access to gyms and to healthy food: I don't know why everyone can't have it."
That sense of social justice was the impetus to develop the idea for WeViva, a fitness and nutrition program offered free to those who wanted it, in convenient locations, and with childcare provided. She set about applying for 501(c)3 status, and identifying her first WeViva site.
Haney approached the executive director of a housing complex that was owned by a nonprofit. "I think your residents would really enjoy this program—and I want to pilot it here," she told him. "I want to offer them free nutrition and exercise classes, and free child care, in the downstairs learning center."  He agreed and Haney set off to survey the residents: What did they want? What kinds of programs, how often and when? "I tried to get as much input as possible, because the way I saw it, the more input I got from them, the more likely they'd attend the class, if it was something they designed and it was exactly the way they wanted."
Haney administered her survey, knocking on each door. "It was slightly nerve-wracking; I don't speak great Spanish," she admits. "But I had confidence, because I knew I was bringing something valuable. I wanted to spread the message that this would be free, it would be fun, we're going to provide childcare, we're going to provide healthy food, all the things that I think people will really like." After knocking on 250 doors and getting great feedback, excitement took over. "I knew this was important, and that people were going to want to do it."
Armed with survey information, Haney developed the program: two fitness classes a week—one in Zumba, one in yoga—and one nutrition class a week, for six weeks, with childcare for every class. Everything was bilingual.
"One of the aspects we learn in social work is to meet our clients where they are, and I think we are doing that for WeViva. We're in their apartment complex, with classes they requested. Additionally, the group exercise and meals create a support system."
The results: "Twenty-two women started the class and at the end of the six weeks, 18 women completed all 12 fitness classes. Everyone came to all nutrition classes. That was a pretty remarkable retention rate, because that was the first time they'd done it," says Haney.
Since then, she's expanded the program to six more of the 15 low-income complexes in Austin that are managed by the nonprofit group that first welcomed WeViva .
Partnerships—with schools, churches, community centers, day centers for seniors, and the like have been key, she explains. Funding for the administrative and teaching costs comes from either outside sources or these collaborating partners. These partners fund WeViva out of their health and wellness or fitness budget for the six-week on-premises programs. "We're basically a mobile gym, or a mobile fitness instructor and dietician. We get several requests to start at a new location each week," she says. "There's a real need for this in Austin."
And in Austin, like many big cities, access to fresh food and local grocery stores is often an issue. WeViva nutritionists make it a point to get all their ingredients for the food they'll be cooking from the closest large supermarket. "I want our participants to know that whatever is made in these classes is something they can do in their apartment: the groceries are accessible. At the last session, the class meets at that store, so our clients can see where the ingredients can be found."
Asked about success statistics, Haney notes that WeViva received national recognition this June: the Healthcare Leadership Council's Wellness Frontiers Award, for successfully implementing this unique program aimed at preventing disease and promoting well-being. While she's delighted with this recognition from the country's top executives in the field—and notes that this will help promote the WeViva mission—she also holds the concept of "success" in both a holistic, and very individual, frame: "We're not looking at weight loss; we're looking at: Are you coming back to class? Are you enjoying it? People tell us, 'I wouldn't be able to work out if it weren't for WeViva.' Our clients are enjoying healthful activities; you look at a class and everyone is smiling."
"When I see that, and when I hear that we are providing a service that they wouldn't have otherwise—that, to me, is complete success. Fitness is a social justice issue, and we are making a difference." — Cynthia E. RockwelL