JOIN IN AN ENDURING TRIBUTE TO JOHN DRISCOLL AND THE FREEMAN ASIAN SCHOLARS PROGRAM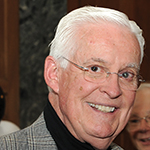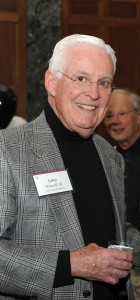 Two notable occasions coincide this spring: The Freeman Asian Scholars Program, founded  through the generosity of the Freeman Foundation, late Houghton (Buck) '43 and Doreen Hon.'03 Freeman and their son Graeme '77, will celebrate its 20th anniversary. And longtime Wesleyan Alumni Director John Driscoll '62—one of the program's strongest champions—will formally retire.
What better way to commemorate these than by completing the endowed scholarship for future Freeman students, begun in honor of John Driscoll's 50th Reunion?
In bringing students from 11 Asian nations with full scholarships to Wesleyan each year, Buck Freeman's vision was to improve understanding between the peoples of the United States and the countries of East Asia. For many years John, and his wife, Gina, annually traveled to Asia with the Freemans to catch up with alumni.  On campus they became advisers, friends, and surrogate parents to generations of FAS students. The Freeman program has transformed the lives of these students from East Asia, while enormously enriching the campus community.
Knowing that the program is close to John's heart, a number of classmates and friends started this fundraising project with generous donations to the Freeman Driscoll Endowed International Scholarship fund. Phil Putnam '62 noted, "John has been a ubiquitous presence on campus, from teaching freshman the Wesleyan fight song to acting as emcee of countless functions. When this scholarship named in his honor was announced at our 50th, our class enthusiastically supported the effort.  Our vision was that our class would kick off the fundraising and others would follow."
Barbara-Jan Wilson, vice president for University Relations, concurs. "John embodies the qualities we look for in a Wesleyan student: intelligence, passion, strength of conviction, and a quick wit. I consider John a true friend, and will miss him as a colleague.  I know, however, that the Wesleyan community will be able to count on John pacing the sidelines during football games and leading us in the Fight Song for many years to come!"
Now Freeman alumni are joining in to fund-raise for the scholarship, led by task force members Wichuda (Tang) McConnell '02, PC How '03, Mark Liew '06, and Su Mei Chen '01. McConnell notes, "The Freeman Scholar community is working together to further the legacy and vision of our beloved Freeman family and the tireless efforts of John and Gina Driscoll—to honor their unwavering support for the Freeman Scholarship program for the past 20 years and ensure the program's continuation at Wesleyan for years to come."
Friends of the Freeman Scholars and friends of Driscoll, please help perpetuate a wonderful, quintessentially Wesleyan program. Go, Wes!
For information, please contact Andrew Stuerzel '05 at astuerzel@wesleyan.edu.
(See more at thisiswhy.wesleyan.edu)