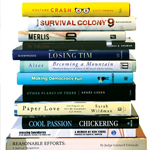 Stephen Alter '77
Becoming a Mountain: Himalayan Journeys in Search of the Sacred and the Sublime
(Arcade, 2015)
Alter and his wife, Ammeta, live in the hill station of Mussoorie, India, in the foothills of the Himalayas, where he was raised by American missionary parents. Their relatively peaceful existence was brutally interrupted when four armed intruders invaded their house and viciously attacked them, leaving them for dead. The trauma of the assault and almost dying left Alter feeling like a stranger in the land of his birth, and he wonders if he will ever be able to write or walk again. In this spellbinding account, he shares the series of treks he undertook in the high Himalayas following his convalescence—to Bandar Punch (the monkey's tail), Nanda Devi, the second highest mountain in India, and Mt. Kailash in Tibet. He hoped these walks would heal him mentally as well as physically and allow him to reconnect to his homeland and to nature. Kirkus Reviews writes: "The combination of realism and mysticism makes this a rich, satisfying memoir that plumbs the depths—and acknowledges the limits—of both man and mountain."
Joshua David Bellin '87
Survival Colony 9
(McElderry Books/Simon & Schuster, 2014)
Bellin's suspenseful and unpredictable science fiction novel for young adults centers around 14-year-old Querry Genn, who needs to recover lost memories that might save the human race. The teenager is a member of Survival Colony 9, one of several small groups of people who have outlived a brutal war and environmental catastrophes. Querry's challenge is to find a way to defeat the Skaldi, monsters who can infect and mimic human hosts. Fans of the sci-fi genre should find the Skaldi enjoyably terrifying. Along the way, the teenager must learn to deal with his father, the colony's strict commander, who both protects and antagonizes him.

Arthur Chickering '50 and associates
Cool Passion: Challenging Higher Education
(NASPA, 2014)
Chickering is one of the leading researchers in student development theory and its implications for higher education. In part one of this autobiography, he remembers his years growing up in New England, his school misadventures, and his attempts to find a purpose in life—these experiences served as a foundation for his lifelong values and beliefs. Part two centers on Chickering's 50-plus-year career and five key areas where he has contributed to critical changes: civic learning and democratic engagement, assessment, pedagogy, student services, and student diversity. The book makes clear his continued commitment to helping students become lifelong learners, dedicated workers, caring parents, and engaged citizens.

Judge Leonard Edwards '63
Reasonable Efforts: A Judicial Perspective
(Thompson Reuters, 2015)
Throughout his career as a superior court judge, Edwards fought for the rights of children and families. His latest book, which is essential reading for juvenile court judges, has two goals: to encourage judges and attorneys to be more assertive in their oversight of social service agencies and to examine the reasonable efforts issue earlier in the case. This groundbreaking volume covers such topics as legislative history, federal law and child welfare, the definition of reasonable efforts, the Indian Child Welfare Act, recommended judicial strategies, and state-by-state analysis of statutes, case law, and commentary, forms, documents, benchcards, and more. A free copy of the book may be downloaded from the author's webpage: judgeleonardedwards.com

Paul Gionfriddo '75
Losing Tim: How Our Health and Education Systems Failed My Son with Schizophrenia
(Columbia University Press, 2014)
In an honest and touching memoir, Gionfriddo offers a detailed account of his son Tim, who has become one of the half-million homeless people with serious mental illnesses in desperate need of help yet underserved or ignored by our health and social-service systems. He reveals the numerous injustices that kept his son from realizing his potential from the time he first began to show symptoms of schizophrenia to the inadequate educational supports he received growing up, his isolation from family and friends, and his frequent encounters with the juvenile justice system and, later, the adult criminal-justice system and its substandard mental health care. The book considers how people with mental illness become homeless not because of bad choices but because of bad policy. As a former state policy maker, Gionfriddo provides recommendations for reforming America's ailing approach to mental health.

Renée Green '81
Other Planes of There: Selected Writings
(Duke University Press, 2014)
For more than two decades, artist, writer, and filmmaker Green has created an impressive body of work in which language is an essential element. This volume gathers, for the first time a substantial collection of the work she wrote between 1981–2010, tracing this internationally known artist's viewpoints through that period. The book includes essays, film scripts, reviews, and polemics, together with vivid critiques and reflections on Green's own artistic practice and seminal artworks. Sound, cinema, literature, time-based media, and the relationship between art forms and other forms of knowledge are just a few of the matters she takes up and considers. Green selected 64 pages of color plates for this lavishly illustrated volume.

Josh Lerner '00
Making Democracy Fun: How Game Design Can Empower Citizens and Transform Democracy
(MIT Press, 2014)
Though in principle citizens support democracy, those who have gone to a public hearing or community meeting often find participatory democracy can be boring. In his engaging book, Lerner argues that good game design can make the process of democracy enjoyable and fun by making use of competition and collaboration, measurable progress, and engaging sounds and visuals. Lerner's research reveals that institutions as diverse as the United Nations, the U.S. Army, and grassroots community groups already use games and game-like processes to increase participation; games also have been integrated into a variety of public programs in North and South America. The author considers five kinds of games and 26 game mechanics that are especially relevant for democracy. He finds that when governments or organizations design their programs to be more like games, public participation can become more attractive, effective, and transparent.

Mark Merlis '71
JD
(University of Wisconsin Press, 2015)
Merlis's latest novel utilizes two compelling narrative voices, a wife and a husband, to create a portrait of a small American family. Thirty years after the death of Jonathan Ascher, a revered 1960s radical writer and cultural hero, a would-be biographer approaches his widow, Martha, for access to the writer's papers. Martha decides to read these papers for the first time and discovers secrets she never knew about her husband. His journals offer an amusing chronicle of life at the fringes of the New York literary scene and then recount Ascher's sexual adventures in the pre-Stonewall gay underground and the social upheavals that led to his famous book, JD. Martha also learns about an unseen tragedy in her own apartment relating to their son, Mickey. In the course of the book, the reader finds out secrets Martha kept from her husband as she recalls her tumultuous marriage.

James B. Shuman '54
In Pakistan: Journeys in the Land Beyond the Headlines
(Markhor Press, 2014)
A former award-winning newspaper reporter and Reader's Digest editor who also worked as an aide to President Gerald Ford, Shuman first visited Pakistan in 1969, and in 2007, he decided to go for a return visit with his wife. The couple arrived a few days before the military government declared a state of emergency and found a nation that was changing rapidly. Yet they are able to spend some peaceful days with old friends going about their everyday business and travel to places not covered in standard guidebooks. Shuman shares his personal observations of the people he meets as well as the country's history and politics and considers the differences between such places as Islamabad and Peshawar.

Scott Timberg '91
Culture Crash: The Killing of the Creative Class
(Yale University Press, 2014)
Through original reporting and insightful analysis, Timberg's provocative book takes a close look into the roots of the crisis of the creative class in America. He uncovers the human cost as well as the unintended consequences of shuttered record stores, declining staff at newspapers, music piracy, and a general attitude of indifference. He identifies social tensions and contradictions—most concerning the artist's place in society—that have forced creative people to struggle with survival more than ever. Timberg argues that just as a democratic country benefits from a large and informed middle class, it also needs a thriving creative class. The Los Angeles Times calls Timberg's work "a vital book that anyone with an interest in culture or the arts should read."
Sarah Wildman '96
Paper Love: Searching for the Girl My Grandfather Left Behind
(Riverhead/Penguin, 2014)
In her gripping and carefully researched memoir, journalist Wildman delves into the story behind her grandfather Karl Waldman's immigration to America from Vienna in 1938. Her grandfather became a successful doctor, and years after his death, the author found letters from Valy—Valerie Scheftel—her grandfather's ex-lover who had remained behind when he fled Europe six months after the Nazis annexed Austria. The book takes the reader on Wildman's journey throughout Europe to find out what happened to Valy, a quest that lasted years. To her surprise, she discovers that several other people were searching for the same woman. Waldman recaptures a life lost to history while she also examines the story of her grandfather's triumphant escape and how these past narratives relate to her own life. The New Yorker writes: "Wildman, who belongs to the third generation of Holocaust writers, … turns a family story into a universal, historical one, and answers questions about how we can find new ways to talk about the Holocaust and its memory."

Ron Young '65
Crossing Boundaries in the Americas, Vietnam, and the Middle East
(Resource Publicatons, 2014)
This memoir is both a personal and political account of Young's steadfast interfaith and interracial leadership roles over five decades. The author has been active over the years in movements for civil rights, against the Vietnam War, and for Arab-Israeli-Palestinian peace, working with the Quakers' American Friends Service Committee in the Middle East. The book provides an insider's look at some key moments of these movements and covers some areas of American history not always covered in depth in mainstream textbooks. Young also considers how religious leaders from various faiths can inspire positive changes in society. At the end of the book, he shares important lessons he learned from his efforts and some of his hopes for the future. Pulitzer Prize-winning author David K. Shipler writes in the preface: "If you are ever tempted to despair that Americans have lost their moral compass, look into Ron Young's generous life of activism. He has not been alone."
—BOOK REVIEWS BY DAVID LOW '76
If you are a member of the Wesleyan community with a new book, please let us know by contacting David Low at dlow@wesleyan.edu. Please send a review copy of your book to David Low, c/o Office of University Communications, South College, Wesleyan University, Middletown, CT 06459.
For news about recent faculty publications, please see the Faculty Bookshelf at wesleyan.edu/academics/faculty/bookshelf.html.