MESSAGE FROM THE CHAIR: THE WESCONNECTED MUSICAL MIND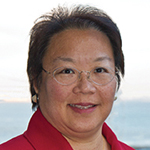 When was the last time you visited campus? As a former trustee and current Chair of the Alumni Association, I have the pleasure of returning to campus several times a year. And after each and every visit, I leave inspired.
Take, for example, my most recent visit at the end of February for the Winter Board of Trustees and the Alumni Association Executive Committee meetings. Several of my fellow trustees and I met with Assistant Professor of Psychology and Neuroscience and Behavior Psyche Loui, who is in her second year at Wesleyan. Professor Loui proudly gave us a tour of the new Music, Imaging, and Neural Dynamics Laboratory ("MIND Lab"). Students and faculty doing research at the MIND Lab seek to understand the networks of brain structure and function that enable musical processes. In one lab, we met a student conducting an experiment about brain waves. In another larger lab, which was set up with musical instruments and looked like a jam session was taking place, work was being conducted to analyze the effects of music on the brain.
After an hour, my colleagues and I left our session with Professor Loui, our minds racing with what we had learned, envious of the cutting edge research in which students were taking part. I was a music major at Wesleyan and avoided the sciences. If I were studying at Wesleyan today, I could see myself taking one of Professor Loui's classes and learning more about the nexus of music and science.
Over the course of the weekend, I had one inspirational interaction after another. One student shared with me her efforts to reorganize the WSA to be more reflective of the diversity on campus. Her efforts resulted in more than 100 students attending a WSA meeting to discuss lack of representation. I was inspired to hear how students are spending their time outside the classroom advocating for a better Wesleyan.
I also met with a group of seniors to discuss their plans following graduation, and asked if they were leveraging the Wesleyan alumni network for their job searches. Some had, and remarked how helpful alumni had been. I know I have personally benefitted from the Wesleyan alumni network over the course of my career, and I'll bet you have too. Here's how you can help: Update your LinkedIn profile. Update your WesConnect profile. If a Wesleyan student (or alum) reaches out to you for career guidance or assistance, answer that call or e-mail. It's the responsibility of each of us to pay it forward.
Speaking of paying it forward, that's essentially what the This is Why campaign is all about: Helping to make a Wesleyan education accessible to exceptionally bright, motivated students for generations to come. Ensuring that Wesleyan can recruit and retain the most talented faculty, professors who thrive in our distinctive teacher–scholar culture. Advancing students' opportunities to deepen their learning through the creative interaction of scholarship and engagement with the community.
The tremendous response we had to Giving Tuesday—when we shattered our goal of 1,000 gifts and ended with more than 2,300 gifts in one day—is proof positive that our alumni are inspired by the academic excellence of our faculty, the intellectual curiosity of our students, and moved by the generosity of others.
#This Is Why .
Daphne Kwok '84
Chair, Wesleyan Alumni Association