MESSAGE FROM THE CHAIR: WESCONNECTING, FACE TO FACE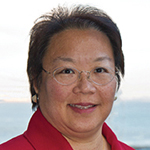 I'm often asked the question, "What's the best way to connect with fellow alumni in my area?" I can point to numerous ways alumni can "connect"—LinkedIn, Facebook, the alumni app—but usually alumni are looking to meet face-to-face.
We can help there, too!
Wesleyan alumni gatherings—both large and small—occur all the time, sometimes organically. Oftentimes, however, they are facilitated by visits from Wesleyan staff, faculty, or Alumni Association representatives. I often travel for work, so when I'm on the road I put on my Alumni Association hat and try to meet as many Cardinals as possible. So far this semester I've already visited with alumni in Philadelphia, Chicago, Houston, and Indianapolis. Look for me in a city near you soon!
Whenever University Relations staff travels on behalf of Wesleyan, they also try to pull small groups of alumni together to meet, reconnect, and share stories about their time at Wesleyan. One recent gathering in Philadelphia was so popular that planning is underway for alumni get-togethers every other month at various locations around the city. Details will be disseminated via the newly created Philadelphia Facebook Group for Wesleyan Alumni. Amazing, right?
Facebook Groups also exist for Wesleyan alumni in New York, Chicago, and Boston. So if you are not a member, sign up now so you'll be among the first to know what's going on in your community.
In addition to small group gatherings such as these and larger "come one, come all" events, Wesleyan also plans more structured programming. Connect@WES On the Road is one such example.
Featuring Wesleyan trustee Jim Citrin P'12, P'14, Leader, CEO Practice at Spencer Stuart and author of The Career Playbook, and Wesleyan Career Center Director Sharon Belden Castonguay, Connect@WES On the Road is intended to help alumni chart their professional future. Part of a larger initiative to support the growth of Wesleyan's professional networks, successful Connect@WES programs have already been held this month in New York City and Boston. A San Francisco event is scheduled for Feb. 4, 2016, and a spring date for an event in Washington, D.C., is forthcoming. Visit wesconnect.wesleyan.edu/events to learn more.
Wherever you may be, Wesleyan's alumni network of more than 30,000 members should be your go-to resource. Attend events and engage with alumni in your area, or plan a gathering of your own.
Let's wave the Red & Black together!
Daphne Kwok '84
Chair, Wesleyan Alumni Association