HISTORICAL ROW: SYR PERECYVELLE OF GALES: A BRILLIANT ASSOCIATION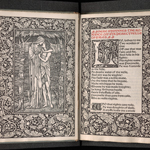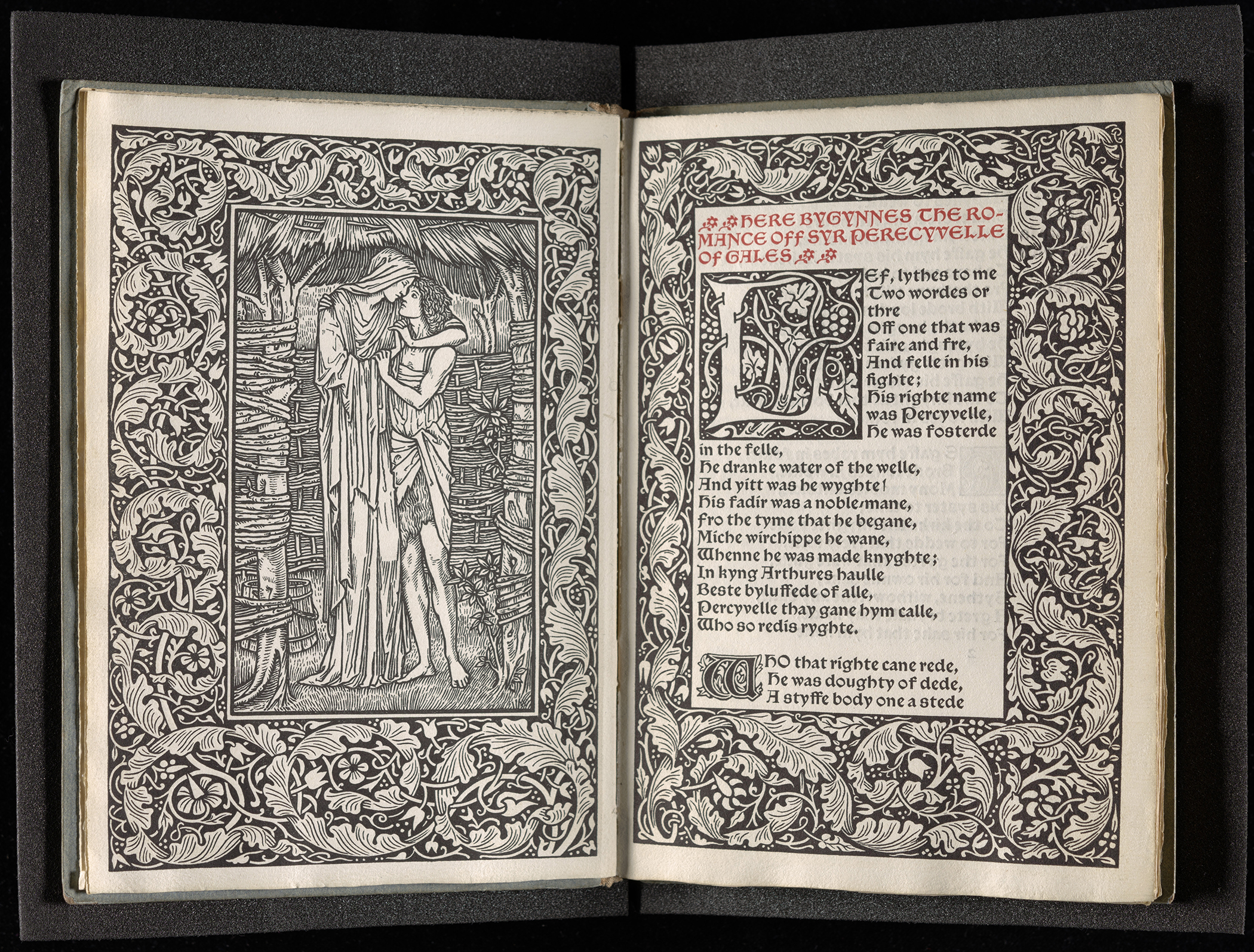 Some of the most amazing creative partnerships originate in college.
Special Collections & Archives holds an evocative example of the deep connection between William Morris and Edward Burne-Jones, two 19th-century British artists who were central figures in the movement to return to the medieval and early Renaissance artistic ideals they felt had been abandoned by contemporary society. The two men met as students at Oxford University in 1852 and bonded over a shared love of poetry. Their lifelong collaboration resulted in some of the most beautiful books of the 19th century, influencing generations of printers and artists to the present day.
Among the many books illustrated by Burne-Jones and designed and printed at Morris's Kelmscott Press is Syr Perecyvelle of Gales, an Arthurian romance. The book was completed in 1895, the year before the publication of the Kelmscott Chaucer, the pinnacle of Morris's printing. In the Nathan Comfort Starr Collection of Arthuriana, we hold Burne-Jones's own copy of Syr Perecyvelle of Gales, with his bookplate and a presentation inscription to him from his friend and collaborator. It is thrilling to realize that this copy was a gift to Burne-Jones from Morris. The book serves as a culmination of their work designing, illustrating, and printing this legend of Percival, a knight of the Round Table.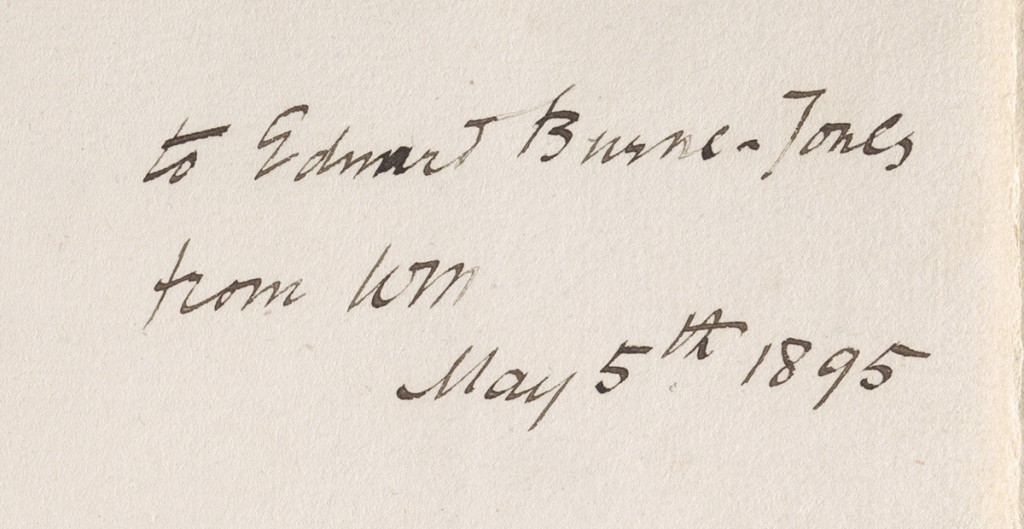 The text of Syr Perecyvelle of Gales is based on a manuscript volume compiled by Robert Thornton, a Yorkshire native, around 1440.The manuscript was first published in 1844 by the Camden Society, which specialized in publishing scholarly editions of medieval manuscripts. In 1896, Morris printed two other Arthurian romances from the same compilation, Sire Degrevaunt and Syr Ysambrace, both illustrated by Burne-Jones.Each of these books was printed in an edition of 350 copies on handmade paper, with eight additional copies printed on vellum.
Syr Perecyvelle of Gales opens with the young Percival saying farewell to his mother before he goes off to find his fortune as a knight. The scene is the forest where she has raised him in hopes of protecting him from outside influences. Burne-Jones's image, informed by medieval aesthetics and 15th-century woodcuts, shows Percival enveloped by his mother's embrace, within a thatch-roofed hut made from trees and branches. Set within a floral border designed by Morris and reminiscent of illuminated manuscripts, the scene is both poignant and foreboding.Percival's mother is unable to protect him forever, and, at the end of this version of the story, he is slain in the Holy Land.
William Morris was an ardent socialist and a central figure of the Arts and Crafts movement, which began in England as a reaction against the mechanized production of objects that was a hallmark of the Industrial Revolution and spread throughout much of the Western world. He believed in the ability of beautiful things to improve the human condition and that beautifully crafted objects should be accessible to all people. Morris insisted that all workers should take pride in craftsmanship. The revival of handpress printing using handset type based on 15th-century designs, handmade paper, and a lush style informed by medieval illuminated manuscripts was among Morris's greatest contributions, and his work initiated the 20th-century revival of the book arts.
Edward Burne-Jones moved in radical circles, too, although late in life he was awarded a baronetcy, which did not sit well with some of his friends and family, including Morris. Both men were associated with the Pre-Raphaelite Brotherhood, a group of British artists and writers who sought inspiration from the art created before the painter Raphael (1483–1520) and who glorified medieval and early Renaissance Italian art. The Pre-Raphaelites strove to return to what they saw as the pure ideals of an earlier time.
Many of the friends that Morris, Burne-Jones, and the other Pre-Raphaelites met in college became their creative collaborators for life. They inspired each other, challenged each other, and created many lasting works of art together. The Morris/Burne-Jones copy of Syr Perecyvelle of Gales is a lovely reminder of a creative partnership that has influenced the arts for more than a century.
—SUZY TARABA '77, MALS '10
Director of Special Collections & Archives
Wesleyan University Special Collections & Archives welcomes researchers interested in Syr Perecyvelle of Gales, or any of our rare books.