For Ronnybrook Farm Dairy owners Kate Osofsky '94 and her father, Rick '66, farming is both a second career and a return to their roots.
Established in 1941 and located in Ancramdale, New York, Ronnybrook Farm Dairy has provided all-natural milk, yogurt, and other dairy products to Wesleyan since 2012, as part of Bon Appetit's Farm to Fork local food sourcing program. "Returning to my family's farm was always in the of back my mind—not so much if I would come back to help out, but when," says Kate. "I think once a farmer, always a farmer is certainly true for both my father and me."
A religion major at Wesleyan, Kate received her master's degree in early childhood education and taught for several years before starting full-time at the dairy in 2000. Today, Kate oversees office operations and payables. A Government major at Wesleyan, Rick received his JD and worked as a lawyer and speechwriter in D.C. before returning home in the mid-1980s to open his own law practice, spending nights and weekends working on the farm. Today, Rick continues to practice law while serving as Ronnybrook's president and CEO.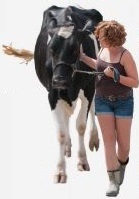 Ronnybrook milk is non-homogenized, allowing the cream to rise to the top, and is pasteurized at the lowest temperature allowed by law, keeping it safe, but not over-processed, so that it retains its natural health benefits and taste. The farm's dairy products are as fresh as you can get—moving from cow to table in a little more than a day. "We do it all. We raise our own cows. We feed them almost exclusively with farm-grown feed. We milk them, manufacture our dairy products, and use our own trucks to deliver," says Kate. That freshness is key to the milk's distinctive look and taste, which varies depending on the season. "When our cows are feeding on green fields of alfalfa, their milk may taste more 'grassy' or appear more yellow than it does in the winter, when they feed on hay harvested over the summer," explains Kate. Ronnybrook's unique taste hasn't gone unnoticed. A New York Times blind taste test of local New York milk chose Ronnybrook as the favorite, citing its sweetness "with a faint grassy flavor that tasters loved."
"When my grandparents began farming, people called them 'progressive' and 'modern,' because they recognized the importance of balanced nutrition, genetics, and recordkeeping," says Kate. "Since then, we've followed our family tradition while learning how to manufacture dairy products that are both healthy and delicious. Today, some people consider that old-fashioned—and we couldn't be prouder of that designation."
Pictured: Claire, 16, with her Holstein, Arrow, is the fourth generation of the Osofsky family to work at Ronnybrook.