StARTup Shark Tank: Students Pitch Next-Gen Socially Conscious Ventures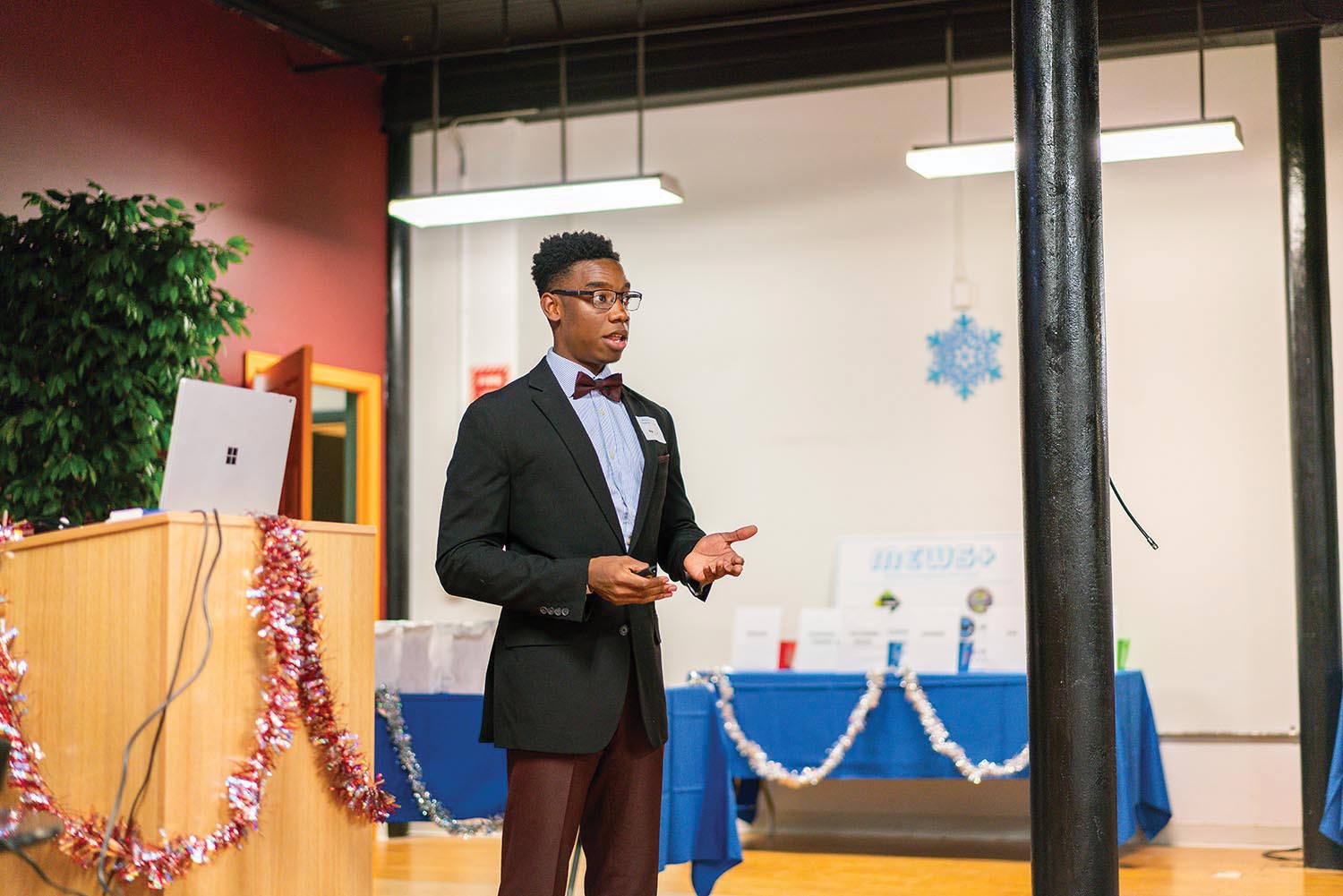 As part of the CSPL 239 Startup Incubator course offered in Fall 2019, students practiced pitching their startup business ideas in a "shark tank" event sponsored by Middletown Entrepreneurs Workspace Plus (MEWS+) and CollisonCT.
Denali Learning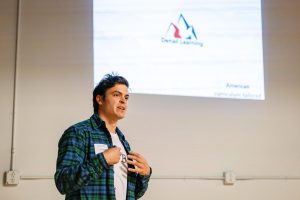 Denali Learning is a website that provides international students coming to the United States a convenient and effective crash-course on the American education system and American culture. — Zachary Zavalick '20
Problem: Working at a summer program at a boarding school, I identified this challenge: High numbers of international students arrive in the United States, yet find it difficult to integrate into classes and schools here. The American educational system is complicated, so these students who aren't prepared do not perform as well as they'd like. Many more don't have access to these enrichment programs.
Mission: To provide an online orientation program in a platform that would help international students both integrate into the classroom, as well as learn to live comfortably away from home.
Reimagine, Chicago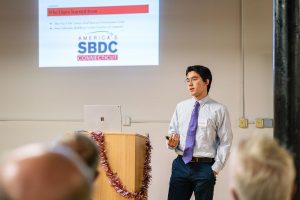 Reimagine, Chicago is designed to help local businesses in low-income parts of Chicago. We will provide grants and funds to help businesses expand and grow the local infrastructure. —Bobby Iwashima '22
Problem: Certain areas of Chicago have high poverty and unemployment rates. For instance, Englewood, on the South Side, has an average income of $19,000 a year, with the unemployment rate of 20 percent. For comparison, Chicago as a whole boasts an average income of $68,000 per year, with 13 percent unemployment
Mission: We want to make Chicago thrive by bringing jobs to underrepresented and underprivileged neighborhoods.
SAFERide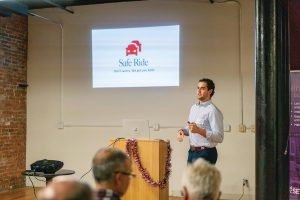 SafeRide is a ridesharing app that will send two drivers to pick you up; one to drive you home, and one to drive your car. The goal is to reduce the amount of drunk driving by teenagers and adults, and create a safer alternative.—Nolan Collins '23
Problem: At professional sports venues—like when the Patriots play at Gillette Stadium—there's an average of 65,000 people. About 65 to 75 percent have a sip of alcohol, before, during, or after the game. Many will be fine when they drive home. Others will not: In 2018, there were over 10,000 drunk driving deaths; 4,000 children under 14 were killed.
Mission: At SafeRide we strive to provide an affordable, convenient, and safe alternative to impaired driving. Through our company we aim to eliminate not only the stresses and the hassles of collecting your car from an arbitrary place the next day but also drunk driving as a whole.
Timeline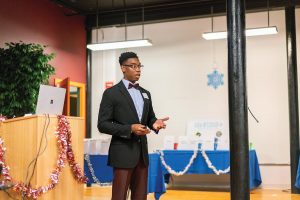 TimeLine is a software development company. We are currently developing an app that shows real-time traffic of checkout lines and tracks shopping patterns of customers.—Nigel Hayes '23
Problem: The biggest issue for small business owners is hiring to staff the store correctly for busy and quieter times. Too many employees on the floor, and they are losing money. Too few, and customers might get discouraged and leave.
Mission: To make the in-store buying process efficient everywhere, anytime, for the consumer and seller.
ONA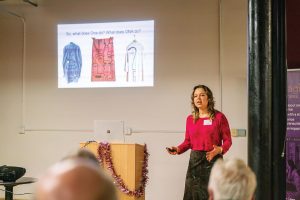 ONA is individually-created one-of-a-kind, wearable art. Each up-cycled and/or vintage garment is uniquely designed and painted by hand.—Ona Hauert '20
Problem: The enormous amount of waste produced by the fashion and textile industries—92 million tons per year. Second only to the oil industry, fashion/textile is the world's largest polluter. The average consumer throws away 70 pounds of textile waste per person annually.
Mission: To live sustainably in art, creating one-of-a-kind wearable pieces.
RBXToys.com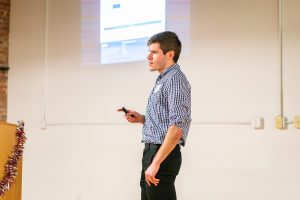 RBXToys.com is a website targeted toward gamers. It allows people to sign up, complete offers/tasks for tickets, and redeem them for cool prizes like toys, gift cards, and virtual game items without spending a cent. I'm the CEO of RBXCity LLC, the parent company of RBXToys, and a social media influencer with around 400,000 subscribers (under the alias Linkmon99). I make videos around the game Roblox, an online platform where players can both play and create their own full-scale 3D games to share.—Tommy Doyle '21
Problem: Many of my subscribers complain they have to pay real money to advance themselves on Roblox and other online games, and they are either unwilling or unable to do so.
Mission: To allow gamers the opportunity to earn game-related rewards without spending any of their own money in the process.
Sustainable Surfing Products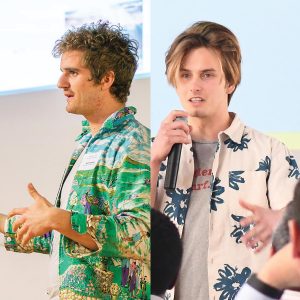 Sustainable Surfing Products is a one-stop website for environmentally conscious surfers to buy all their gear. While the surf community is concerned with environmentalism, there exists no centralized location where consumers can purchase products that align with their values. Sustainable Surfing Products fills this void.—Michael Eustace '22 & Will Huestis '22
Problem: Surfers are all about harmony and the natural environment. It's a beautiful sport, but so many of the products we use are not in tune with the natural environment. The products are not sustainable; they produce kilograms of waste and can't be recycled.
Mission: To expand the market share of eco-friendly surf products.
The Screen Reseen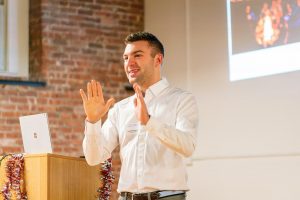 The Screen Reseen is an hour-long workshop that creates a dialogue around the ever-increasing prevalence of screens in our lives. In the workshop, we tackle how we can leverage the positive sides of them with the negative, while also gathering a community of interested and passionate audience members to have an open discussion about it.—Beckett Azevedo '21
Problem: The prevalence of screens in daily life, interfering with human interactions and decreasing creativity. A 2009 survey by the National Institutes of Health noted that adults spent an average of 5 hours per day on entertainment media, while 8- to 18-year-olds spent 7.5 hours on entertainment media,
but only 25 minutes per day reading.
Mission: To create a dialogue and give tips and tools to any audience—adults, parents, students, and kids—on how to live a more fulfilled, connected, and richer life through more responsible and conscious screen and social media use.
S.P.A.R.K. Fitness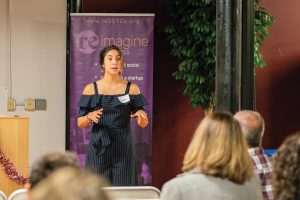 S.P.A.R.K. Fitness is an enterprise aimed to enhance low-income and marginalized communities' fitness experiences, by providing services such as child care, private rooms, affordable memberships, and much more. This is with the hope of decreasing rates of obesity and other associated health problems within these communities.—Itzel Valdez '23
Problem: While physical activity has always been a part of my life, this is not true for a large percentage of low-income people. According to a National Health and Nutrition Examination survey, 47 percent of Latino adults and 46.8 percent of black adults have obesity. Low-income communities and people of color are oftentimes deprived of the information, money, or access to healthy food choices and places to be physically active.
Mission: To provide access to a safe, affordable, uplifting, and resourceful space for fitness and group-building among marginalized and low-income communities.
College Accountability League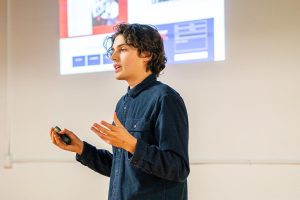 College Accountability League (CAL) aims to resolve disconnects between student interests and college practice through accountability, enhancing metrics, and equitable, targeted action. It seeks to unify student voices across colleges with the goal of improving the environmental and social responsibility of resource allocation.—Lucas Pabarcius '22
Problem: There's a disconnect between student interests and college practices, particularly those involving universities' use of money: it funds the environmental ideals students are taught, yet also is invested in fossil fuels. The status quo for university endowment is a bedrock of oil and gas, and it is essential that they change course. As students, we have neither means to see the scope of university investment nor the voice to do something about it.
Mission: To establish a new form of activism on college campuses, one which is informed by the information-saturated world in which we live.
GAME:POINT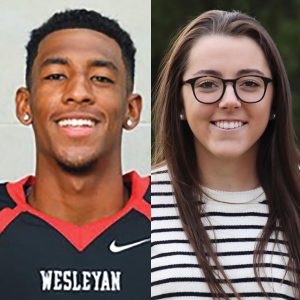 GAME:POINT is a group of student athletes on campus that are committed to creating a more sustainable future for athletics and the athletes' lifestyle. Through teamwork and competition our goal is to make athletics at Wesleyan more environmentally conscious.—Daniel Banks '22 & Maddie Clark '22
Problem: Wesleyan's campus is generally environmentally friendly, but those practices seem to be left behind when it comes to athletics and the athletic center. GAME:POINT aims to bridge that gap, allowing athletes to bring their sustainable practices to practice.
Mission: As athletes we are trained to perform under pressure. The time is now to start making sustainable changes to our lifestyles; the ball is in our court.