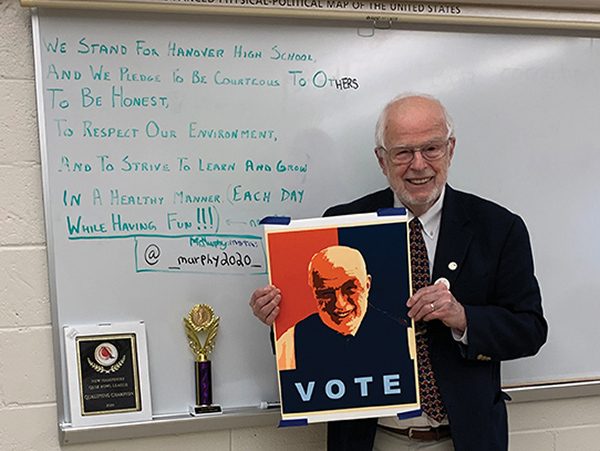 With a strong background in civics and keen insight into the minds of younger voters, longtime educator William Murphy '60 decided to take on Donald Trump for the presidency.
Nearly 60 years of teaching high school is not typical preparation for a run at the United States presidency. Then again, William Murphy '60, P'85 is not a typical teacher.
"My name is Bill Murphy, and I'm running for President of the United States," Murphy's presidential platform statement read. "I think that I have ideas that ought to be heard. I realize that my chances of seeing the ideas through to implementation are slim, but somebody needs to express them."
A Wesleyan history major and longtime social studies teacher at Hanover High School in Hanover, N.H., Murphy sought to put his beliefs into action by running against incumbent President Donald Trump in New Hampshire's Republican presidential primary in the fall of 2019. Though serious in his pursuit, Murphy's campaign was as much about being a role model for his students and a leader who practices civic virtues that he believes are missing from the current administration. Murphy worked part-time last year, which allowed him just enough flexibility to also focus on politics. The decision to run for president, however, was a long time coming.
"I tend to wake up early and do a lot of my thinking," said Murphy, who teaches history, government, and citizenship. In recent years, "I'd get very upset with the president and the direction our country is taking. So, one day I woke up and said, 'I'm going to run for president.' If you believe in something strongly enough, then you need to take action about it."
To add their name to a primary ballot in New Hampshire, candidates are required to file paperwork with the Secretary of State's office and pay a $1,000 fee. Seventeen individuals, including President Trump and Murphy, registered to run in the state's Republican primary. Murphy pointed out that $1,000 is no small sum for a schoolteacher.
"If you believe in a cause," he said, "you make sacrifices."
A registered Republican since he moved to New Hampshire in 1961, Murphy said the party is not the same one he joined 60 years ago. But he has stuck with it because he believes in its original values and its potential return to them.
Murphy says he fears the growth of an imperial presidency that rules by resolution, so his platform emphasized holding Congress accountable for passing laws and keeping the government running smoothly. He believes that "character counts," and his platform called for "waging peace" through the creation of a peace academy; a progressive, graduated income tax with no deductions; universal health care; and free public education to each student's level of competency.
He opposes corporations that are too big to fail, and supports helping other countries build their own security and economy so their citizens are less inclined to emigrate. In addition, he said, he disagrees with "America First," arguing that all of the major problems facing Americans today are international in scope and can only be solved by international cooperation.
No small victory
Being an educator is not an ideal complement to running for office. Besides a shortage of time and resources, Murphy found that school policies prohibited him from publicly presenting views on controversial issues for fear such statements could appear one-sided. In addition, one of his own longstanding policies as a teacher is to allow students to earn extra credit by engaging in political campaigns. Thus, coincidentally, he ended up supporting some students' efforts on behalf of his opponents. Not that he minded, of course, since he believes his job "is to create involved citizens."
Murphy didn't fundraise, and word-of-mouth was his primary mode of campaigning. An advisor for his school's Quiz Bowl club, he often spoke about his campaign with students and other advisors at those academic competitions. He also participated in a few media interviews and the CSPAN-televised Lesser-Known Candidates Forum held at St. Anselm College in January.
The outcome of New Hampshire's February 11 presidential primary, of course, is history: President Trump handily won the Republican race. Murphy garnered 447 votes (0.3%), according to the Washington Post. He suspended his campaign the following day, but was "satisfied" with the result.
"I didn't get the most votes, but I got a chance to talk with people in my town," Murphy said. "Every time I talk to somebody, I win again."
Sharing his views is akin to "planting seeds," and those seeds could grow in the future. Those views and his candidacy, Murphy believes, show his willingness to teach by example and demonstrate to his students how important it is to become involved in politics, whatever the level.
"The word for my kids and for others is: Get involved," he said. "Participate, participate, participate. If you don't utilize the democratic process, they're going to take it away from you.
"Alexis de Tocqueville said—and it's so true today—that democracy is not going to end with somebody on a white horse or in a tank. It's going to end because we stop being involved. Ben Franklin, coming out of the Constitutional Convention, was asked: 'Do we have a republic or a monarchy, Mr. Franklin?' He said, 'We've got a republic, if you can keep it.' That's my message as a social studies teacher, as a presidential candidate. And if by running I got more people interested in getting involved, then that was a successful use of my time."