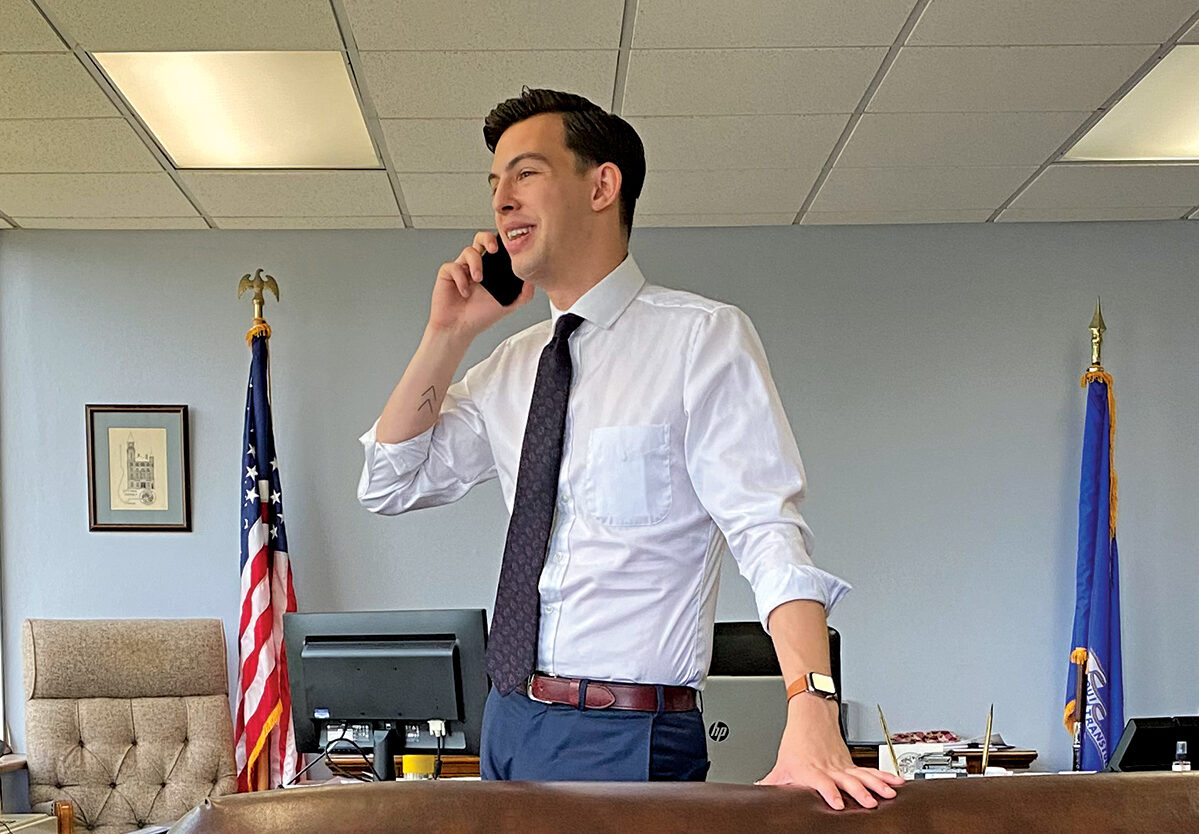 Three Connecticut leaders reflect on what it takes to make a difference within a state, city, or town.
It's easy to conjure an idea of leadership at a very high level: presidents, generals, CEOs. But what does it look like from the perspective of states, cities, and towns, where local leaders are working closely within and for their own communities? Where decisions more immediately and directly impact the lives of constituents? We asked three alumni engaged in Connecticut politics—Ben Florsheim '14, Matt Hoey '78, and Alex Kasser '88—to share their perspectives, as well as advice for those interested in getting more involved at the local level.
Ben Florsheim '14 (above) is mayor of Middletown. Elected in 2019 at the age of 27, he is the youngest mayor in Middletown's history, and Connecticut's first Democratic millennial mayor. Matthew T. Hoey III '78 is the Democratic first selectman of Guilford; he served on Guilford's Board of Finance for 26 years (24 of those as chairman) prior to his election in 2017. Alex Kasser '88 is a Democratic state senator for Connecticut's 36th District, representing Greenwich, Stamford, and New Canaan. In 2018, she became the first woman ever elected to represent the 36th District and the first Democrat to do so in 90 years. She won her second term in 2020.
Who or what first inspired you to lead? What was it about that person or instance that gave you a sense that you'd be well-suited for it?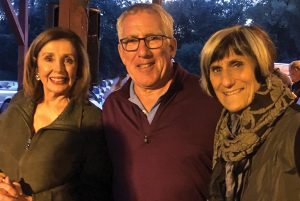 Matt Hoey '78: I was elected one of the captains of my Xavier High School football team my senior year. After one practice where I had reacted poorly to criticism from a coach, Head Coach Larry McHugh pulled me into his office and gave me what I had coming but did it in such a constructive way that it sticks with me to this day. What I had done was selfish and set a bad example for those who were expecting me to be a leader. He told me that captains need to demonstrate qualities and comport themselves in a different fashion.
Ben Florsheim '14: The person who inspired me to take a look at politics was former U.S. senator Russ Feingold (D-Wisc.). He took a unique approach that was equal parts populist and academic: the constitutional scholar campaigning door-to-door through cornfields. He was known as the conscience of the Senate for his willingness to stick his neck out on tough issues. He was the lone vote in the Senate against the USA PATRIOT Act, leading to campaign T-shirts with a visible spine running along the back (he has backbone).
After I graduated from Wesleyan, I went to work for U.S. Senator Chris Murphy (D-Conn.), in part because I saw him picking up the mantle from Feingold on a number of issues I cared about, from campaign finance to foreign policy. While working for Chris, I had the opportunity to work closely with local leaders across Connecticut. That was what really prompted me to start imagining myself in that role someday—seeing the job up close, from those who were already doing it.
Alex Kasser '88: I was inspired to run for office because I wanted to see change in our country and in our culture. I was very unsure of myself in the beginning because I'm an introvert. But the more I interacted with people and listened to their stories, the more I enjoyed the process. I never wanted attention directed at me, but I did want to shine a light on solutions that could move us forward. I didn't run for office to become a politician. I ran to solve problems, and that's my focus.
In your opinion, what characteristics make an effective leader?
A.K.: An effective leader first and foremost has to be a good listener. If you think you already know everything, you won't listen to or learn from others, and that's a severe limitation.
B.F.: You really have to be humble, in every sense of the word. You have to be good at listening to people who know more than you. You have to be able to change your mind when the facts demand that you change your mind. You have to be curious and pursue new knowledge. You have to remember that people entrusted you to make decisions on their behalf, and be willing to live with the consequences of those decisions, while remembering you are just the messenger. But with all that being said, you also have to have a reason for doing what you're doing—a motivating principle, a set of values, a true north.
M.H.: An effective leader remembers that everyone deserves to be respected even if you don't agree on some things. You have to lead by example and demonstrate that no job or task is beneath you. It's about having the desire and ability to genuinely connect with people and build trusted relationships. It's about providing substantive feedback and realizing that the positive feedback should be doled out regularly. (It builds a bank to draw on when the feedback is less palatable.) I am fond of the old axiom "God gave you two ears and one mouth for a reason." We should use them in that proportion. Humbleness doesn't hurt, either.
What experiences at Wesleyan impacted your leadership style today?
M.H.: My most valuable takeaway from Wesleyan was my exposure to and appreciation for diversity. Having grown up in a pretty homogeneous community and schools, the amazing range of cultural experience at Wesleyan taught me that there was so much more than I had become accustomed to and understood. In leading a community, one needs to have a similar appreciation for the diverse needs, passions, and political/social ideologies within the community as decisions are made about the management of programs, services, and staffing.
A.K.: I was two years younger than my classmates and very shy when I was at Wesleyan. But I loved meeting so many interesting and passionate people and learning from their diverse experiences. I participated in my first protest at Wesleyan—a candlelight vigil against apartheid. Standing in community with others for a cause greater than ourselves was a life-changing experience. It opened my eyes to the power we have as human beings when we come together and assert our voices collectively. That belief—that "we the people" have the power to shape our world—is at the core of everything I've done since.
B.F.: Two classes in particular ring out in my memory: The Economics of Wealth and Poverty, taught by Wendy Rayack; and a class on the American welfare state, taught by Brian Glenn. Both of those classes gave me a completely new understanding of how, and by whom, our society and our government is organized, and to whose benefit. I think about things I first learned in those classes on a near-daily basis.
Wesleyan also encouraged me to keep at the off-campus political work that I was doing as a student and that put me on the path that I'm still on today. And Wesleyan taught me some harder lessons about "how things really work," which is the essential question that one has to understand in order to be effective in the world, whether as a leader or anything else.
If you could give aspiring leaders one piece of advice, what would it be?
B.F.: Read a lot. Read and understand the history of your field so that you don't make the same stupid mistakes that others have already made for you. And read fiction, too. It makes you a better person.
M.H.: When making decisions, doing the right thing isn't always the easiest thing, but it is the correct thing.
A.K.: Every person is a leader when they speak the truth and stand up for what's right. Leadership is not a title, it's a way of being. Listen to your heart, speak your truth, and stand up for others. Even if someone is hurling hate at you, it's only because they're projecting their own pain. Be compassionate.
Top photo: Ben Florsheim '14, mayor of Middletown, Connecticut. Photos courtesy Ben Florsheim '14, Matthew T. Hoey III '78, and Alex Kasser '88.