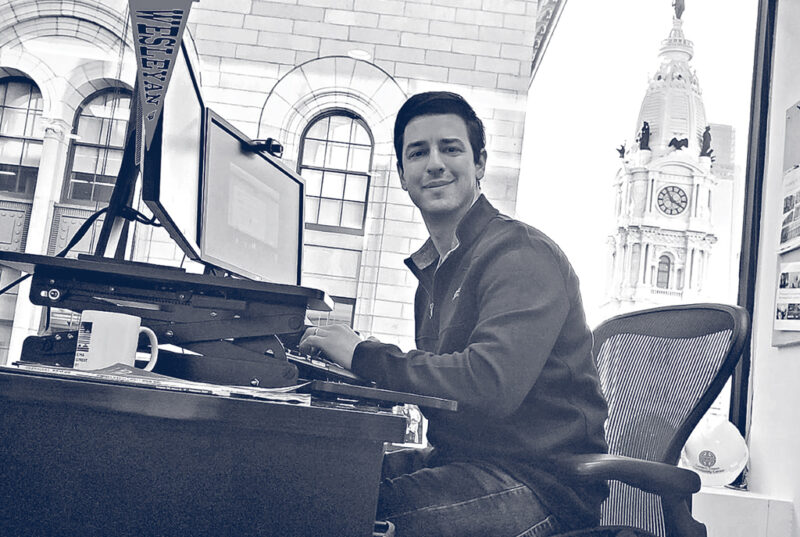 Greg Heller '04 leads the Philadelphia Redevelopment Authority and is senior vice president at the Philadelphia Housing Development Corporation. Photo courtesy Greg Heller
In Philadelphia, Greg Heller '04 is working tirelessly to get housing aid into the hands of those who need it most.
By Kira Goldenberg
When the coronavirus pandemic hit Philadelphia, tens of thousands of people lost their jobs, peaking at an 18% unemployment rate last June. That meant a significant number of people—as many as half of all city renters—suddenly had trouble paying rent. Though there was a temporary eviction moratorium and various funding available through federal action, those fixes were temporary and piecemeal. Philly had tens of millions in federal funds for rental aid, but like many other cities, faced the challenge of getting the funds out quickly enough, while complying with complex federal regulations. If the city was not successful, it was at risk of forfeiting much of it.
That's where Greg Heller's Wesleyan-trained brain came in. Heller '04, who leads the Philadelphia Redevelopment Authority, and also holds a second title as senior vice president at Philadelphia Housing Development Corporation, decided that the easiest way to get funds into pockets was to cut much of the red tape and give money to renters directly. It was an idea he first heard about at Wesleyan, he said.
His Wesleyan classes "really shaped my whole understanding of the need for affordable housing programs and . . . the mismatch between current public policy and the needs of poor families in America," he said. "I do think there's something in the water at Wesleyan that teaches people to think. Just ignore what society is telling you and think about things yourself, and think about them critically," he added. "I find myself in a space with very defined ways of doing things. And I constantly try to challenge them—go back to basics—and think, 'Is there a better way?'"
Philadelphia's direct payment program gave out more than $20 million to over 5,000 households. All told, Philadelphia's three rounds of rental assistance to date (including two prior rounds that made payments to landlords) distributed over $64 million, helping more than 14,000 households. Heller led his team to build new technology, hire additional staff, and quickly set up a robust delivery system that did not exist before. Philadelphia is now in the process of distributing even more funds, thanks to the federal stimulus bill in December and President Biden's federal aid bill passed in March 2021.
Despite being able to request up to $9,000, when offered the cash directly applicants only requested an average of $4,600, Heller said. Giving people cash in this manner works, but the steep barriers to qualifying that come with many forms of government assistance, he said, are partially due to damaging (and unfounded) stereotypes about lower-income people gaming the system for benefits.
"I talk to a lot of tenants on the phone every week, and it just breaks my heart to hear a tenant who doesn't have a job, has three children, is having trouble feeding her family [and paying] for other household costs, and is asking [for] only exactly what she needs for rent," Heller said.
Since graduating from Wesleyan in 2004—with a gap year to work with former Philadelphia city planner Ed Bacon (whose biography Heller wrote years later)—Heller worked in affordable housing development, and ended up leading a West Philadelphia community development organization, where he spent several years financing and constructing a project to help small businesses. His work there demonstrated firsthand how difficult it is to launch a major development project that focuses on social rather than financial returns, and that is located in a lower-income community.
When he joined city government, he jumped at the chance to shift the status quo. Besides facilitating direct rent assistance, Heller is in charge of the city's investment in affordable housing, and designed a number of new programs to provide resources for underserved people and communities. One program helps low- and moderate-income homeowners qualify for home improvement loans by working with banks to set new eligibility terms. Private lenders were denying home repair loans at a rate of 75%, with higher denial rates for people of color. Heller's program has an approval rate of over 50%, with over 80% of loans going to people of color. And so far, not a single borrower in that program has defaulted, Heller said.
"There aren't many people like Greg who are just so deeply connected to public service and to the potential of the public sector and what's possible, and really trying to see that through," said Katherine Gajewski '02, who has worked with Heller on multiple policy projects in Philadelphia. "I think that Greg is quietly doing some really radical work."
Heller is so enthusiastic about changing structural inequities in Philadelphia—and, he hopes, ultimately replicating his innovations across the nation—that even after a deep-dive Zoom call about his work, he sent a follow-up email reiterating his thoughts on the larger issues. The issue of affordable housing may have been highlighted by the extreme circumstances of the pandemic, he wrote. But they predated COVID, and will remain a critical problem he seeks to solve long after it recedes.
"In my field we have to deal with long-standing, intractable issues," he wrote. "Something is seriously not working, and this didn't happen overnight. So, I have spent my career trying to change the way we invest in people and communities by challenging long-held assumptions and building new approaches. Even though people have been doing things a certain way for a long time, we have the power to change that trajectory."
"In my field we have to deal with long-standing, intractable issues. Something is seriously not working, and this didn't happen overnight."