Historical Row: Clara Van Vleck, Champion for Coeducation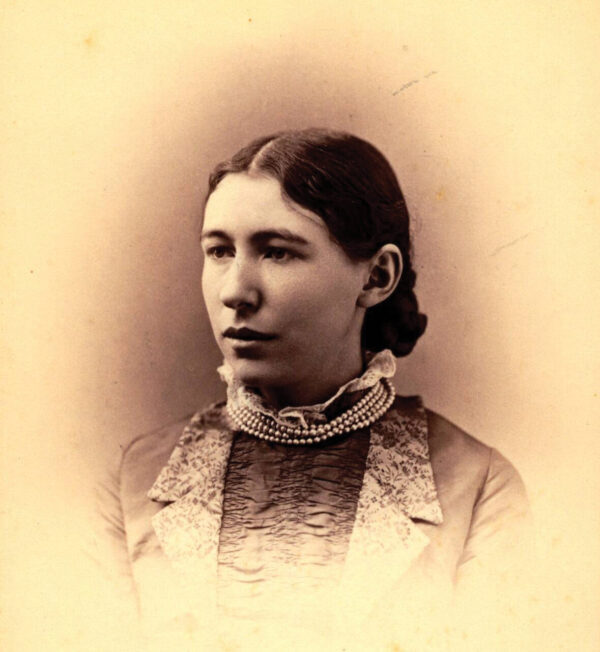 We are approaching the 50th anniversary of coeducation at Wesleyan— but did you know that Wesleyan first attempted a coeducation model as early as 1872? This year's anniversary inspired us to look back at one of our earliest female graduates, Clara Van Vleck, Class of 1881. Born August 29, 1859, in Middletown, Connecticut, Clara was the second of three daughters and one son of Wesleyan Professor of Mathematics and Astronomy John M. Van Vleck, Class of 1850, and his wife Ellen Maria Burr.
Clara and her siblings grew up around Wesleyan where her father served in numerous positions including vice president and acting president on multiple occasions. When women were first admitted in 1872, it opened up new possibilities for Clara and her sisters. Anna, the eldest, began in 1875 and Clara followed suit in 1877 with the full support of their father. Clara graduated in 1881 with general honors, 1st grade, like many of the other female students of the time. She continued on as a graduate student for a year before teaching high school in Middletown and Hartford until 1888. However, her affiliation with Wesleyan was far from over.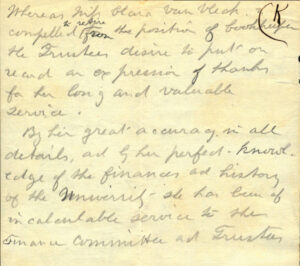 At the Board of Trustees meeting on June 27, 1893, it was voted to employ Clara "as Preceptress at the Women's Dormitory, as Secretary to the President of the University, and Assistant Secretary of the Faculty." Her work on financial matters and trustee business can be found throughout the archives and is detailed in the handwritten resolution thanking her for her years of service at the time of her retirement. Additionally, at the turn of the century, when coeducation was in jeopardy, Clara took action. She and Caroline Rice Crawford, Class of 1879 and sister of William North Rice, served as the heads of the Committee of the Middletown Alumnae. They wrote letters protesting any separation or changes to coeducation at Wesleyan and circulated petitions to the other women graduates to ensure their voices were heard. At the same time, her father spoke out openly to keep the female and male students together. They were not successful and Wesleyan's first coeducation period ended in 1912.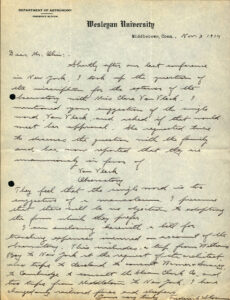 After her father's death in 1912, Clara and her family gave a donation to the University to have the new observatory being built on Foss Hill named after him. She worked closely with the architect, Henry Bacon (of Lincoln Memorial fame), and Frederic Slocum, Wesleyan's first professor of astronomy and director of the Van Vleck Observatory, throughout the process, and served as the main point of contact for the family. When they thought about naming the observatory simply "Van Vleck," she responded that "the single word is too suggestive of a mausoleum," and requested that it be named the Van Vleck Observatory instead.
Clara Van Vleck is just one of the 43 women who graduated from Wesleyan between 1872 and 1912. Like all Wesleyan graduates, each has their own unique story and experience. For those who wish to learn more about the first round of coeducation, there are multiple undergraduate theses written about the time. One of our coeducation collections can be found online.