A Wesleyan Friendship in Italy: Tembi Locke '92 and Michele Barnwell '89
Florence, Italy 1991.
My gaze was down—staring at the uneven cobblestone pavement in the rain—while passing through the close quarters of an alley-like street. It was beautiful, in that way that makes the present experience feel more surreal than lived. Everything about it was enchanting and I was lost in it. While busy being smitten with it all, a woman coming from the opposite direction on this otherwise desolate street walked just past me and then called out to me incredulously in a familiar voice, "Michele Barnwell?!?!"
I whipped around to see her face, "TEMBI?!"
Tembekile "Tembi" Locke '92 was a junior at Wesleyan at the time and an art history major studying abroad in Florence. She'd gotten the inspiration to come to Italy while taking classes taught by Wes art history professors John Paoletti and Joseph Siry. It was her first time in Italy.
Meanwhile, I had graduated from Wesleyan two years prior and was traveling and exploring Italy alone for the first time myself too.
Before this moment, we'd only spent about a semester on Wesleyan's campus together. My senior year was Tembi's frosh year; and my first semester senior year I was studying abroad. We have no real memories on campus together at all, beyond being fellow Black women students on a small college campus, knowing each other's faces and names and exchanging the occasional warm hey-I-see-you-fellow-Black-person "nod" while crisscrossing campus. So we didn't really know each other.
But here we both were. Four thousand sixty-eight miles from Middletown, Connecticut, now standing together staring at each other on a random street in a foreign country. And that's ALL we needed. We hung out, walked, talked, and ate. Such improvised magic. A gift arranged by our Wesleyan connection and an experience that catalyzed our now decades-long friendship.
During Tembi's study abroad in Italy, she fell in love with a Sicilian chef named Saro and sometime after her Wesleyan graduation they married. She writes about their delightfully delicious love story in her New York Times' bestselling memoir From Scratch: A Memoir of Love, Sicily, and Finding Home. The book became a Reese Witherspoon Book Club selection and is now a series on Netflix, adapted for the screen by Tembi and her sister, Attica Locke (who also served as showrunner/executive producer). Tembi serves as executive producer and writer. The series was filmed on the same streets where Tembi once walked with Saro and the apartment in the series is next door to the one Tembi actually lived in as a student.
The series, From Scratch, topped Netflix charts as the number one new series in the United States and was in the top 10 globally—making it the most watched limited series of the year on the streamer!
Tembi and I recently reminisced about her journey from her first steps onto Wesleyan's campus, the series of personal decisions that would ultimately change her life, and where she's going from here. We had some catching up to do y'all.
MB: Girl. We bumped into each other in an alley in Italy and became friends. C'mon.
TL: Our friendship actually began because of our "meet-cute" (laughs) in Florence. Isn't that funny—how Wesleyan traveled? The Middletown connection traveled and being a Black woman. . . . We could have been Black women in a foreign land and we could have nodded and kept going. But because of that Wesleyan connection it was instantly friendship. I think because of what Wesleyan gives us or what a Wesleyan education does, we were like "Yes! Let's go with this." And then you got to meet Saro and this whole part of my life, which was just opening and blossoming at the time. You were witness to it.
MB: Well you were out here meeting a fine man in a foreign country and having transatlantic love affairs? Yes, please. I'm still here for ALLLL of it, Sis. [laughter] There is a forever-sense of welcome and of community that, I think, Wesleyan willed to all of us. Out in the wild you hear someone went to Wesleyan and it's . . .
TL: . . . kindred spirit! (Tembi pulls her palms together and repeats). Kindred spirit!
MB: Yes! My (Wesleyan) people!
TL: When I began studying art history, my student TA for one of my Italian language classes was the first person to put it in my mind to go to Italy. He said it would be the best place to learn Italian and he had a sister who was an expat living in Florence. So the sister of a Wesleyan TA was my first connection overseas.
MB: In your Netflix series screen adaptation of your book, From Scratch—in which Zoe Saldana plays you—your character goes to Brown University and not Wesleyan. Why did you change this?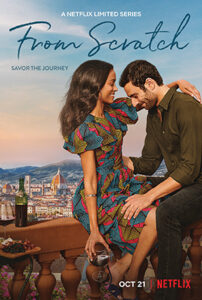 TL: The series is inspired by my memoir and life, but we changed lots of details and facts. Taking creative license gave us the space to let Amy (the name given to Zoe Saldana's character) emerge as her own character on screen, separate from me. It gave me the psychological distance I needed to adapt my story. Changing where she went to college started as an inside joke as we developed the series. We felt Hershel, Amy's father in the series, would have definitely pushed her to go to Brown for reasons wholly his own. The control was part of his character. Luckily, my father was not like that. I had choices. Also, one of the writers in our writers' room went to Brown. So then we just kept it and made it a runner in the series.
MB: What was your path to becoming a professional writer and executive producer?
TL: I started as an actor. My job is to interpret and reflect the human condition through story. That had always been the ultimate career vision I had for myself. However, along the way I discovered that I am fundamentally drawn to story in all its forms—on the page, screen, canvas, and even in still images. And I was/am willing to live with the uncertainty, unpredictability, and sense of exploration needed to be a professional artist. I am willing to stop, listen, investigate, observe, explore, and follow the tiny threads until they reveal something new to me. Then I ask myself if that revelation feels like something that needs to be shared with the world. Wesleyan taught me the value of that kind of exploration and offering.
MB: What forms of support were personally effective for you, during the experience of not only being Saro's caregiver for 10 years of his cancer illness but then reliving the intimate details of your personal-life experiences during filming?
TL: During both the living and reliving, I took my emotional and psychological health very seriously. I had a team of people—a therapist, healers, friends, and bodyworkers—to help me release the stress and grief that emerged during filming. I also journaled, took walks, and did intentional rituals. When filming ended, I took a week at a house in the desert to gather myself.
MB: What is next for you?
TL: Attica and I are working on developing another series. I have a book idea, but it is presently on hold as I explore storytelling on screen.
MB: What have you not shared yet anywhere else that you want fellow Wes folk to hear your heart about?
TL: This work was a years-long leap into a vast unknown, professionally, personally, creatively, and spiritually. I had never written a book before, never been a screenwriter, and never produced television. More importantly, I had never endeavored to collaborate with others in a dramatization of the most intimate moments of my life. We wrote and filmed the series during a global transformation, the pandemic. So each day what I had was a heartfelt desire to reveal the human condition through story—this one story. In so doing, I hoped to also inspire hearts, transform my own personal grief, and bear witness to the interconnectedness of life.
In Italy, there's a saying: Si tira avanti. It means: Pull yourself forward.
From her Houston upbringing to her first steps on Wesleyan's campus to stepping off the plane in Italy to allowing the tenderness of real love and standing inside the devastation of loss . . . Tembi Locke has pulled herself forward with heart, warmth, and a willingness to meet experiences with an honesty that speaks to millions around the world.
No matter if you're ambling into a new space and deliberating your choices or just find yourself needing something new, something more, something meaningful . . . Andiamo, Wes friends. Si tira avanti. Si tira avanti!
—MICHELE BARNWELL '89 is a writer/storyteller and the founder of THE ROOST, a content creation company. She's the showrunner/executive producer on season two of the Netflix series High on the Hog: How African American Cuisine Transformed America and co-chairs the Wesleyan Black Alumni Council.