In "Massive Power Ball," Karen Xu '22 explores intersection of sports and politics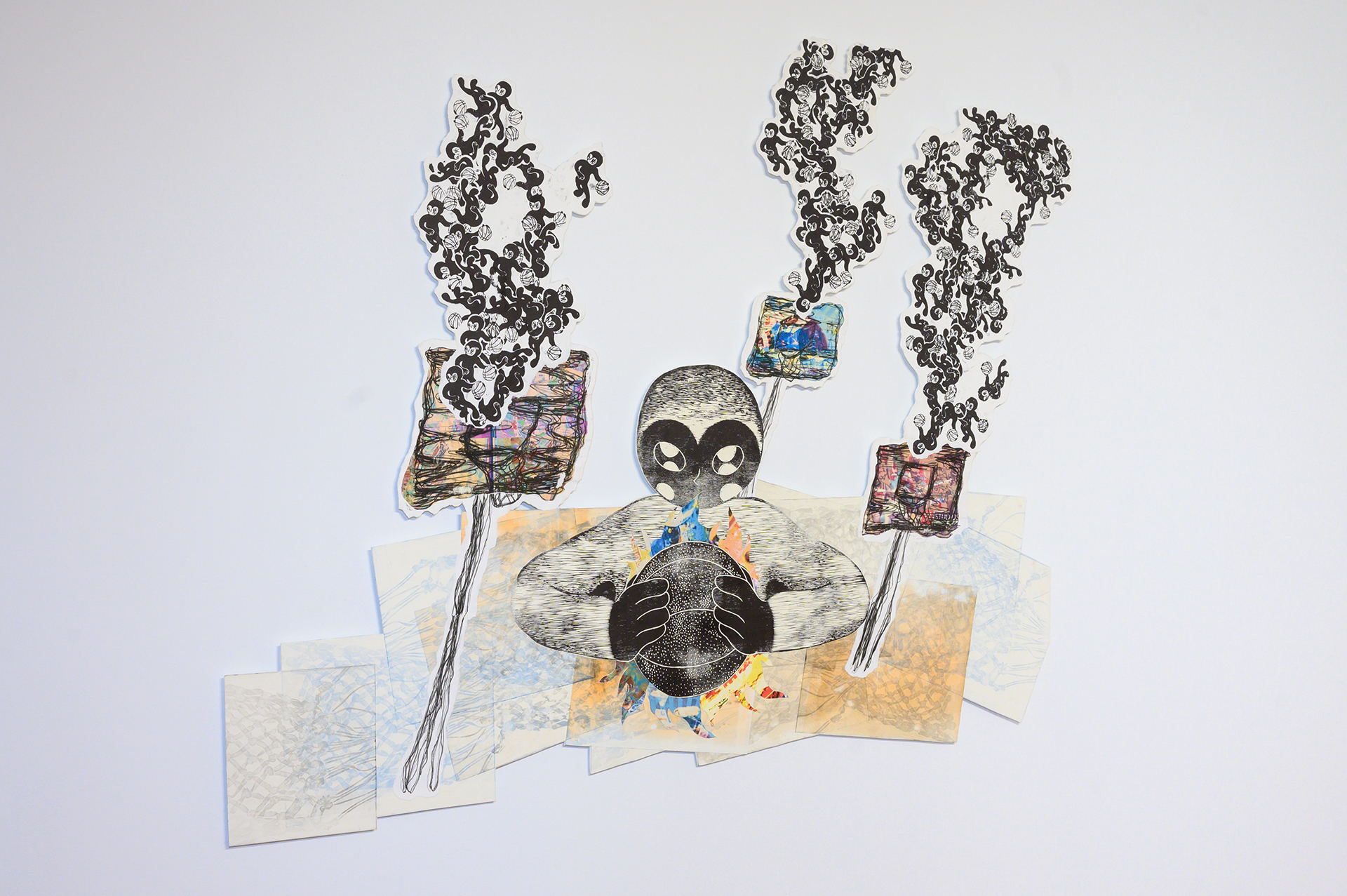 "Fire Up" (2022), a work by Karen Xu '22 from her exhibition "Massive Power Ball." Photo by Mark Brendel of Perceptions Photography.
For her senior thesis at Wesleyan, Karen Xu '22 took aspects of areas that were on her mind—from basketball to politics­—and expressed them through cartoons, language, and printmaking. She discovered more about those topics and mediums in the process, which led to her first professional exhibition on campus last fall.
The College of East Asian Studies Gallery at Mansfield Freeman Center presented Xu's first solo exhibition, "Massive Power Ball," from September through December 2022. The works included animation, printmaking, collage, and video from her senior thesis exhibition, which was on display in the Ezra and Cecile Zilkha Gallery in March 2022, plus four new prints she made that summer.
"There's a meta-political relationship, along with Xu's very personal and playful relationship with the sport," said Associate Director of Visual Arts and Adjunct Instructor in Art Benjamin Chaffee '00, who co-curated "Massive Power Ball" along with Exhibitions Manager Rosemary Lennox. "Karen Xu's work bridged both elements."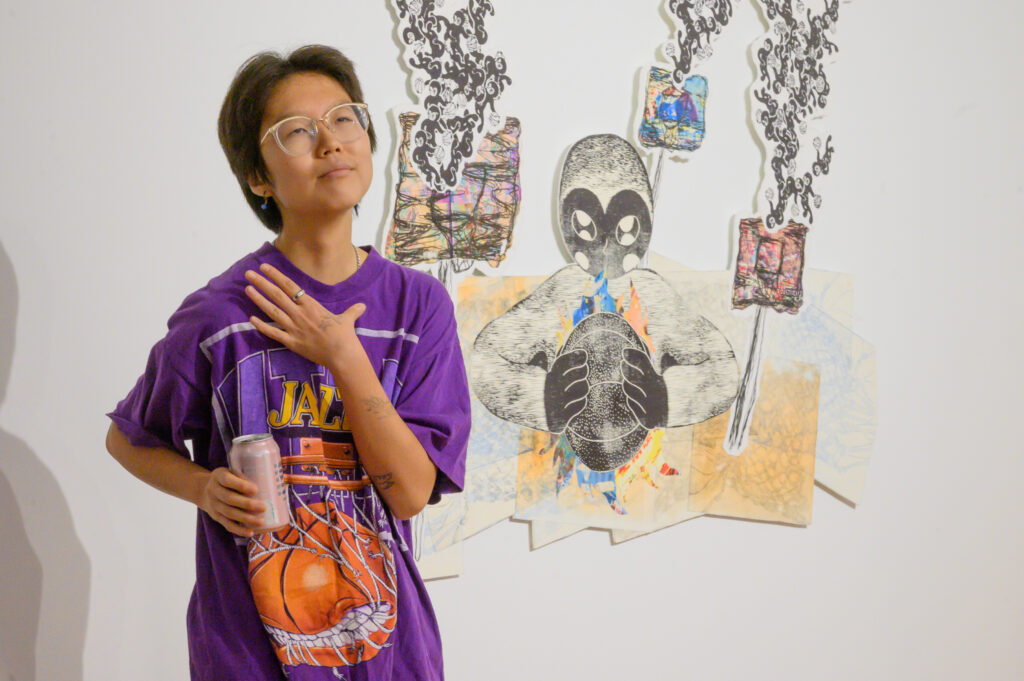 Born in the northeast of China, Xu's family later moved to Shenzhen, located on the mainland near Hong Kong. "I loved sports since I was little," said Xu, who was influenced by what her family and friends played. In middle school, her friends played basketball, so she started to get into that sport, watching it on television with her dad—the Utah Jazz was her favorite NBA team, she said, before they traded shooting guard Donovan Mitchell Jr. to the Cleveland Cavaliers—and playing after school every day in high school on intramural teams. "My school never had a girls' team, unfortunately," she said.
At the same time, Xu watched cartoons, anime, and animated videos, and she became involved with art at a young age. "The first apartment we lived in, I drew a lot on the walls," said Xu. "I think it's covered with drawings." She also created art after school. A middle school teacher had told her she shouldn't draw during time designated for homework, and in high school she didn't get to do art as much as she would have liked.
That changed when, after reading poetry by Associate Professor of East Asian Studies Ao Wang and learning he was part of Wesleyan's faculty, Xu applied and was accepted to the University. (Her love of reading and writing led to a double major in English.) Xu had made flip book animation before she came to Wesleyan, but not the kind that she focused on in her senior thesis. She had also not done printmaking before, despite its prominence in China as a style of art. "I realized that's really what I want to do," said Xu of studying printmaking in the Art Studio Program of the Department of Art and Art History.
Xu worked primarily in printmaking techniques, assembling large-scale collages that became sculptural and deploying the images in her animations. She took a class that Chaffee co-taught with Associate Professor of English and Creative Writing Danielle Vogel in fall 2021. The class, "Between Forms," was a workshop designed for students interested in working outside of, or between, their primary mediums, employing interdisciplinary approaches to discover their own unique and hybrid forms.
Xu realized that the escape her love of basketball provided was not separate from whatever else is happening in the world. With "Massive Power Ball," she explored the connection between the mass production function of printmaking and the massive crowds at basketball and political events. Her exhibition also captured the fantasy and fun she had playing hoops and making art on campus.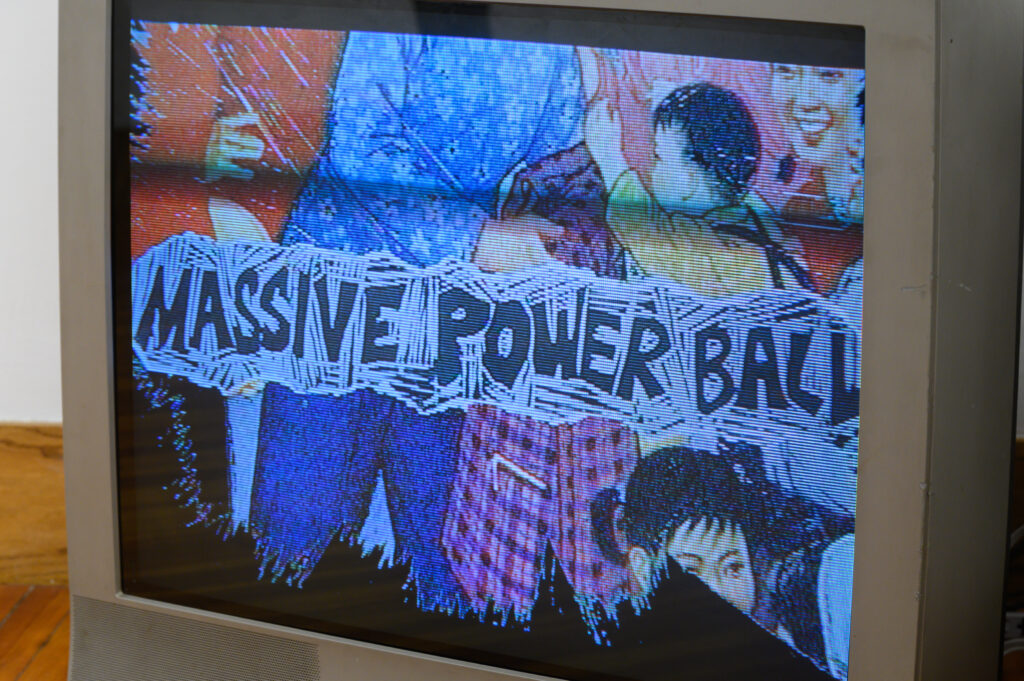 The curators were curious about the way that Xu was digesting her experience of the NBA after growing up in China, and how the professional sports league became a metaphor to unpack relations between the United States and China over the last few decades. Xu linked basketball imagery to political propaganda and songs she sang as a child. She also made connections between images of political posters and marches, and the spectatorship and entertainment value of sports. "Karen merged those all together in a way that felt very playful at the same time it was an elegant criticism of the relationships between these two cultures and political states," Chaffee said.
"The work's also really beautiful," Chaffee added. "We were drawn to the material presence of Xu's work, their technique, and the feeling of that work in space."

Since her exhibition, Xu has been living and working in Middletown, and is going back to China by July. "I haven't been home for a while, so it will take adjustment," said Xu, who hopes to continue with art and make a new group of friends.